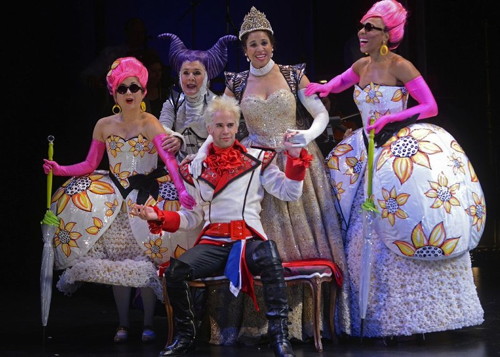 Here's my newest review for Stage Raw.
Into The Woods
What follows the 'happily ever after' conclusion of most fairy tales? That's what Sondheim examines in Into The Woods, his sophisticated musical composed expressly for adults (rather than for children). First staged in San Diego at the Old Globe Theatre in 1986, and presented on Broadway the following year, music and lyrics are by Stephen Sondheim with book by James Lapine.
This unusual musical explores the consequences of its characters' quests and desires. The vividly and creatively staged version now playing at the Wallis is an import of the prestigious Oregon Shakespeare Festival's critically acclaimed production.
Adopting a modern twist on the classic Brothers Grimm fairy tales, Sondheim has taken various storybook characters and ingeniously melded their stories together. Hence we have a roster of magical characters that include Sleeping Beauty (Katie Bradley), Snow White (Christiana Clark), two charming and heroic Princes (Jeremy Peter Johnson and John Tufts), Jack (of beanstalk fame) and the Baker and his Wife (a barren pair who crave a child). The thread of Act One sees the Baker characters forge an agreement with an hideous old witch (Miriam A. Laube is outstanding in this role). The forlorn pair promise to obtain for her several desirable items, including a red cape (from Little Red Riding Hood, Kjerstine Rose Anderson); a golden slipper (from Cinderella, Jennie Greenberry); a milky white cow (played by Catherine E. Coulson who doubles as Cinderella's Stepmother); and a some corn-yellow threads of hair (from Rapunzel, Royer Bockus).
Read the rest of this review here.
Into The Woods by Stephen Sondheim.