Playwright Allen Barton discusses his new play Disconnection with Pauline Adamek for the critical website Stage Raw.
Happy reading!
Writer-director (and classical pianist) Allen Barton gained critical acclaim last year with his play Years To The Day, presented by Skylight Theatre Company. It was a futuristic satire of our self-important discussions of movies and tech gadgets via the reunion of two long-time friends at a coffee shop. During their meeting, they psychically and spiritually disemboweled each other. Barton's latest play, Disconnection, tackles cult-like religions and organizations.
Inspired by painful, personal experience, this new work rigorously assesses the various facets of freedom of speech, thoughts and beliefs. In the drama, the playwright holds up to scrutiny what he calls "totalitarian, highly-restrictive modes of thought" that exist in popular religions today.
A church associate for about seven years, Barton was eventually ex-communicated from the Los Angeles fold of Scientology, and suffered the subsequent destruction of his friendships with other members. (The play's title refers to the term used to cut off communication with former members.) Specifically, the play covers the damage that was wrought on his relationship with his mentor and long-time piano teacher, Mario Feninger.
Barton is now an official Steinway Artist, "As a pianist, I'm still active, I usually perform every 18-24 months. I'll prepare a 60-90 minute program and perform it here in L.A. as well as in Boston, New Hampshire, sometimes New York as well. I've recorded five CDs that are out there on iTunes." He's currently on the short-list as a piano soloist with the Boston Pops for a Gershwin concern in May.
Still, he devotes most of his time to writing plays, teaching advance-level acting courses at the Beverly Hills Playhouse, administrating the school there, and maintaining his Playhouse blog "The Study & Pursuit of Acting."
Allen Barton grew up outside Boston, attended Harvard University, after which he moved to L.A. In 1990 he joined the Beverly Hills Playhouse as a student, and by 1992 he had entered into a close apprenticeship with its founder, Milton Katselas. Barton worked with Katselas for the next 16 years until Katselas's death in 2008.
Recalls Barton, "Katselas was a famous and talented teacher, but also infamous for being a Scientologist. As I got to know him better, and the staff of the BHP and some of the students who were also Scientologists, I became curious as to what it was all these people were into. There was no calling, I wasn't horribly messed up and "looking for answers," nor was there any particular pressure to do so from Milton or his associates."
Barton delved into some of Scientology founder L. Ron Hubbard's books, and through Katselas's largess was able to attend free courses at the Celebrity Centre in Hollywood. "I found the information there helpful. A bunch of my friends from the Beverly Hills Playhouse were already involved, and they had a wonderful piano in the lobby that I enjoyed playing. I acted in several of their in-house films they made to illustrate various facets of Hubbard's philosophy."
Barton became known for those performances, gaining some special attention as a result. "They sent me down to join the Freewinds ship in the Caribbean for a month to play piano during mealtimes. So, being young and unmarried and with some time on my hands, studying Scientology with a bunch of cool people in a very nice building, getting to act here and there and getting paid for it, getting free trips to play piano on a swell ship in the Caribbean – you could do worse in your 20s in Los Angeles."
Katselas became instrumental in furthering Barton's piano training – introducing him in 1992 to his first teacher in L.A., Bernardo Segall, and even paying for several of the initial lessons. Barton studied under Segall for several years, until Segall's death. Next Barton went on to study with Mario Feninger, whom he'd learned about through his Scientology connections. "Mario was a longtime guy – 50-plus years in the church but our relationship was strictly teacher and student. He altered much about how I played, solved physical problems I was having with my technique, and was in general just a complete mensch. We had many conversations about the Church, and by that time I'd become pretty savvy with the ins and outs, the goods and the bads… Mario and I saw eye to eye on much of that."
Somewhere around 2001, Barton says he saw a distinct cultural change within Scientology. Suddenly, a steely-eyed dedication to the cause became in vogue. It became more militant, less friendly… Barton began to tune out.
You can read the rest of this interview here.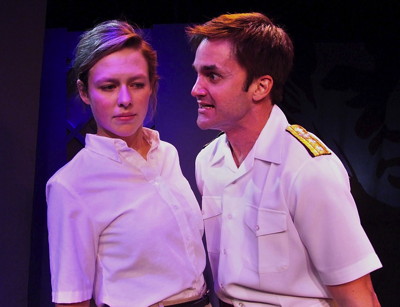 Disconnection is being performed by the Skylight Theatre Company at the Beverly Hills Playhouse,
254 South Robertson Blvd.,
Beverly Hills.
Fri., 8:30 p.m.; Sat., 8 p.m.; Sun., 7 p.m.
Performances through March 1, 2015.
Go here for tickets or call (213) 761-7061.