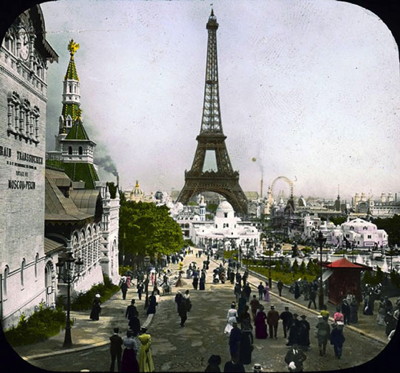 By the late nineteenth century, we find Paris — the "City of Lights" — at its most glittering. The long depression is over, and an exciting era "La Belle Epoque" — as it would come to be known — is in full bloom. The Universal Exhibition captures the spirit of the new century, and Paris ascends as the cultural, innovative and inspiring center of the "New World."
Following the Franco-Prussian War, France enjoyed a long period of peace that proved favorable to economic and technical progress. It was also a culturally exciting era. "La Belle Epoque" was such an exceptional and creative period, that it was even visible in the streets of Paris, inside the cafes, cabarets, art museums, concert halls and stylish salons.
This cultural scene flourished with the "Impressionism" and the "Art Nouveau" movements. Composers, poets and writers, singers and painters all wanted to be part of this extraordinary and enthusiastic artistic movement, one that gave people a deep feeling of optimism, that anything was possible.
Renowned French composers Camille Saint-Saens and Leon Boellmann belonged to this magical and creative period.
This Sunday January 11, 2015, Le Salon De Musiques invites you to embark for Paris and La Belle Epoque, and to celebrate the New Year, with "Masters Rediscovered."
The exquisite French Composers' program includes two U.S. PREMIERES, and will be performed by the world renowned Pacific Trio, comprised of Roger Wilkie on violin, John Walz on cello and Edith Orloff on piano.
This concert is sponsored by Steinway & Sons, KMozart Classical Radio, and the French & the German Consulates of Los Angeles.
 ~ ~ ~
Le Salon de Musiques is a Chamber Music concert series taking place the first Sunday (of almost every month of the year) at the famous Dorothy Chandler Pavilion in Downtown Los Angeles.

Each month you can experience their exquisite concept as they present and perform Chamber Music just as it should be always performed — in a small and intimate space without any stage nor separation between the audience and the artists.

As always, they have their esteemed musicologist Julius Reder Carlson introducing each performance. Each concert is followed by a Q & A between the audience and the artists, while they graciously serve French Champagne followed by a gourmet buffet of sandwiches and cakes catered by Patina.

This year, once again, audiences will enjoy performances from some of the most prestigious performers from the LA Phil, LA Opera, LACO, and so on.
Enthuses founding Artistic Director and Concert Pianist François Chouchan, "This Fifth Season is such a "magical" one, between the exceptional diversity and quality of the pieces performed, (almost unknown or forgotten…), and the highest level of our Artists invited to perform this Season. I am thrilled to share these new exquisite moments again with our beautiful audience!
"This Fourth Concert of the Season will be really exquisite, featuring two moving French Neo-Romantic Composers. These three pieces to be performed are definitely pure gems, and deserve so much to be discovered, or re-discovered.
"I really think that this French Cultural Neo-Romantic and Impressionistic period was the most extraordinary one, with such a powerful and beautiful artistic creativity everywhere."
Adds Chouchan, "Leon Boellmann who died in 1897 aged only 35, was also a really talented organist and pianist, as a critic. He composed about 160 pieces in all genres. He admired Camille Saint-Saens and Cesar Franck. His style is really poetic and elegant. He should be placed among the leading late Romantic Composers in Europe. I feel honored to introduce his sensitive and emotional work to the US, and to our audience, with these two "U.S. Premieres."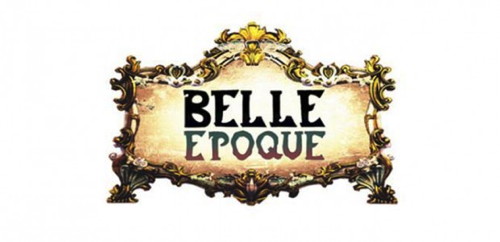 Event Information:
Sunday January 11th, 2015 at 4:00 pm
The Dorothy Chandler Pavilion, 5th Floor
135 N Grand Ave, Los Angeles, CA 90012
Program:
Camille SAINT-SAENS: Piano Trio n.2 in E minor Op 92
Leon BOELLMANN: Two Pieces for Cello & Piano Op 31
Leon BOELLMANN: Piano Trio in G Major Op 19
Performing:
The Pacific Trio is comprised of —
Roger WILKIE Violin
John WALZ Cello
Edith ORLOFF Piano.
Tickets are $75 for Regular, and $39 for Students (including French Champagne & Gourmet Buffet), with "Early Bird" Offers and "Special Offers", are available for purchase here.
About the Artists:
Roger WILKIE, Violin:
A Southern California native, violinist Roger Wilkie has enjoyed a rich and varied musical life. Born to a musical family, Mr. Wilkie's professional career began in 1983, when at the age of 21 he joined the Los Angeles Chamber Orchestra, eventually being appointed principal second violin. He has since returned to the ensemble as guest concertmaster. 

This experience led to other opportunities as guest concertmaster with such groups as Los Angeles Opera, including productions of Strauss operas Die Frau Ohne Schatten, and Der Rosenkavalier, the Round Top Festival Orchestra of Texas, the Music Academy of the West in Santa Barbara, and the Real Filharmonia de Galicia, Spain under music director Helmut Rilling. Presently, Mr. Wilkie's orchestral life is centered on the Long Beach Symphony, where he has served as concertmaster since 1990. He has had many opportunities to solo with the orchestra, performing the violin concertos of Brahms, Mendelssohn, Sibelius, Bruch, Prokofiev, Brahms Double Concerto and in January 2009, the Tchaikovsky concerto. 

Mr. Wilkie is in great demand as a chamber musician. He was a founding member of the Angeles String Quartet, performing and touring from 1988-1993. He was solo violinist with Santa Barbara based Camerata Pacifica, on whose series he played hundreds of concerts as recitalist and chamber musician over a ten year period. He has appeared at many chamber music festivals including La Jolla Summerfest, Santa Fe Chamber Music Festival and Martha's Vineyard Chamber Music Festival. 

Presently, Mr. Wilkie is a member of the Pacific Trio with cellist John Walz and pianist Edith Orloff. The trio concertized in Europe in 2002, and again in 2004. The highlight of the 2004 tour was a performance and recording of the Beethoven Triple Concerto with the Prague Philharmonic. In February, 2009, the Trio toured Germany and Austria ending with recording sessions in Vienna for a cd of American works for Piano Trio.
John WALZ, Cello:
John Walz is a celebrated soloist and chamber music artist, known for his dazzling virtuosity and elegant musicianship.  A student of the legendary French cellist, Pierre Fournier, he has appeared as soloist with more than 150 symphony orchestras on 4 continents.  His performances of 25 different concertos include both standard showcases and rarities like Martinu's Concerto #1 and William Schuman's Song of Orfeus.
In 1979, Mr. Walz, along with pianist Edith Orloff, founded the Pacific Trio.  Now performing with violinist Roger Wilkie, this renowned ensemble has played more than 900 concerts throughout North America and Europe.
In addition to his solo and chamber music duties, he is currently the Principal Cellist with the Los Angeles Opera, a position he previously held for 20 years with the Long Beach Symphony.
His ever expanding discography includes recordings of the concertos by Dvorak, Haydn, Shostakovich, Bloch, Martinu, Vivaldi, and trios by Brahms, Dvorak, Smetana, and the newly released Pacific Trio CD featuring Beethoven's Triple Concerto and Archduke Trio.
He is on the faculty of the Idyllwild Arts summer program and Academy.
Edith ORLOFF, Piano:
A versatile performer, pianist Edith Orloff is acclaimed in the United States and Europe as recitalist, chamber musician, and concerto soloist. Her 1998 German debut was received as "elegant, a pleasure to hear", and her music-making is praised at home and abroad for interpretive vitality and perceptive musicianship.
She is a founding member of the Los Angeles-based Pacific Trio, with violinist Roger Wilkie and cellist John Walz, which regularly tours the U.S. and Europe. In November of 2014, they make their Russian debut in St. Petersburg with a performance at the "Silver Lyre" Festival. The trio is ensemble-in-residence at Idyllwild Arts summer festival, where she has taught piano and chamber music since 1976. Pacific Trio's most recent recordings include their "American Composers" CD, featuring works of Bernstein, Copland, Gershwin and Muczynski, and an album of trios by Bloch, Korngold, and Zemlinsky.
She has been guest artist with varied groups, including  Houston Symphony Chamber Players,  Ensemble Con Brio of Bruchsal, Germany, and the Czech String Trio. Promoting new music, she has launched series featuring works of contemporary composers. She is a regular performer on prominent series in the Los Angeles area, also in duo recital with each trio colleague. The season's concerts include those for Salon de Musiques, Classical Encounters, and the South Bay Chamber Music Society. She continues a long-standing musical collaboration with husband David Peck, former Houston Symphony principal clarinetist. Their CD of modern works for clarinet and piano was released in 2004. She has also recorded for Brio Classics, Resort Classics, Yarlung,  Marsyas, and Capriccio.
A Master's Degree graduate of CalArts, she studied piano with Earle Voorhies and chamber music with Cesare Pascarella. Other influential teachers were Jerome Lowenthal, Reginald Stewart, Rosina Lhevinne, Daniel Pollack, and Roberto Eyzaguirre.
Ms. Orloff teaches privately and in master class.