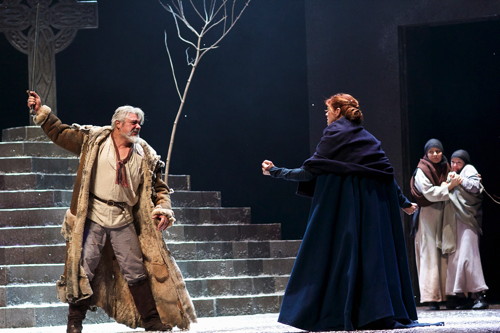 CLOSING tomorrow, Sunday, is Dunsinane, a stunning and creative co-production imported from Scotland that imagines a storyline that may have ensued following the conclusion of Shakespeare's gory 1606 tragedy Macbeth.
 Go here to watch my Exit Review – a vlog – brief video review – of my first impressions upon exiting the theater.
In fact, the new play — a joint production of The National Theatre of Scotland and the Royal Shakespeare Company, written by David Greig and directed by Roxana Silbert — actually shows us one of the last scenes of Macbeth, where the army have mobilized to storm Dunsinane castle all clad in bushes and branches to emulate 'Birnam wood' advancing on Macbeth's stronghold (as ominously foretold by the weird sisters to Macbeth).
A battle culminates in Macduff's confrontation with Macbeth, who kills Young Siward is a combat, the English forces overwhelm his army and castle. Macbeth boasts that he has no reason to fear Macduff, for he cannot be killed by any man born of woman. Macduff declares that he was "from his mother's womb / Untimely ripp'd" Macbeth realizes too late that he has misinterpreted the witches' words. Though he realizes that he is doomed, Macbeth continues to fight. Macduff kills and beheads him, thus fulfilling the remaining prophecy.
Regrettably, this final duel between Macbeth and Macduff happens offstage, and thence the new story begins.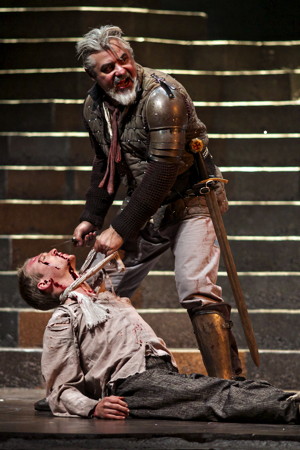 Excitingly, we learn that Lady Macbeth is alive — she has not committed suicide, as we thought in Macbeth. In David Greig's Dunsinane Lady Macbeth has reverted to her true Scottish name Gruach, and is she ever a force to be reckoned with.
This play is dramatic, exciting, funny — but above all, it is a trenchant political commentary on the tyrannical British armed invasion that sought to conquer and obliterate the ferocious Scottish culture.
At the molten center of this astonishing drama is Siobhan Redmond (pictured with her hand maidens, played by the gifted singers Helen Darbyshire and Mairi Morrison) who instills the steely character of Gruach with dignity, tenacity, courage and a mysterious witchy presence. This is a formidable performance within a highly talented cast.
Although only two performances remain, try to catch Dunsinane at the Wallis tonight or tomorrow if you can!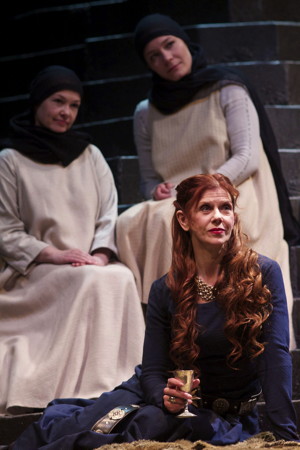 Dunsinane
The National Theatre of Scotland and the Royal Shakespeare Company production
Written by David Greig and directed by Roxana Silbert.
Wallis Annenberg Center for the Performing Arts
9390 N. Santa Monica Blvd, Beverly Hills, CA 90210
Performances:
Now through Sunday, April 5, 2015
Tuesday – Friday eve at 8:00 PM;
Saturday at 3:00 & 8:00 PM;
Sunday at 2:00 & 7:00 PM
Tickets:
Prices — $29—$110.00
In Person – The Wallis Ticket Services
9390 N. Santa Monica Blvd, Beverly Hills, CA 90210
By Phone – 310-746-4000