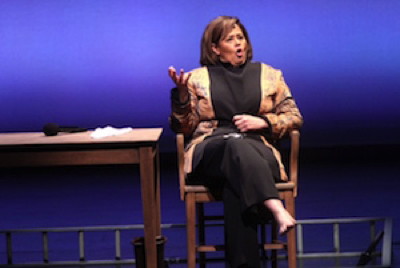 Dear readers and #LAThtr aficionadi,
Here follows my latest review for the critical website Stage Raw — which contains current arts and theater coverage from our intrepid team of journalists & critics.
Happy reading!
Never Givin' Up.
Since 1992 the writer-performer Anna Deavere Smith has performed several one-person shows, employing her perfected documentary-style theater. She describes her new show as a "rhetoric of hope."
Never Givin' Up is an evening of monologues linked by the theme of injustice and racial persecution. Smith obtained interviews with a number of subjects, gaining first hand accounts of episodes of violence. Rudy Salas was a witness to the Rodney King beating by white LA police officers in 1991 and, as a Mexican, he also suffered a lifetime of injustice and persecution in school and at the hands of police.
A gifted mimic and chameleon, Smith then adopts the persona of the various original speakers as she relates these shrewdly selected monologues and interview excerpts. Throughout the one-act, 90-minute show the only person she does not attempt to imitate is Martin Luther King Jr.
You can read the rest of this review here.
Never Givin' Up
Conceived & performed by Anna Deavere Smith.
The Eli & Edythe Broad Stage
1310 11th St. Santa Monica CA 90401
REMAINING DATES:
Tickets: $29 – $55. Prices vary by performance.
Purchase online here or call the Box Office at 310.434.3200
*** Smith will also be holding one more FREE community events in while in Los Angeles:
The Price Paid for Freedom of Expression
The Broad Stage, Saturday April 25, 2015, 2:00 p.m.
Anna Deavere Smith will join civic and political leaders to discuss the role free expression plays in civic engagement. Moderated by Los Angeles Times correspondent Carolina Miranda. Sponsored by the Los Angeles Times.
ABOUT ANNA DEAVERE SMITH
Playwright, actor, and Professor Anna Deavere Smith uses her singular brand of theatre to highlight issues of community, character, and diversity in America. Best known for crafting one-woman, multi-character plays about American social issues, Deavere Smith was awarded the Dorothy and Lillian Gish Prize, one of the most prestigious awards in the arts, as well as the National Humanities Medal. She was selected to be the 2015 Jefferson Lecturer at the Kennedy Center. She is renowned for her examination of race relations, having written and performed Fires in the Mirror, a raw view of those affected by the Crown Heights riots of 1991, and Twilight: Los Angeles, which tackles the 1992 Los Angeles riots. The MacArthur Foundation honored Smith with the Genius Fellowship for creating "a new form of theatre — a blend of theatrical art, social commentary, journalism, and intimate reverie." Interviewing real people from all walks of life, Smith turns their words into scripts, transforming herself into an astonishing number of characters. Her television credits include Nurse Jackie, The West Wing and All My Children. She has appeared in films, including Rachel Getting Married, Philadelphia, and The American President. In 1997 Smith founded Anna Deavere Smith Works at Harvard, now part of the Aspen Institute. Smith is a tenured professor at NYU's Tisch School of the Arts and Artist-in-Residence at the Center for American Progress.