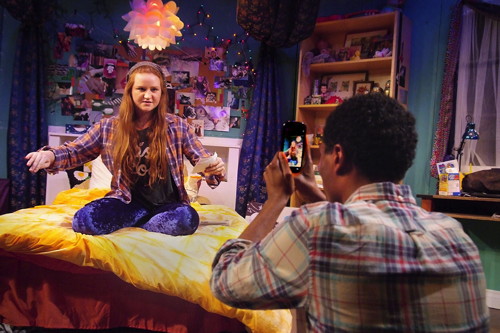 In Lauren Gunderson's bittersweet drama, two high school students are thrown together to work on a school project about Walt Whitman's poem Leaves of Grass. Gradually the pair forge an unusual friendship.
Caroline (played by Jennifer Finch) is a terminally ill teen compelled to remain in her room while she awaits a liver transplant. A cranky and sarcastic shut-in, she's keen to keep up with her studies. She's clearly unhappy, however, about the intrusion of another school student, Anthony (Matthew Hancock), who shows up on the evening that a joint American literature project is due. Cheerful and insistent, Anthony challenges Caroline in a friendly and persuasive way. Eventually he wins over the hostile girl and together they bond over the mystery of Whitman's poetry.
Finch does her best with a role that's mostly one-note — antagonistic — while Hancock fares better with his more complex but fundamentally sweet character. Of course, you can't have the pair get along right away, but the bickering — which occupies about three-quarters of the 90-minute, one act play — feels artificial and the story arc dull and predictable. A surprise ending redeems the play, winning you over with its bittersweet charm, but it's not quite enough of a payoff to recommend this play.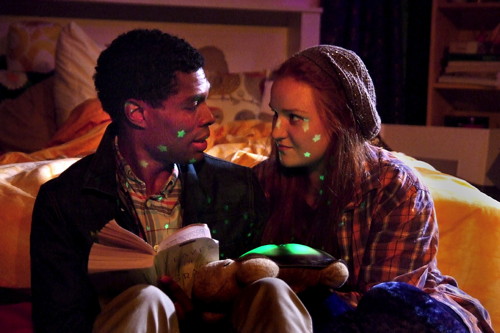 I and You by Lauren Gunderson.
The Fountain Theatre
5060 Fountain Ave.
Los Angeles CA 90029
Performances:
Runs through June 14, 2015.
• Thursdays at 8 p.m.: April 23, 30; May 7, 14, 21, 28; June 4, 11
• Fridays at 8 p.m.: April 24; May 1, 8, 15, 22, 29; June 5, 12
• Saturdays at 8 p.m.: April 25; May 2, 9, 16, 23, 30; June 6, 13
• Sundays at 2 p.m.; April 26; May 3, 10, 17, 24, 31; June 7, 14
Tickets:
Regular Seating: $30.00 (assigned by box office)
• Patrons 30 years old or younger: $20 ("30/20 Club"– valid ID required)
• Students: $20 (valid ID required)
• Seniors: $25 (Fridays only)
• Rush tickets: $15 (15 mins prior to curtain, subject to availability –Fridays only)
• Every Thursday is Pay-What-You-Can
PARKING:
Secure, on-site parking: $5
Box Office:
Call (323) 663-1525 or purchase online here.