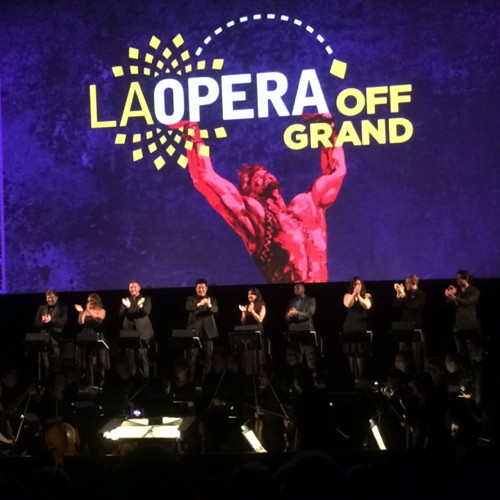 Greetings #LAThtr fans!
Pauline Adamek from ArtsBeatLA.com presents Exit Reviews, a new series of 'vlogs' or video reviews.
Here's the newest Exit Review for LA Opera's fun film-and-opera mashup Hercules vs. Vampires, which opened last night and has only three more dates — two performances this Saturday and one this Sunday. More info here.
httpv://youtu.be/9T1aLauFRQc
LA Opera presents:

Hercules vs. Vampires featuring a new operatic score by Patrick Morganelli.
The show will run for a total of four performances from April 23 through 26, 2015,
Dorothy Chandler Pavilion
135 N. Grand Ave.,
Los Angeles CA 90012
Remaining performance Dates and Times:
• Saturday, April 25, 2015, at 7pm
• Saturday, April 25, 2015, at 10pm
• Sunday, April 26, 2015, at 2pm
Tickets:
Tickets are on sale now. Tickets range in price from $24 to $46 and can be purchased in person at the LA Opera Box Office at the Dorothy Chandler Pavilion, by phone at 213.972.8001 or online here.
For disability access, call 213.972.0777 or email here.
Video info:
Video produced, filmed, edited and hosted by Pauline Adamek.
An ArtsBeatLA production.