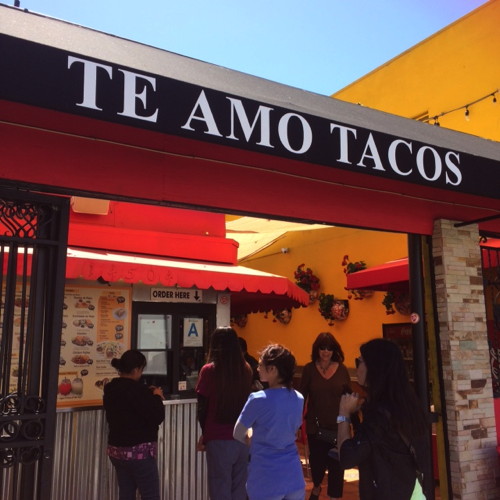 Gaily painted in tomato red and pumpkin orange, Te Amo Tacos is a neat little taco stand that recently opened in Van Nuys, on the south side of Victory, just west of Van Nuys Boulevard. Such a sweet and friendly place, they have built a little outdoor courtyard around the taco stand, providing ample shade for hot days.
Everything there is made to order using high-quality ingredients and offered at reasonable prices. All the soft tacos cost $1.50 (except for the divine camarón / shrimp ones, $2.50). At the high end of the menu are the shrimp and fish combination plates that come with rice and beans, and they're priced around $10.50.
Here you can find truly superb Mexican fare — soft tacos such as asada, carnitas, pastor and pollo / chicken. My favorites are the cabeza / beef cheeks and the camarón / shrimp tacos — they are plump and spicy with a hint of chipotle cream, smothered in thinly sliced red and green cabbage, onions and topped with grated cheese.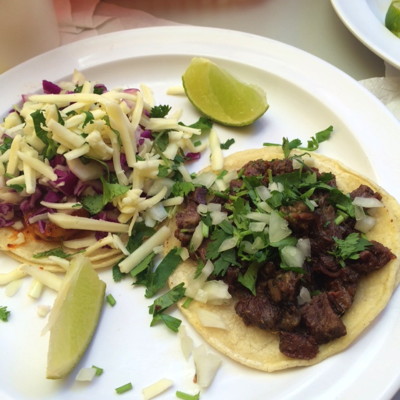 You can get three accompanying sauces: red, jalapeno (creamy green), and tomatillo (pale green). The salsa is fresh and piquant. The guacamole is dreamy.
The extensive menu features a whole range of Mexican delicacies, such as burritos, sopas, tortas, tostadas, flautas, taquitos and combination plates.
High end selections include Mariscos / seafood and Bistec / steak, as they offer ceviche, fish filet, shrimp tacos and meals as well as top sirloin. All their food is resolutely non-greasy — even the beef is high-grade charbroiled 'arrachera' made from marinated skirt steak (which they cook on a grill rather than a grease-soaked griddle) instead of using lower grade 'diesmillo' that most places do.
One standout is the Enchiladas de mole (chicken). The owner, Robert, told me that they make frequent trips across the border to source this special mole. Made from spices, chiles and dried fruit, this unusual mole originated in Xico, a small town in Veracruz, in eastern Mexico.
While Te Amo Tacos opens at 10AM, they do offer choices for a late breakfast such as burrito, chilaquiles and huevos con jamon / eggs with ham.
Taco Tuesday special offer of $1 tacos, but with all soft tacos priced at $1.50 (except for the shrimp ones, $2.50) every day is a bargain at Te Amo Tacos.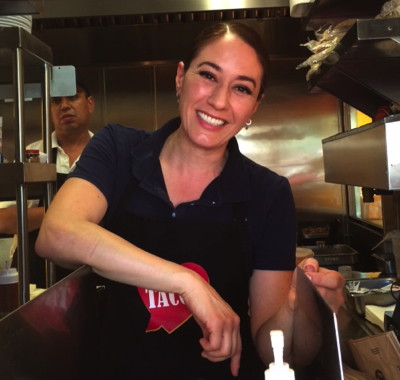 Te Amo Tacos
14504 Victory Boulevard,
Van Nuys
818-787-8440
*** Taco Tuesday special offer of $1 tacos ***
Open Monday—Saturday, 10:00 am – 6:30 pm (I think? They tend to close early… Call first!!)
Closed on Sundays.
Metered street parking available.