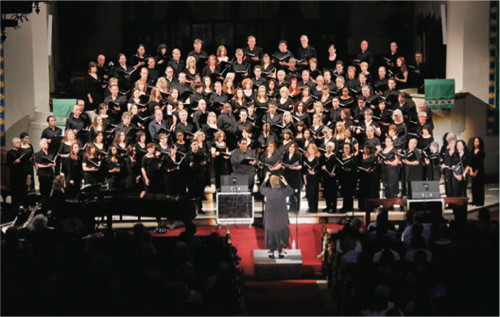 Angel City Chorale will perform the hit tunes and music from video games and films in two concerts at the Wilshire United Methodist Church in early June.
Inspired by recent blockbuster movies such as Frozen, art house favorites like Cinema Paradiso, and science fiction classics including 2001: A Space Odyssey, this audience-friendly concert event offers something for everyone… even Mel Brooks fans. Don't miss this rare chance to hear a live choral version of the theme song from Blazing Saddles! In addition to film selections, this lively event also features wildly imaginative soundscapes from video games, including selections from World of Warcraft, Final Fantasy VIII, Elder Scrolls V: Skyrim, and Tetris, all interpreted by 150+ voices and orchestra.
"A multicultural ensemble of 160 men and women that truly reflects the spirit of Los Angeles, building community one song at a time."
Since its founding in 1993, Angel City Chorale has performed at a variety of venues from the Walt Disney Concert Hall in Los Angeles to Carnegie Hall in New York, appeared on national television, sung with the Los Angeles Philharmonic, and worked with artists such as Stevie Wonder, Mary Chapin Carpenter, and Luther Vandross. The choir has also recorded four highly regarded albums.
More information can be found at their official site.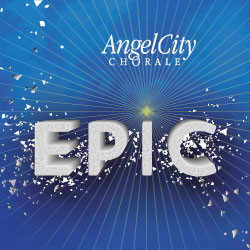 EPIC – Angel City Chorale performs blockbuster music from video games and films
Wilshire United Methodist Church
4350 Wilshire Blvd, Los Angeles, California 90010
Saturday, June 6 and
Sunday, June 7, 2015
7:00pm.
Advance tickets purchase here.
Door tickets may be available on the day.
Tickets range from $22–75.00, plus booking fees.
About Angel City Chorale:
Angel City Chorale (ACC) reflects the spirit and diversity of Los Angeles in its membership, its music, and its outreach activities.   Equally committed to good music and good deeds, ACC is dedicated to "Building Community One Song at a Time."  Renowned Artistic Director Sue Fink founded Angel City Chorale at the world-famous McCabe's Guitar Shop in 1993 with 18 singers; ACC has now grown to over 160 talented and dedicated singers who are admitted by audition.  ACC presents a broad and eclectic repertoire at exuberant, standing-room-only concerts.  The group's mastery of a wide range of musical genres – including classical, gospel, jazz, pop and world music – has become its hallmark.