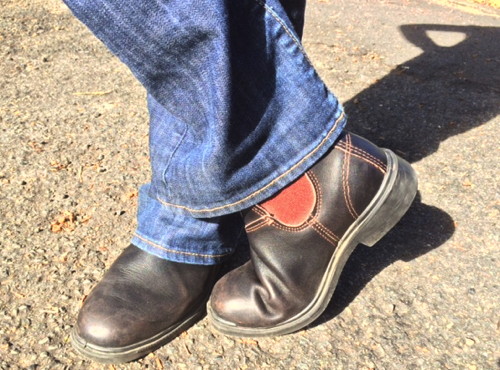 Hello readers and subscribers!
Here's an essay I wrote for the online magazine, TueNight.com, about my favorite boots.
When you work long days that merge into nights, running around, climbing up and down ladders and scurrying over catwalks, your shoes swiftly become your best friends. Freshly graduated from the University of New South Wales, a Bachelor of Arts degree under my belt, my dreams of working in the theater were giddily realized after I miraculously landed a gig as a lighting technician at the Sydney Opera House. This was 1984 and the joint had only been open for a dozen years. There were old-ish guys that worked backstage who proudly boasted they'd help to build the place!

I was the third female ever to be hired in the lighting department. We were all called "sparks" or "electrics." The stagehands were known as "mechanists" and they were a bigger and more dominant crew. I only ever saw one woman in their numbers.

I was a green and keen kid — 20, almost 21 — and utterly thrilled to be working on real live proper theater. Operas, concerts, ballet, rigging lights in the Exhibition Hall — for my nine year backstage career I was immersed in high art.
You can read the rest of the essay here.