Modern forms, mathematical precision and unconventional materials — a key figure of the Bauhaus art and design movement, László Moholy-Nagy was a champion of abstract art, believing that abstraction would break our bad habit of seeing. The Hungarian-born painter and photographer was highly influenced by constructivism and a strong advocate of the integration of technology and industry into the arts. During the 20s he served as a professor in the Bauhaus school.
Now showing at the Santa Barbara Museum of Art until September 27, 2015, The Paintings of Moholy-Nagy: The Shape of Things to Come, is the first comprehensive presentation of the artist's work on the West Coast since the 1968–69 retrospective (for which the Santa Barbara Museum of Art was a venue).  It's also the first exhibition to explore fully how the practice of painting served as the means for Moholy-Nagy to imagine generative relationships between art and technology.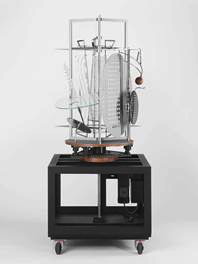 Also on display is a replica of his kinetic sculpture Light Prop for an Electric Stage, a rotating machine with moving parts that demonstrates the effects of light. The device is comprised of different textural parts, including glass, early plastics, chrome and aluminum, and represents early developments of materials used in the manufacture of airplanes, buildings and cars. Light Prop for an Electric Stage was made with the help of the Hungarian architect Istvan Seboek for the German Werkbund exhibition, an interior design and lighting design trade fair that was held in Paris during the summer of 1930. It was built with the intention to have light projected through it in order to create mobile light reflections and shadows on nearby surfaces and presented as a single prototype of potential new equipment for the theater. This is a rare opportunity to see this sculpture in person — and in action — as this exhibition replica is seldom loaned.
László Moholy-Nagy (1895–1946) is now recognized as one of the most influential members of the Bauhaus. Active in America from 1937 until his untimely death from leukemia in 1946 at the age of 51, Moholy's legacy for later 20th-century art is typically linked to the photogram (a type of cameraless photography) or to the so-called 'telephone pictures,' that he famously ordered from a factory and displayed in a notorious exhibition held in Berlin in 1922. The driving force behind this exhibition, however, is the relatively under recognized role of the more traditional medium of painting throughout Moholy's career.

Painting, and not just the newer reproductive technologies of photography or film, remained a visionary medium for the artist, as is explored in this selection of 33 works of art ranging in date from the 1920s to 1940s, including paintings, works on paper, photograms, video projections, and a facsimile replica of Moholy's prescient Light Prop, one of the first kinetic sculptures of its kind.
Playing with collage, the highly inventive artist used a specific repertoire of shapes and colors to test out compositions to illuminate them and play with light and dark and make the colors pop. In this way, Moholy-Nagy used art as a way to get us to think about our own responses to form and structure.
One artwork has carbon paper as its backing. Here Moholy-Nagy is expanding the artistic repertoire by incorporating the stuff of the modern office. He also used new and different substances, such as sandpaper, aluminum, plexiglass and formica, exploring simple means and accessible materials.
On exhibit are paintings from different periods. One special work is double-sided. It's depicts an early traditional landscape style on one side. It had been covered at the back until a restoration in 1999 revealed there was an artwork on the other side. There you can see an abstract composition featuring architectural diagonals and silver stripes of metallic paints.
Guest curated by art historian Joyce Tsai (University of Florida, Gainesville), the exhibition is organized chronologically and thematically to show the evolution of Moholy-Nagy's thought and practice over his career. The presentation begins with the emergence of Moholy-Nagy's abstract painting in the early '20s and highlights his embrace of a new machine aesthetic, more sympathetic to Constructivism. It links his style, technique, and materials to his tenure at the Bauhaus when the project of unifying art with technology stood at the center of the school's artistic and pedagogical endeavors.
This unprecedented presentation also features 'interventions,' inspired by Moholy-Nagy's art, by the high-end designer, Alex Rasmussen, whose company Neal Feay, reinterprets artistic forms in anodized aluminum.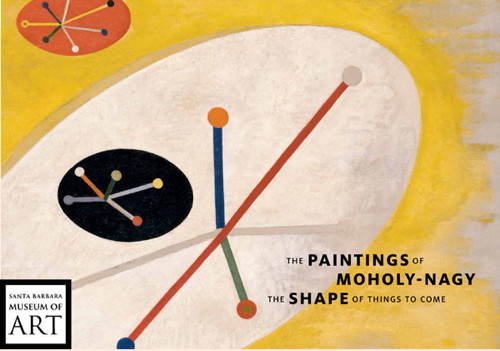 The Paintings of Moholy-Nagy: The Shape of Things to Come
Santa Barbara Museum of Art
1130 State Street
Santa Barbara, CA.
On view until September 27, 2015
Open Tuesday – Sunday 11 am to 5 pm,
Chase Free Thursday Evenings 5 – 8 pm
805.963.4364