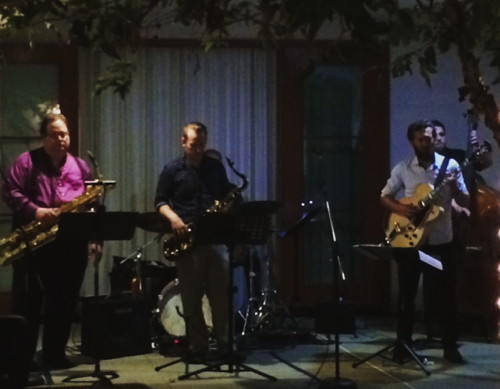 For Sean Longstreet's new album Reflections, producer Tim Flores was determined to achieve an intimate and warm live sound that harked back to the the way jazz was recorded during the 1950's. All of the six original jazz compositions on this new EP were recorded in real time, with all the musicians present; no overdubbing, no auto tuning, no direct bass.
As Flores puts it, "The idea was simple — produce a jazz album that has the sound and feel of a vintage recording, but tailor it to the technology for our time. Simple, right? Well, if it was so simple, the task should have taken us less time than the 14 months of work it took to complete."
We hear Sean Longstreet on guitar, with sax player Jim Youngstrom from the The Brian Stetzer Orchestra and baritone sax player Darrin "Big D" Smith featured as well.
Laying down the tracks in his own living room, Flores wanted the musicians to share the energy of a live performance. This approach, of course, can create obstacles for mixing and mastering, blurring individual tracks if one instrument bleeds into another's recording. Flores says he got creative with the micing of the instruments in order to permit some versatility and options during the sound mix.
For the bass he used a combination of close micing and also placed a shotgun mic further away to capture a full, fat bass sound as well as the low end of the baritone saxophone. He used a number of techniques to alter the acoustics of the room, including even moving books around the bookshelves.
Adds Flores, "The rich low tones you hear on most 50's recordings came from using sound stages and large rooms with large ribbon mics. But this just wasn't an option for us. We needed to keep it intimate, even if the techniques were not simple."
Protools was deemed too volatile, so the recording and mix was done on PreSonus Studio One software. Very little post production 'tweaking' was used to enhance the audio.
Concludes Flores, "I feel the results speak for themselves."
Of the six songs, 5th Street Stomp is a perky tune with a groovy bass line. Short Night is uptempo with the driving force of a night out on the town. One More Thing has some gorgeous plucking from Longstreet on his guitar. My favorite is Her Eyes — a slow and pretty instrumental track, with a haunting and wistful vibe to it.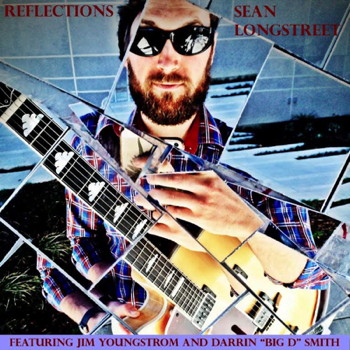 Sean Longstreet's jazz album Reflections
Produced by Tim Flores.
Musicians:
Sean Longstreet — guitar
Jim Youngstrom — saxophone
Darrin "Big D" Smith — baritone saxophone
unknown bass player
Track List:
5th Street Stomp by Sean Longstreet (feat. Darrin "Big D" Smith & Jim Youngstrom)
Short Night by Jim Youngstrom (feat. Sean Longstreet & Darrin "Big D" Smith)
Her Eyes by Tim Flores & Sean Longstreet (feat. Jim Youngstrom & Darrin "Big D" Smith)
One More Thing by Sean Longstreet (feat. Jim Youngstrom & Darrin "Big D" Smith)
City Solitude by Sean Longstreet (feat. Jim Youngstrom & Darrin "Big D" Smith)
Love's Labors Found by Sean Longstreet (feat. Jim Youngstrom & Darrin "Big D" Smith)
You can download the album here.