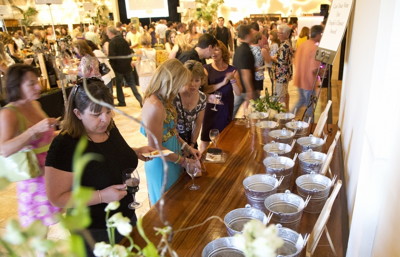 A mini festival of food and wine events, Taste our Terroir, is happening today and this weekend in Livermore Valley.
One of Northern Cali's best-kept secrets is Tri-Valley, a triangle-shaped region in the eastern San Francisco Bay Area. The area lies 18 miles southeast of Oakland and 33 miles from San Francisco. It encompasses the quaint cities of Pleasanton, Livermore, Dublin and Danville in the three valleys from which it takes its name: Amador Valley, Livermore Valley and San Ramon Valley.
Livermore Valley is remarkable for being one of the oldest wine regions in California. Thanks to its proximity (located just 45 minutes from Silicon Valley or San Francisco), Taste our Terroir is a popular annual event and spans four delectable days. It kicked off last night with the first event at Casa Real at Ruby Hill Winery in Pleasanton.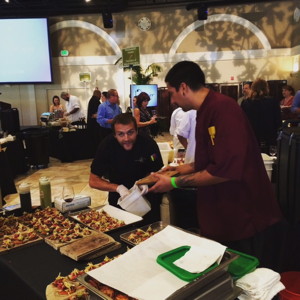 Last night's signature event of the weekend – 'Taste our Terroir' – is the annual quest for food and wine pairing excellence. At this premier food and wine affair, 19 winemakers partnered with Bay Area chefs to compete for honors. Attendees were wined and dined, selecting samples from the twenty or so stations, before they cast their vote for the coveted People's Choice award. The evening was fun, with plenty of quality hors d'oeuvres such as foie gras crostini, sliders, lamb tagine, duck confit and braised lamb.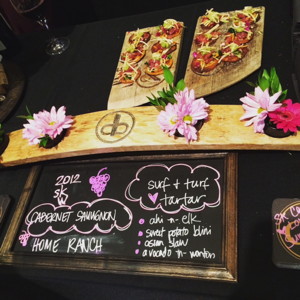 A highlight was the 'surf and turf' from Double Barrel Wine Bar chefs paired with a 2012 Cabernet Sauvignon from the Steven Kent Winery. Ahi tuna and elk was combined with Asian slaw and mounted on a sweet potato blini – an unusual and sublime concoction.
One winner of the night was Posada Restaurant, who won the 2015 Judges Best Pairing.
Food: Lamb Cheeks simmered in dijon mustard sweet pepper sauce over crusted pepita mushroom brown rice pad, garnished with pickled beets, carrots and oregano.
Wine: Cuda Ridge Wines 2013 Malbec subtle fruit with ripe plums and blackberry. The mouth feel is soft and velvety with light but adequate tannins. The fruit lingers with a long lasting finish.
First Street Ale House won the People's Choice Award for best Red Wine Pairing at Taste our Terroir for the second year in a row. They made a Moroccan Beef Tagine paired with Wood Family Vineyards Big Wood Zinfandel.
There are various other events happening today and over the next three days, with wineries across the region hosting ten food and wine events including cooking classes, wine seminars, vineyard tours and more through Sunday July 26th.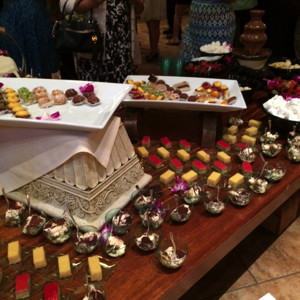 While several events are already sold out, tickets are still available for the following events listed below.
Tickets can be purchased here.
Program information can be found here.
Weekend Event Tickets are available from $35-$100.00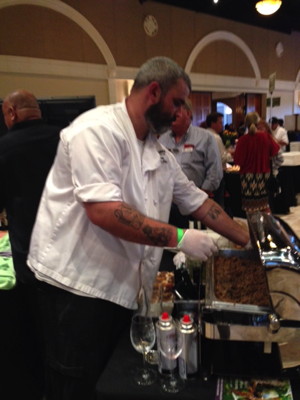 You can also obtain information about this event, and the region, at Visit Tri Valley.
Taste our Terroir
Thursday, July 23, 2015 – Sunday, July 26, 2015
Remaining events:
From Vine to Table: A Tasting of Wine, Olive Oil, and Cheese
Fri 4-6pm Beginning at Retzlaff Estate Winery
$55
Secrets of a Sommelier: The Art of Blind Tasting
Sat 11 am -1 pm at Double Barrel Wine Bar
$65
The Chardonnay Collective
Saturday 4pm- 6pm at Darcie Kent Vineyards
$55
Livermore Valley Heritage Varietal Tasting
Sun 11am – 1pm at Murrieta's Well
$45
The Cabernet Collective
Sun 1:30-3:30pm at McGrail Vineyards
$65
While several events are already sold out, tickets are still available for numerous events and can be purchased here.
Next year, remember to make your reservations early and take advantage of the combination packages on offer.
Winery and Restaurant Partners:
Auburn James
Auburn James Kitchen
Big White House Winery &
John Evan Cellars
Elisa's Catering
Concannon Vineyard
Underdog Wine Bar
Crooked Vine Winery
Mario's French Dips
Cuda Ridge Wines
Posada Restaurant
Darcie Kent Vineyards
Forno Vecchio
Eagle Ridge Vineyard
Terra Mia
Garre' Vineyard & Winery
Garre' Café
Las Positas Vineyards
Sabio on Main
Longevity Wines
The View at The Bridges Golf Course
McGrail Vineyards & Winery
Beet's Hospitality Group
Mitchell Katz Winery
Smokin' Hot Meats n Treats
Nottingham Cellars
Zephyr Grill & Bar
Retzlaff Estate Winery
Cheese Therapy
The Steven Kent Winery
Double Barrel Wine Bar
Vasco Urbano Wine Co
Revel Kitchen & Bar
Wente Vineyards
The Restaurant at Wente Vineyards
Winemaker's Studio
The Grill at Wente Vineyards
Wood Family Vineyards
First Street Ale House
On The Patio
Ehrenberg Cellars, Lola by the Steven Kent Winery, Murrieta's Well, Page Mill, Pat Paulsen Vineyards
In the Dessert Rooom Sponsored by Sysco
Bent Creek Winery, Charles R Vineyards, Cedar Mountain Winery, Fenestra Winery
About the region:
Livermore Valley is one of the oldest wine regions in California and the birthplace of California Chardonnay and Cabernet Sauvignon. Before 1920, there were 50 wineries here, but only two survived Prohibition.  Wente Vineyards and  Concannon Vineyard have celebrated more than 130 consecutive harvests and pioneered the Chardonnay and Cabernet clones, which now are planted across the 'golden' state of California.
In face, 80 percent of the 80,000 acres of Cabernet in California can be traced to a Concannon clone. These days Livermore Valley is home to more than 50 wineries producing a variety of many award-winning wines.
Thanks to its proximity to Silicon Valley and San Francisco, Livermore Valley wine country also is the only California wine region accessible by BART, so it's a quick trip from anywhere in the Bay Area. Upon arrival in Livermore Valley, wine tasters have a range of transportation options, including winery tours via the  Livermore Wine Trolley or  Segway and a  huge network of bike and hiking trails. It is possible to visit at least 16 Livermore Valley wineries using more than 8 miles of multi-use trails and bike lanes.