World class ballet dancers, top flight wines, seasoned jazz musicians, divine fare from fine restaurants — even on this, its final weekend, the Napa Valley Festival del Sole 2015, continues to impress with the diversity and quality of its offerings.
Friday night was the Dance Gala at the Lincoln Theater, where we were delighted by a selection of well-known classical ballet highlights as well as some dazzling modern ballet. The program featured such timeless classics as the pas de deux from Marius Petipa's Don Quixote and Le Corsaire, in addition to works from innovative choreographers such as George Balanchine, James Kudelka, Christopher Wheeldon and Christopher D'Amboise, among others.
Performing were internationally acclaimed stars from the world's top dance companies, such as San Francisco Ballet principals Frances Chung and Joseph Walsh and soloist Laura Strongin; New York City Ballet principals Ashley Bouder and Andrew Veyette; American Ballet Theatre principal Cory Stearns; Royal Ballet soloist Beatriz Stix-Brunell; Houston Ballet first soloist Aaron Robison; and principal Arian Molina Soca and soloist Mayara Pineiro from Pennsylvania Ballet.
A highlight was the last dance of the first part of the evening, a comedy routine The Dying Swan as performed in drag by Joshua Thake from Les Ballets Trockadero de Monte Carlo. Hilariously, the dying swan was shedding feathers from her tutu throughout the whole piece, and gesticulating in a comically exaggerated fashion. At one point she even broke out with a wiggle of 'the twist' to shed even more feathers!  Funny stuff.
A few of the dance numbers, including this one, were accompanied by live music, performed by Alexander Grashenkov on cello, also Nina Kotova on cello, with Mikhail Korzhev on piano.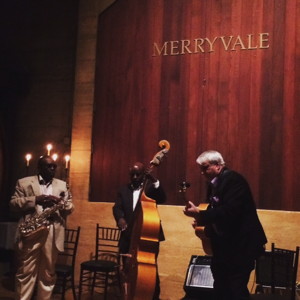 That evening wrapped up with a patron dinner at Darioush Winery for some, or – for us – an after show supper at Merryvale Winery in their majestic Cask Room, where two levels of century-old 2,000-gallon casks line the stone walls. Nicely ensconced in this cozy cave, we were gently entertained by some top-flight jazz provided by Carl Vast and his jazz trio. The band was led by Carl Vast on guitar, with two other clearly seasoned musicians on alto saxophone and upright bass. Here were three guys who played with such ease, you just know they've probably been playing jazz for decades as it sweetly seeps from their pores.
Nearby Tra Vigne Restaurant provided the delicious pizza, pork meatballs in a divine marinara sauce, ahi tuna bites and freshly made mozzarella and crostini snacks. All in all a wonderful night of rich, elegant fine wines and superb entertainment.
The first winery built in Napa Valley following the repeal of Prohibition, Merryvale sits on beautifully landscaped gardens in the heart of St. Helena. The winery produces a panoply of fine wines, from sustainably farmed vineyards in the hills above St. Helena, in cool Carneros, and in little-known Pope Valley.
Saturday evening's entertainment was less impressive… Also at the Lincoln Theatre was a performance by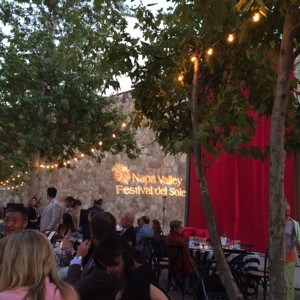 Mercifully the patron dinner at the fabulous Quintessa winery that followed not only supplied us with fantastic wine and fine dining, but some unusual entertainment that more than made up for the earlier disappointment. Bandaloop dance company are pioneers in vertical dance performance, combining dynamic physicality, intricate choreography and the art of climbing to turn the dance floor on its side. Suspended by cables, the dancers performed vertically on the walls of the winery. Amazing stuff!
Hosted by proprietors Valeria and Agustin Huneeus, the patron dinner at iconic Quintessa winery began with a glamorous red carpet welcome, and followed with dinner under the stars at this quintessential wine estate.
Designed with environmental sensitivity in mind, the graceful structure of the winery blends seamlessly into the contours of the eastern facing hillside.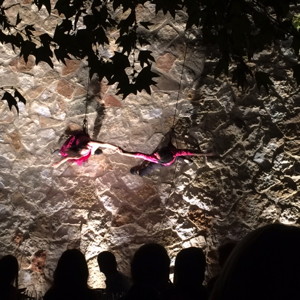 Tonight's evening promises to be a glorious finale, with a classical concert also at the Lincoln Theatre. Artists from the firmament of musical superstars will perform with the Russian National Orchestra. Virtuoso violinist Midori – aka "Queen of the Strings" – brings interpretive fire and fearless technical bravado to Mendelssohn's thrilling violin concerto. Bass Ildar Abdrazakov will perform a selection of famous Russian opera arias by Mussorgsky, Rachmaninov, Tchaikovsky, Rubinstein and Borodin, under the baton of Constantine Orbelian.
What follows is a patron dinner at Odette Estate for some, or – for us – the Allegro pass holders Wrap Party at Vintner's Collective. We can look forward to music, light bites and wines from some of Napa Valley's most renowned boutique winemakers. Vintner's Collective will host the event at its multi-winery tasting room – a charming and inviting venue in downtown Napa. The first of its kind in Napa Valley, Vintner's Collective is a tasting room housed in Napa's oldest stone building – an 1875 former saloon and brothel, and shared by select Napa Valley wineries, whose vintners craft some of the most sought after wines in the world.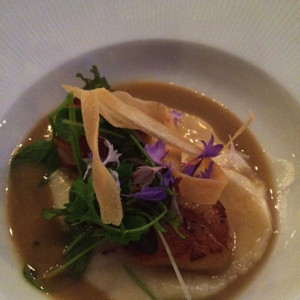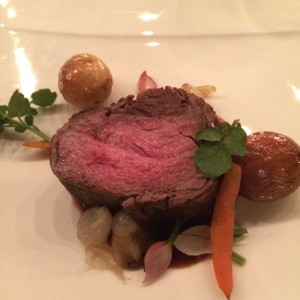 The 10-day festival has been on since July 17, 2015 and for the past ten years has been comprised of countless dinners, classical and jazz concerts and art events, as well as fundraising opportunities.
The Napa Valley Festival del Sole is a non-­profit organization dedicated to enhancing the region's cultural vitality. More info, including a calendar of this year's events, can be found here.