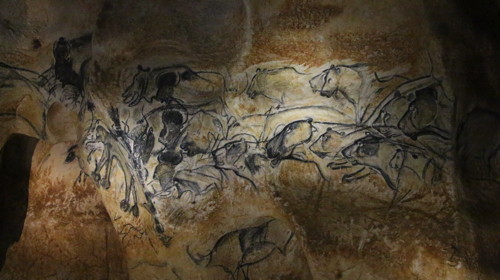 Art lovers and archeologists gasped when news spread of cave drawings discovered in the Ardeche region of southeast France in December 1994. Painted before the ice age, the roughly 400 images of horses, mammoths and aurochs, as well as predators such as lions, panthers and bears seldom seen in cave art, seemed pristine in comparison to their much younger counterparts at Lascaux Cave and Spain's Altamira. To avoid irreparable damage suffered at those sites after prolonged exposure to temperature variations and human respiration, the new find was immediately sealed.
Only select scientists and artists are allowed entrance to the original cave, including filmmaker Werner Herzog, whose 3-D documentary film Cave of Forgotten Dreams seemed to be the definitive look at the site. That was until last April, when a $62.5 million replica, Caverne du Pont d'Arc, opened to the public. Slightly less than half the size of the 91,000 square foot cave a couple of miles to the south, the details of faux Chauvet so closely approximate the real thing that you forget it's not genuine.
Unlike the real cave, empty passages have been shortened and artwork that may have been dozens of feet apart is grouped closer. What's missing in the replica is the sense of endless darkness beyond the pool of light, the echo of footsteps and the lonely drip of water in the distance. What's gained is a chance to glimpse lovingly detailed reproductions by artist/historian Gilles Tosselo, artist Alain Dalis and their team who rendered the drawings using the same materials as their ancestors – charcoal, ochre, handmade brushes, and a stringent devotion to fidelity. While provenance remains an issue to purists, it seems irrelevant when access to the real thing is limited to photo representations.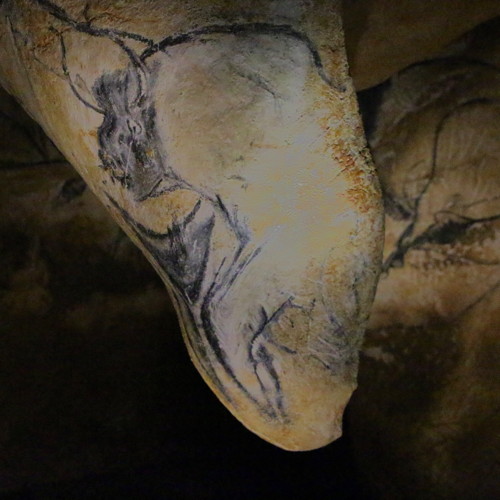 Despite being some of the oldest artwork in existence, the drawings feel somewhat modern. It might have something to do with Picasso's visit to Lascaux Cave after its discovery in 1940. His subsequent renderings of horses and bulls bore an obvious influence. From the thirties on, the Minotaur became a constant motif in his work, and by some strange convergence there is what appears to be a Minotaur drawn on a conical projection at Chauvet, one of the only fantastical drawing ever found among cave art, which leads some to believe it was a ritual site.
"They invented everything… we have learned nothing in twelve thousand years," Picasso said of the artists of Lascaux. What he was referring to might have been the invention of the image, or the use of perspective, which was believed to have arrived with the Athenian Golden Age. Had he lived to see Chauvet, Picasso might have noticed early antecedents of such twentieth century notions as Cubism and even cinema.
A woolly rhino with multiple horns appears to be an attempt to capture movement, similar to Marcel Duchamp's Nude Descending a Staircase. And it's no stretch to suggest that Eadweard Muybridge's early experiments with motion pictures depicting a horse in gallop is connected through millennia to the eight-legged bison found in Chauvet. Painted at a time when mankind was just another species amid hunter and prey, when homo sapiens interbred with neanderthals, these are works of unexpected sophistication, belying the notion of so-called primitive art.
Chauvet artists often primed their surfaces with mud, providing a clean canvas on which to work. Charcoal was applied not only to outline figures, but for shading as well, while surface irregularities were incorporated into compositions, creating the illusion of depth. Such practices imply discipline as well as a thoughtful approach to observing and portraying the world around them.
The Caverne du Pont d'Arc helps make our ancient ancestors more familiar to us. It bonds us in a manner more intimate than the basic instinct to survive, which is the impulse to create.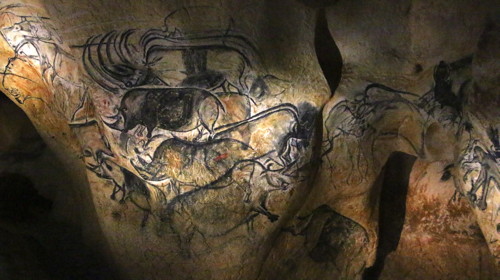 The Pont d'Arc Cavern – The UNESCO Chauvet-Pont d'Arc Cave is open every day from 9-8:30pm during summer, 10-7pm rest of the year.
Tickets can be booked online in advance (recommended).
Adults: 13 euros, children aged 10 and up: 6.50 euros, small children: free.