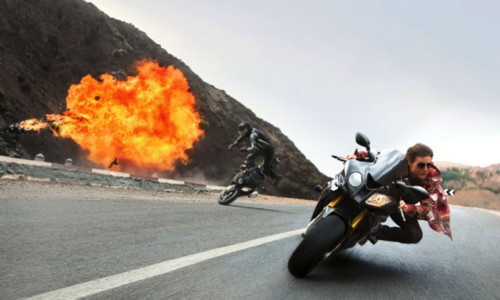 Action-packed, but mostly risible, Mission Impossible: Rogue Nation is probably the most disappointing offering of the five-movie spy thriller franchise starring Tom Cruise.
It doesn't help that the US-made movie series remains a pale imitation of the highly successful, impeccably crafted James Bond franchise. Even with screenwriter Christopher McQuarrie (writer of The Usual Suspects, writer/director of Jack Reacher) at the helm, the plot is plodding and predictable and the dialogue nothing more than explanatory statements that leadenly chart the storyline's dull exposition. It's as if McQuarrie anticipates an audience with the comprehension level of an eight-year-old. Additionally, the overused humor is too cutesy and undermines the drama.
In Mission Impossible: Rogue Nation spy operative Ethan Hunt (Tom Cruise) turns rogue when his secret organization — the IMF — is disbanded by the US government. Nevertheless, the team undertakes their most impossible mission yet, eradicating the Syndicate — an International rogue organization as highly skilled as they are and committed to destroying the IMF. Although the Syndicate is the main antagonist from the original Mission: Impossible TV series (1966), this premise still sounds suspiciously like the driving plot of the first movie (the NOC list), and just makes you long for the finesse of the first film's director Brian de Palma.
Nevertheless, in between the dull explanatory scenes there are sufficient action sequences to maintain your attention. We see Tom Cruise hanging from an Airbus A400M plane as it takes off without the use of special effects or a stunt double (at times he was attached to the aircraft while it was 5000 feet in the air). Also there's the exciting motorcycle chase through the bizarrely unpopulated Morocco streets where Cruise, once again, is doing his own stunts alongside some clearly experienced motorbike racers.
Sean Harris (Prometheus) is fairly decent as main villain Solomon Lane. Star of TV's The White Queen Rebecca Ferguson as co-spy and implied love interest Ilsa Faust acquits herself well with the martial arts requirements of the role, but appears too young to play opposite Cruise, who at 53, could easily be her father.
The movie might possibly have greater impact and enjoyment when viewed in IMAX — regrettably the studio opted not to screen it in its optimal format to L.A. critics.
Mission Impossible: Rogue Nation opens today in cinemas throughout Los Angeles.