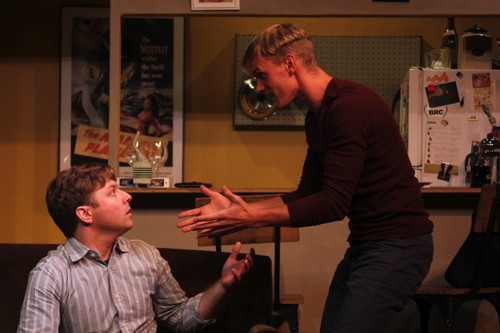 Dear #LAThtr fans!
Pauline Adamek from ArtsBeatLA.com presents Exit Reviews, a series of 'vlogs' or video reviews.
Here's the newest Exit Review for the play No Homo, which opened Saturday night, August 1st and runs through August 23 at the Atwater Village Theatre.
httpv://youtu.be/3Mr6pcoNMWU
INFO:
No Homo
by Brandon Baruch
Atwater Village Theatre
3269 Casitas Ave,
Los Angeles, CA 90039
Runs until:
August 23, 2015.
Performance Dates:
Thu, Fri, Sat at 8:00pm
Sun at 7:00pm
$20 tickets – purchase here or here or by calling (800) 838-3006
Video info:

Video produced, filmed, edited and hosted by Pauline Adamek.

An ArtsBeatLA production.