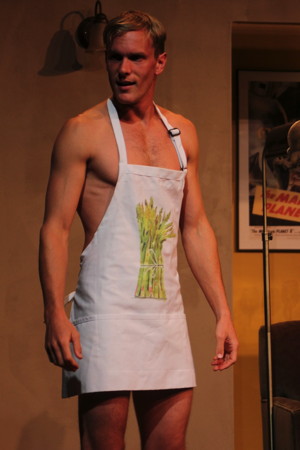 Hello #LAThtr fans and aficionadi,
Here follows my latest theater review for the critical website Stage Raw — which contains current arts and theater coverage from our intrepid team of journalists & critics.
We recommend this funny play.
Happy reading!
No Homo.
Brandon Baruch's dramedy No Homo, ostensibly about the gay scene in L.A., was a multi-award winner at last year's Hollywood Fringe Festival. The play went on appear at to New York's International Fringe fest and underwent some reworking, including an altered ending. It now returns to L.A. for a short season at Atwater Village Theatre, but No Homo hasn't quite made the complete transition from rough-and-ready fringe to polished, legit stage. Admittedly, some of the play's rough edges add to the charm of the piece, which is bold and unflinching in its examination of (mostly) gay relationships.
Roommates and best buds Luke (Michael Lutheran) and Ash (Jonny Rodgers) are enjoying a drunken night out on the town with friends. They're celebrating Ash's brother Serge's (AJ Jones) recent decision to move in with his boyfriend Chris (Henry McMillan). Luke is wooing new girlfriend Babette (Elizabeth Ellson) but his obnoxious sister Chrissy (Lauren Flans) is determined to embarrass him. Chrissy's sudden and self-serving declaration that she is gay sends Luke into a rage, alienating his friends. This tipping point forces Luke and Ash to examine their platonic bond and assumptions about their sexuality.
To read the rest of this review go here.
No Homo
by Brandon Baruch
Atwater Village Theatre
3269 Casitas Ave,
Los Angeles, CA 90039
Runs until August 23, 2015.
Thu, Fri, Sat at 8:00pm, Sun at 7:00pm
$20 tickets – purchase online here or here or by calling (800) 838-3006