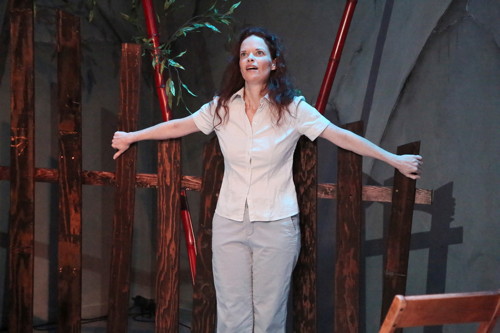 Dear #LAThtr aficionadi,
Here follows my latest theater review for the critical website Stage Raw — which contains current arts and theater coverage from our intrepid team of journalists & critics.
We recommend this fine play and superb performance.
Happy reading!
Stanley Ann.
If you're anything like me, you'll go into Mike Kindle's one-act drama knowing nothing about the mother of Barack Obama, but come out with a healthy respect for the progressive woman who, virtually single-handedly, raised the man who became the President of the United States.
Captivating our attention in this solo show, Ann Noble inhabits this complex and remarkable character, bringing deep conviction and passionate expression to her compelling performance.
Through a series of monologues and chronological scenes (dates and locations are discreetly projected high on the upstage wall) we observe Stanley Ann as she evolves through an eventful and determined life cut short by cancer in her early 50s. First, she's a love struck teenager, brimming with girlish enthusiasm and aspirations, and smitten with the ambitious foreign high schooler from Kenya, Barack Obama Sr. "Hawaii's first African student!" she marvels, ruefully adding, "We would be criminals on the mainland…" Indeed, in 1960 miscegenation was illegal.
Next she's a young mother, wisely opting not to follow her husband to Harvard and thereafter to Kenya, but instead pursuing her undergraduate studies.
You can read the rest of this review here.
Stanley Ann
Los Angeles LGBT Center's Davidson/Valentini Theatre.
1125 N. McCadden Place (one block east of Highland, just north of Santa Monica Boulevard), in Hollywood. Free onsite parking is available.
Run through July 26, 2015.
Thursday, Friday and Saturday at 8pm and Sunday at 7pm.
Tickets are $20.00, and can be purchased online here or by phone at (323) 860-7300.
Net proceeds from ticket sales will support the full range of free and low-cost programs and services offered by the Los Angeles LGBT Center.