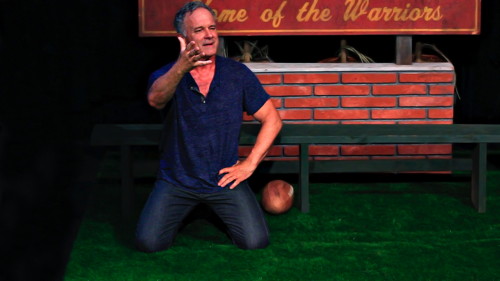 Dear #LAThtr fans and aficionadi,
Here follows my latest theater review for the critical website Stage Raw — which contains current arts and theater coverage from our intrepid team of journalists & critics.
We recommend this funny play.
Happy reading!
Father, Son & Holy Coach.
It's a little difficult to get a fix on writer/performer John Posey's solo show Father, Son & Holy Coach, which first premiered in 1993 at The Santa Monica Playhouse. Is it a true story? Is it about a real person? No and yes (I think). Although voicing numerous characters throughout the episodic piece, Posey narrates from the perspective of the central character Johnny Sanford, a small town football hero during the sixties. The setting is a tight-knit Southern town in Tupelo County, Georgia, where "football was more of a life here – it was a religion."
While the milieu is football, the gently humorous one-act play is more so an exploration of a father-son relationship that our protagonist ultimately finds deficient. It's a fairly familiar homespun tale of a man determined to live his dreams through his son, in this case coaching and propelling the boy towards a pro football career at all costs.
To read the rest of this review go here.
Father, Son & Holy Coach
Written and performed by John Posey.
Whitefire Theatre
13500 Ventura Blvd.,
Sherman Oaks, CA 91423.
Runs until August 30, 2015.
Fri at 8:00pm, Sun at 3:00pm
RESERVATIONS: (800) 838-3006.
ONLINE TICKETING here.
Running time: 75 minutes, no intermission.