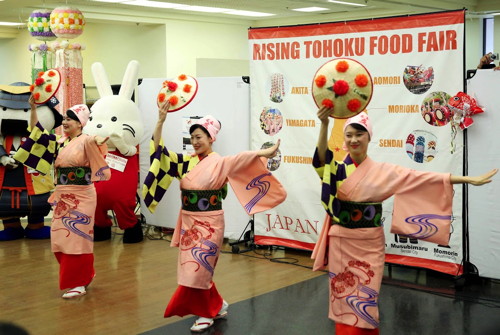 The exotic delights of a special region in Japan can be experienced right here in L.A. Today, Friday and all this weekend — Thursday August 20 through Sunday August 23 — you can immerse yourself in Japanese culture at the Rising Tohoku Food Fair, a fun and FREE event for the whole family.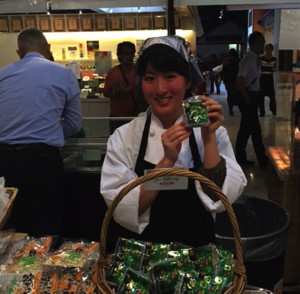 There are numerous stalls offering imported foods for sale and to eat, a variety of paper craft activities — such as origami and writing wishes on tanzaku paper — and dance performances happening each day at Mitsuwa Marketplace in Torrance. See below for the schedule.
The Rising Tohoku Food Fair celebrates the charms and cultural diversity of the Tohoku region of Japan, located in the northeastern section of the main Japanese island of Honshu.
The major cities of Tohoku's six diverse prefectures are represented by a handful of their super cute mascots. The city mascots include: Miyagi City's iconic Musubimaru who wears a samurai costume and resembles onigiri (rice ball); Fukushima City's adorable Momorin rabbit who represents Fukushima momo (peaches) and ringo (apples); the girl mascot Hanagata Beni-Chan who wears a cherry-patterned kimono and hanagata flower hat and has hair resembling safflower; and Haneton, an adorable pig dressed in the haneto costume worn at Aomori prefecture's world-renowned Nebuta festival.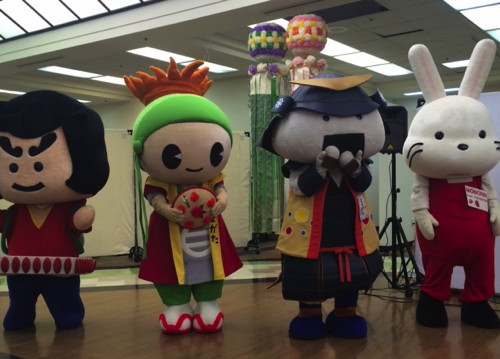 Each of these cities hosts an annual festival that celebrates their region. Morioka Sansa-odori – the city is found on the Pacific ocean side of the island, and this festival features dynamic marching. It is a spectacular festival that occurs annually in early August.
Akita Kanto Festival – found on the Sea of Japan, this festival aims to "purge out the noxious gasses of summer" and expresses wishes for a good harvest. The festival also features races and feats of strength. August 2—6.
Yamagata Hanagasa Festival – the city lights up the night sky and pounds with the booming sounds of taiko drumming. There are floats and dancers with flower hats. August 5—7.
Sendai Tanabata Matsui – this is the biggest festival of the region and also the longest running, since the ancient Edo period. A feature is the gorgeous handmade hanging decorations. August 6—8.
Fukushima Waraji Festival – Found in the most southern part of the region, this festival is dedicated to the giant straw sandal – 39.4 feet long and weighing 2 tons. Fukushima's festival is centered around shrine at the foot of the mountains.
Aomori Nebuta Festival – features 22 decorated floats and dancers to highlight the summer nights. Also held in August.
Today we were treated to a thrilling demonstration of Da-te Busho (samurai) prowess, featuring dashing swordplay. Next we enjoyed three dance presentations. The first (pictured below) had two elegant and graceful dancers in blue kimono, their hair adorned by flowers, accompanied by two drummers and one musician on wooden flute.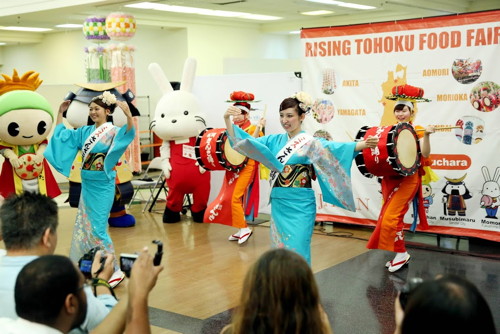 The next performance had dancers from Yamagata in gaily-colored kimono teamed with head scarves. They played with wicker discs trimmed with bells and rosettes.
The final dance performance was a highly energetic one from Sendai. The dancers held yellow and purple fans and executed many high kicks and bold choreography, all set to taiko drum beats. They were notable for their white stipe of paint down their noses!
The Festival Dance Stage will feature regional presentations, including the ones we saw today plus some others: the Da-te Busho (samurai) performance; Aomori City's Nebuta orchestra; dances from Sendai City (Suzume), Yamagata City (Hanagasa), and Morioka City (Sansa); and appearances by various festival pageant queens. Many festive decorative items referencing city-specific festivals will be on display throughout the venue, plus pictures of other Tohoku regional mascots, and a photo exhibition of other famous local festivals within the region.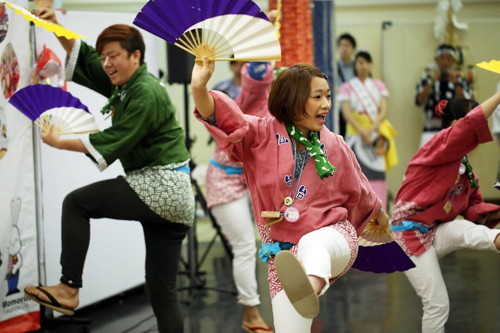 The Rising Tohoku Food Fair
August 20-23, 2015
Fair hours are 11:00 a.m. – 6:00 p.m. daily.
Mitsuwa Marketplace is located at 21515 Western Avenue in Torrance.
Food Fair: August 20-23, 2015, 11 am – 6 pm
Dance Performances: August 20-23, 2015, 11:30 am – 1 pm; 4 pm – 5:30 pm
Craft Workshops: August 20-23, 2015, 11 am – 11:30 am; 1:30 pm – 2 pm; 3 pm– 4:00 pm; 5:30 pm – 6 pm
Photo Session with Mascots: August 20-23, 2015, 1 pm – 1:15 pm; 5:30 – 5:45 pm
Visitors who purchase featured Tohoku products will be given mascot merchandise as gifts.
The full schedule of dance and festival presentations, crafts workshops, photo sessions with mascots and food fair can be found here.
For more information, call 310.782.6800 or visit their official site here.