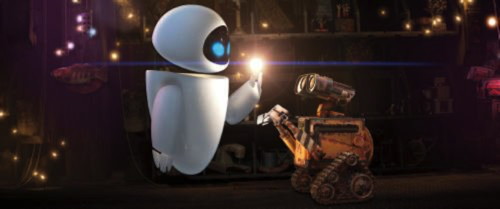 Upon recently revisiting an beloved animated movie, I learned that its charm had not faded — it had only deepened.
You are invited to discover — or reacquaint yourself with — the delightful animated movie WALL-E.
My review, from 2008:
WALL-E, the latest Pixar release, is a delightful sci-fi animation that will enchant children and adults alike. Set in the not-so-distant future, we see that planet Earth has been overrun by garbage. For every skyscraper, a similar tower of compacted rubbish looms alongside. Terrifying dust storms sweep through the unpopulated metropolis, the humans having already blasted off into outer space on cruise liner-style space ships to await their return to a cleaned up Earth. Unfortunately, several hundreds of years have passed and there's no likelihood that the mission to rid the Earth of its mountains of garbage will ever be achieved.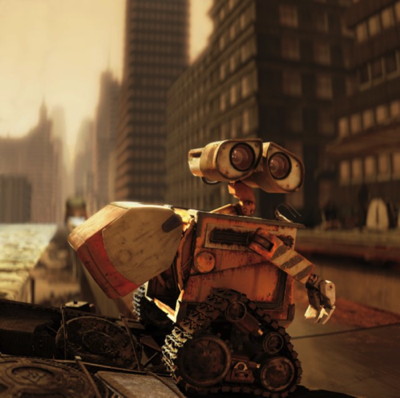 Left tootling along under his prime directive is the resourceful and tiny little robot Wall-E, which stands for Waste Allocation Load Lifters – Earth class. This perky, quirky little character has become somewhat sentient, communicating in drones, clicks and squawks to the only living thing remaining on Earth, his best buddy – the cutest and springingest little cockroach you've ever seen. Wall-E compacts rubbish into neat squares, selecting bits of flotsam that catch his fancy.
When a visiting space ship deposits a high tech robot, named Eve, sent to discover if there is any sign of life on Earth, it's love at first sight for Wall-E.
What transpires is a delightful and almost heartbreakingly tender love story between these two expressive and adorable characters. Accompanying some breathtaking visual sequences, the glorious score, with its soaring orchestral melodies composed by Thomas Newman, is largely responsible for the depth of the emotional connection gained in viewing this movie, whose tone never turns saccharine.
Indeed, the opening quarter of WALL-E is a little bleak, and some viewers may squirm at the latter sequences that find so much comedy at the expense of obesity, just stopping short of mean-spiritedness, but the rewards of this feature-length animation are many.
WALL-E is available for purchase or viewing via iTunes.