The 2015/16 San Francisco opera season opened on September 11th with a revival of Francesca Zambello's production of Verdi's Luisa Miller. Luisa Miller, based on the play "Kabale und Liebe" (Intrigue and Love) by the German dramatist Friedrich von Schiller, was the 15th of Verdi's 28 operas. It is a transitional work, written at the beginning of his middle period. His artistry was beginning to develop into something more refined and moving beyond some of the traditional Italian operatic formulas. Transitional, too, in that the protagonist isn't a princess or a goddess, but a simple country girl caught up in political intrigue because she is in love with a man above her nominal station.
The central character of Luisa Miller is a more bourgeois subject than in Verdi's previous operas. Luisa, daughter of Miller, an old soldier, loves a boy she knows only as 'Carlo.' Carlo is, in reality, Rodolfo; the son of the local lord, Count Walter. The Count gained his title by secretly arranging for the murder of his older brother with the help of his servant Wurm. Now he wants Rodolfo to marry the rich Duchess Federica to further solidify his position. Rodolfo genuinely loves Luisa; so does the aptly named Wurm. They threaten to execute Luisa's father on trumped-up charges in order to coerce her into giving up Rodolfo by convincing him that Luisa loves the despicable Wurm. Luisa swears an oath to protect her father and Rodolfo views this as a terrible betrayal of his true love. Luisa, for her part, still truly loves Rodolfo and it transpires that she and her father intend to run away together rather than submit to the Count and Wurm's intrigues. Rodolfo takes poison and poisons Luisa as well. The lovers die together, glad that they can be united at least in death. Before he dies, Rodolfo also shoots the villainous Wurm and tells his father "La pena tua mira" ("Look on your punishment").
Soprano Leah Crocetto, a graduate of the San Francisco Merola Opera training program and a 2010 winner of the Metropolitan Opera National Council Auditions, sang the title role. She displayed more steel than velvet in her voice and did not seem quite at ease with the fiorature of her Act 1 entrance aria, but displayed a powerful top and gave a strong performance. Her Act 2 aria, "Tu puniscimi, o Signore," was touching as we see Luisa attempting to come to terms with her love for Rodolfo versus her duty towards her father, under threat of execution. And in Act 3, a masterpiece of Verdian opera from beginning to end, she was simply magnificent – a girl hurt by her circumstances beyond her control but trying to rise to her situation.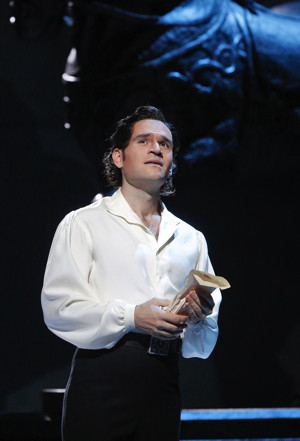 Her Rodolfo was the American tenor Michael Fabiano, recipient of the 2014 Richard Tucker Award and the 2014 Beverly Sills Artist Award. Fabiano gave a thrilling performance, singing with a ringing, ardent tone that brought the house down in his Act 2 aria, "Quando le sere al placido," one of Verdi's greatest arias. The Ukrainian baritone Vitaliy Bilyy, in his San Francisco debut, also delivered a particularly successful performance as Luisa's father, the old soldier Miller. His voice was youthful and gleaming, perhaps sounding not quite like an old soldier, but delivering a truly beautiful performance particularly in the long duet with Luisa which begins Act 3. He is clearly an artist to watch.
Excellent support came from bass Andrea Silvestrelli as Wurm – a part which was, frankly, underdeveloped by Verdi – but which the large, dark-voiced bass managed to make into a threat. Russian mezzo Ekaterina Semenchuk was also a pleasure in the role of Duchess Federica, though like Wurm, the role is rather underdeveloped.
Daniel Sumegi, as Count Walter, was not on this level. The voice is not attractive and his performance of his Act 1 aria, "Il mio sangue, la vita darei," regrettably was not at the same high level as his colleagues.
San Francisco Opera music director Nicola Luissoti led a fiery performance, showing once again that he is an outstanding conductor, particularly in the Italian repertoire. The production, by Francesca Zambello, was more utilitarian than inspired. The sets by Michael Yeargan were mostly static – a painted backdrop of a farmhouse for Miller's house, and a large stylized painting of a tapestry for Walter's castle with a few pieces of furniture. Duchess Federica made her entrance drawn in on a huge, oversized statue of a horse, which necessitated her being lifted down by another cast member. The costumes by Dunya Ramicova – peasant costumes for the villages, colorful red costumes for the nobles, green uniforms for Rodolfo and for Wurm and a black and white frock for the Count – were enough to differentiate the respective groups. Three performances of Luisa Miller remains between now and September 27th. It's worth traveling to San Francisco for, particularly to see rising star Michael Fabiano in a genuinely great performance.
More information can be found at the official site here.