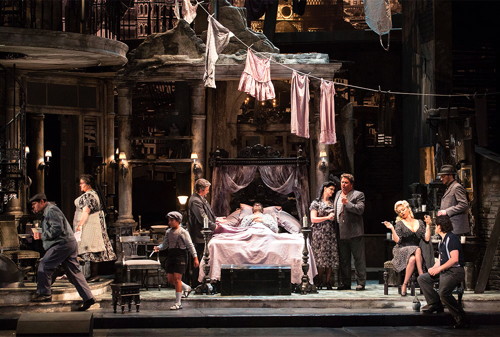 LA Opera opened its 2015-16 season with a double bill of Puccini's comedy Gianni Schicchi and Leoncavallo's melodrama Pagliacci.
::STOP PRESS::
See below for info about opera at the beach
a live broadcast at the Santa Monica Pier — Saturday October 3, 2015 – 7.00PM
 Here follow two reviews by Jeffrey Roberts: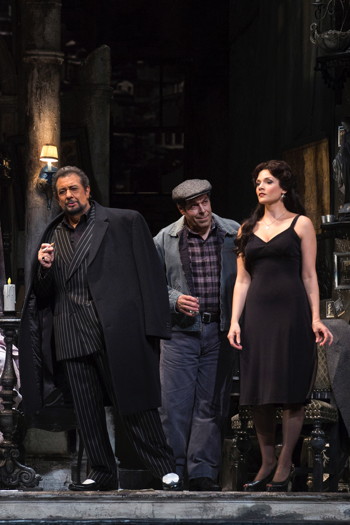 Gianni Schicchi.
Gianni Schicchi, based on a character in Dante's poem Inferno, premiered in 1918 as part of Puccini's "Il Trittico" –  three one-act operas with contrasting themes – was a revival of Woody Allen's production, first seen as part of the complete Trittico staged in 2008. The production updated the setting from the 13th century to the 1960s, with Schicchi turned into a Sicilian Mafioso instead of merely being a brash newcomer to the bustling city of Florence.
As the curtain rises, the Florentine Donati family contemplates the death of their wealthy uncle, Buoso Donati. They fear that the dead man's will names a local monastery as his heir and those fears are confirmed when they locate the dead man's will among his possessions. A young man named Rinuccio is in love with Lauretta, the daughter of Gianni Schicchi, and he hopes to marry her. It is Rinuccio who suggests that the crafty Schicchi may have a way to help the Donati family out of their predicament.
Rinuccio sends a messenger for Gianni Schicchi, who arrives with great fanfare and attitude. The Donati family, en masse, dislike Schicchi and distrust him, but they reluctantly consent to hear what he may suggest. Schicchi, in turn, doesn't care much for the pompous, greedy Donatis and only consents to help after his beloved daughter Lauretta pleads with him so she can marry her beloved Rinuccio once he gains his portion of the inheritance.
Schicchi proposes impersonating the dead man in order to dictate a new will to a notary, leaving the estate to the surviving relatives.  After the avaricious Donatis consent, Schicchi is dressed in Buoso's nightclothes and a notary is summoned to record a new will. In the meantime, the various Donatis try to bribe Schicchi in order to obtain the choicest parts of the estate.
In the end, after reminding the Donatis repeatedly that – should this ruse be discovered they will all be subject to the most severe punishments – Schicchi dictates a will in which the best and most valuable portions of the estate are, in fact, willed to Gianni Schicchi himself.
Outwitted, the Donatis leave Schicchi in possession of his new wealth and the newly betrothed Rinuccio and Lauretta are seen happily embracing each other. Producer Woody Allen adds a shocking and violent epilogue that punctuates the opera right at the moment of Schicchi's triumph.
The Allen production is whimsical and appealing, opening with a contrived bit of faux film credits to the tune of "Funiculì, Funiculà" that is a nevertheless a good setting for the whole gimmick of the updated production. The Donatis appear to be straight from central casting: Handsome nephew Rinuccio, portly and earthy Aunt Zita, slick cousin Marco and so forth. Schicchi, himself, likewise looks like a Mafia Don straight out of a sitcom with pinstriped black suit, large overcoat and fedora. The single-unit set of the Donati house, on two levels with a side staircase entrance and a photo panorama of Florence as a backdrop, is particularly effective.
Among the Donatis, the stars were handsome, especially plangent-voiced Mexican tenor Arturo Chacon-Cruz. Meredith Arwady whose booming contralto added power and menace to Aunt Zita, saw that menace born out in Allen's rewritten ending to the opera. Soprano Andriana Churchman as Lauretta has little to do, but gets to sing the opera's one familiar aria, "O mio babbino caro," as she implores her father to help her beloved's family. Churchman sang it beautifully. Special mention must also be made of baritone Kihun Yoon as the notary, whose voice sounds genuinely gorgeous. He is scheduled to sing the consul Sharpless in Madame Butterfly later this season and his performance in Schicchi promises much for the future.
In the title role and the star of the opera was Placido Domingo, LA Opera General Director and legendary leading tenor.  Now in a second (or is it third? Or fourth – see Pagliacci below…) career as a baritone, Domingo's baritonal excursions have met with variable results.  As the aging Schicchi, Domingo is perhaps less a rogue and more a schemer trying to better himself in the face of class strictures.  He seems almost heroic – though we know he ends up in Hell thanks to Dante – in his outwitting of the Donatis. The performance works and the audience loved it; Domingo was met with a huge ovation at the final curtain. It is a success that is sure to please.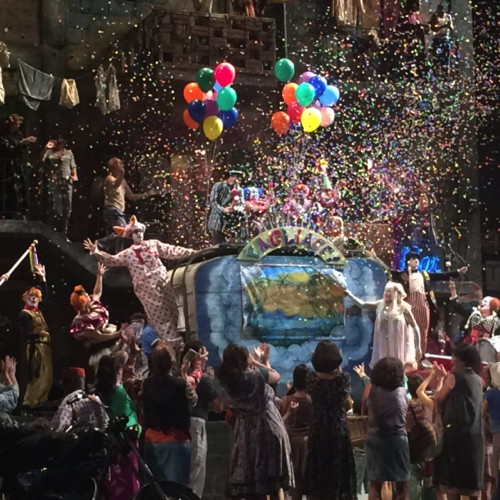 Pagliacci.
For the second half of the double bill, tenor/director/baritone Domingo moves to the pit and conducts the second half of the night's entertainment.  Pagliacci, Ruggero Leoncavallo's one enduring masterpiece of an opera, tells the story of a troupe of traveling Commedia dell'arte players who arrive in a small southern Italian town. Like Woody Allen's Gianni Schicchi, Pagliacci producer Franco Zeffirelli has shifted the action, in this case from the mid-19th century to circa 1980.
The traveling players arrive in the town and their leader, Canio, shows that he is insanely jealous of anyone flirting with his young wife, Nedda, going so far as to threaten their rather dimwitted companion Tonio. When Canio leaves to have a drink with some of the villagers, Tonio tries to force himself on Nedda. She resists and strikes him. Later, she has a rendezvous with the villager Silvio, with whom she is in love. Tonio, furious at Nedda's rejection of him, overhears the lovers and brings Canio back to see Nedda's betrayal for himself.  Silvio manages to escape but the distraught Canio swears he will learn the identity of Nedda's lover. The rest of the opera is a play within a play. Canio, increasingly unhinged, as he plays the fool on stage, finally attacks Nedda during the performance hoping to draw her lover out of the crowd. He kills her and then kills Silvio as well when he tries to come to her defense, before declaring "Le commedia e finite" – The play and opera conclude as the final curtain falls.
Italian tenor Marco Berti as Canio displayed a big, attractive voice but demonstrated more power than finesse. However, the performance worked dramatically – even if it was a bit short on musical values.  Soprano Ana Maria Martinez was a superb Nedda, by turns touching and tough. She is among the finest sopranos working today and this was a performance of real artistry. Los Angeles audiences will have another opportunity to see her later this season when she returns for the title role in Puccini's Madama Butterfly.  Tenor Brenton Ryan was a charming Beppe, displaying a very attractive voice. Baritone Liam Bonner, who sang in LA Opera's productions of Billy Budd and Dido and Aeneas last season, had less to do as Silvio (and one of the Donatis in Gianni Schicchi) but displayed a handsome stage presence and an attractive voice. Georgian baritone George Gagnidze was a bit rough-voiced as Tonio and lacked the powerful top notes to bring off the opera's opening prologue.
The production design by Zeffirelli featured scores of extras – acrobats, tumblers, stilt-walkers, pretty girls in short shorts, skaters, drag queens, kids, a donkey, a car and trailer, and, as backdrop to all this dazzling activity, a wall of tenements and teeming public spaces, awash in humanity. Such a dynamic scene – it was as if Cirque de Soleil was putting on a production at the same time as the Paglacci was being staged.  Visually it was colorful, even captivating, all this also tended to overwhelm the opera. Domingo and the orchestra accompanied the overwrought proceedings with punch and fire, but like the overall production – with the singular, glorious exception of Ms. Martinez as Nedda – it was all a lot of substance without much style.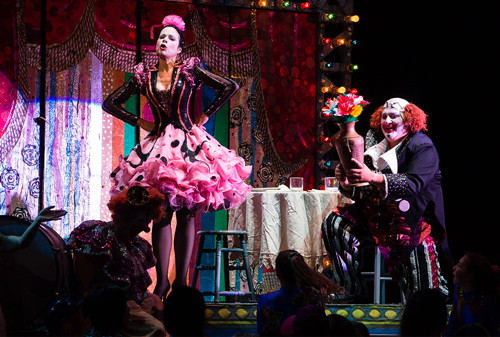 Three performances remain of Gianni Schicchi and Pagliacci this season. Tenor Yusif Eyvazov is scheduled to sing the role of Canio in the final performance.
Performer links – Marco Berti and Ana Maria Martinez.
Schedule:
Thursday September 24, 2015 07:30 PM
Sunday September 27, 2015 02:00 PM
Great Seats Just Released in Orchestra and Founders Circle
Saturday October 03, 2015 07:00 PM
opera at the beach
a live broadcast — Saturday October 3, 2015 – 7.00PM
LA Opera presents Opera at the Beach, a live broadcast sponsored by Los Angeles County Supervisor Sheila Kuehl.  The double-bill of Gianni Schicchi & Pagliacci starring Plácido Domingo, will be broadcast live in high-definition from the Dorothy Chandler Pavilion to the big screen at the Santa Monica Pier. The live broadcast will be captured by nine cameras at the Dorothy Chandler Pavilion and shown simultaneously on a large LED screen on the Santa Monica Pier deck.
Audience members are strongly encouraged to reserve advance tickets to avoid long entrance lines on the night of the broadcast. Advance tickets can be reserved on this page with a handling fee of $1 per order.
Free tickets can also be obtained in person from the Dorothy Chandler Pavilion Box Office (135 North Grand Avenue, Los Angeles, 90012) without an added handling fee. Advance tickets are recommended as seating is limited, but there will be tickets available at the door with no added handling fee.
enhance your experience
tips for the pier
Seating at the event is GENERAL ADMISSION. Arrive early to get the best area, and be sure to bring your own seating.  The Pier will be open for the live broadcast beginning at 5:00pm for pre-performance picnicking.  A bike valet is available for your convenience from 5:00 – 11:30pm. The valet is located near the volleyball courts on the south side of the Pier.
The Wine Terrace
Presented by LA Magazine
On site amenities include The Wine Terrace presented by Los Angeles magazine. For one low price, visitors to The Wine Terrace can sample wines from Beekeeper Cellars, Harmony Cellars, Graef Wine, Cordon, Cebada Vineyard, Mueller Winery, San Vincente Cellars, Nabu Wines, Zaca Mesa Winery and many more. The Wine Terrace will be open from 6-9:00pm. Tickets are $20 each if purchased in advance and $30 at the door; must be 21 years of age with valid ID to enter.