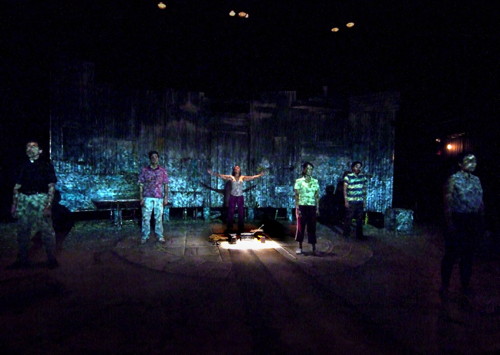 Martín Zimmerman's one-act – and casually sexist – drama Seven Spots on the Sun explores the impulse of revenge, and the notion of redemption, against the backdrop of a horrifying civil war. The lives of two couples in two separate (but nearby) South American villages are presented as mirror images. One is a doctor named Moisés (Jonathan Nichols) who is enamored with his wife (no job description) named Belén (Murielle Zuker). The other couple is younger; Luis (Christopher Rivas) wants to provide luxuries such as an automatic washing machine for his wife Mónica (again, no job description besides 'wife' is given – played by Natalie Camunas). There's an inexplicable disconnect between this couple. Their intense and passionate lust for each other is well-conveyed, yet they don't communicate well. Luis is portrayed as a macho, sexist creature who withholds information from his own wife and doesn't include her in major decisions, such as making major purchases or deciding to quit his job and join the military. She's not thrilled by this autonomous act. Of course, a civil war erupts, calling him to serve for a tour of duty that turns out to be three long years of horror.
Meanwhile, in the nearby village, Moisés has to scrounge for medical supplies and his village is terrorized by soldiers who torture and kill and menace the townspeople. Naturally the paths of these two couples is destined to cross, with devastating results.
Zimmerman's sometime-poetic and highly symbolic play draws on the genre of magic realism to tell its bitter fable. The story unfolds unevenly, with too much preamble before the final stage that holds the greatest impact. Rivas as Luis conveys the pent-up rage of a man forced to commit unspeakable acts while in service. Camunas as his long-suffering wife remarks (curiously, in the present tense) on his irrevocable alteration, telling us "It's like he's leaving little bits of himself out in the field. When the war ends, it's like I barely have a husband."
Nichols is good as the embittered Moisés, facing a brutal moral decision with very few qualms, such is the shallow writing here.
The play is very nicely staged, featuring an ingenious scenic design by Sara Ryung Clement.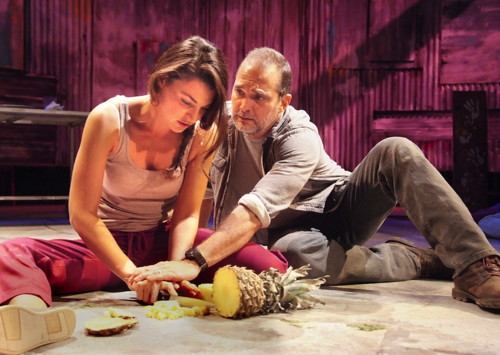 Seven Spots on the Sun by Martín Zimmerman
Main Stage at Boston Court Performing Arts Center
70 North Mentor Avenue
Pasadena
A co-production with Rattlestick Playwrights Theatre.
Tickets can be purchased online here or by calling (626) 683-6883.
Runs until – unknown date.
Go to website for performance days.
Running time:  95 minutes, no intermission.
SPECIAL EVENTS:
Illuminations On Performance: Sunday October 18, and Thursday, October 15 with the cast of Seven Spots on the Sun.
Illuminations On Design: Thursday, October 22 with designers from Seven Spots on the Sun.
Illuminations On Theme: Sunday, October 25 a pre-show discussion on themes from Shiv. This discussion begins at 1:15pm.
Illuminations On Direction: Thursday, October 29, with Michael John Garcés.
Late Night Salon: Fridays, October 16, 23, 30. Stay after the performance and enjoy complimentary wine in the lobby.
Five Dollar Night: Wednesday, October 28. All tickets are $5. No presale. Cash only at the door. First come, first served. Limited availability.