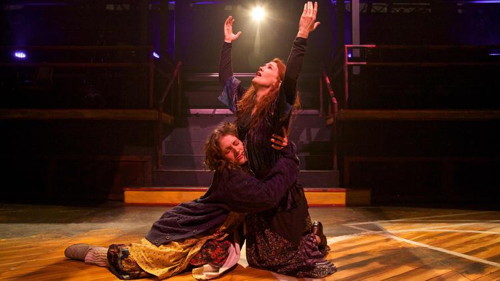 Greetings dear #LAThtr fans!
Pauline Adamek from ArtsBeatLA.com presents Exit Reviews, a series of 'vlogs' or video reviews.
Here's the newest Exit Review for the play Carrie The Musical, which opened last week and runs at least until November 22, 2015 – possibly beyond – at the Los Angeles Theatre in Downtown LA.
INFO:
Carrie The Musical
Los Angeles Theatre
615 S. Broadway,
Los Angeles, CA 90014
Performances on sale through November 22, 2015.
Playing:        Tuesday, Wednesday, Thursday, Friday evenings at 8pm
Saturdays Oct. 17, Oct. 31 (Halloween), and Nov. 14 at 6:30p and 11pm
Saturdays Oct. 3, Oct. 10, Oct. 24, Nov. 7 and Nov. 21 at 2pm and 8pm
Sundays at 2pm and 6:30pm
Tickets:        Available online here or by calling 1-888-596-1027
Prices:        Tickets start at $40.00.
Video info:

Video produced, filmed, edited and hosted by Pauline Adamek.

An ArtsBeatLA production.