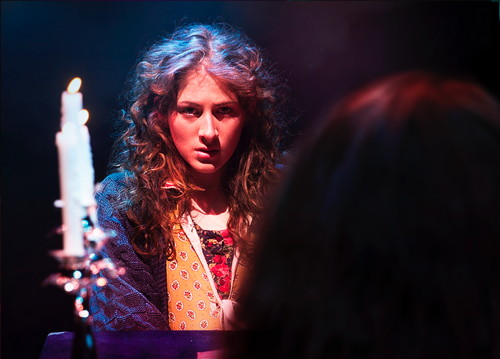 Now playing at the Los Angeles Theatre is Carrie the Musical, an exciting musical production, packed with great songs, fantastic voices and performances, and a compelling storyline.
Most people will be familiar with the tale of misfit teenager Carrie, whether or not they read the horror novel by Stephen King or saw the movie by Brian dePalma or even the recent movie remake. The Broadway musical version of this supernatural saga famously flopped during the late 80s (the show closed less than a week after its opening) but it has been dusted off and resurrected. Following a successful run at La Mirada earlier this year (a sort of out-of-town tryout), the show has come to downtown Los Angeles.
Producers Bruce Robert Harris and Jack W. Batman and The Transfer Group have opened Carrie the Musical in the historic Los Angeles Theatre, and this is the first theatrical musical at that venue in about ten years. The many rooms and foyers of the gorgeous old picture palace — where Charlie Chaplin held a glamorous debut for his movie Modern Times in 1931 — has been distressed and staged with saggy balloons and sad streamers, as if the whole place has been the venue for the High School Prom. The theater itself has been transformed into an intimate theater in the round. Audiences are seated in what appears to be a burned out gymnasium, post-Prom disaster (the climax of the story).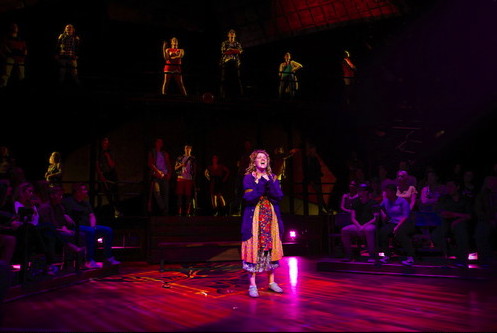 Under the direction of Brady Schwind, the environmental staging offers an 'immersive' experience that includes four sections of stage-level bleacher seating ('Senior Class' seats, priced at $125.00) that move at key moments into new arrangements, taking those seated there deeper into the action.
The musical has numerous wonderful songs, each more likable than the last. The mostly young and enthusiastic cast brings a high caliber of talent to their performances. Lee Martino's choreography is especially noteworthy for its creative arrangements; all the more remarkable when you realize many in the cast are not trained dancers. Schwind's staging makes good use of the dual-level set and all scene transitions that require shifting of set pieces are handled smoothly and quickly. In short, the whole two-act show flows beautifully. There are many instances of trick props and simple devices used to indicate Carrie's telekinetic powers that add a frisson of terror. Above all, it's the terrific voices, gorgeous harmonies and powerful emotionality that the hard-working cast brings to this show that offers the greatest impact and enjoyment.
Misty Cotton is ferocious as Carrie's weirdo Mom, blowing us away with her intense performance. Emily Lopez is fantastic as the bullied and vulnerable Carrie White, her performance ranging through various emotional states, from timidity to euphoria to despair and fury.  Kayla Parker is very good as 'Queen-Bee' mean girl Sue Snell. The entire cast is stellar.
Don't miss this fantastic show!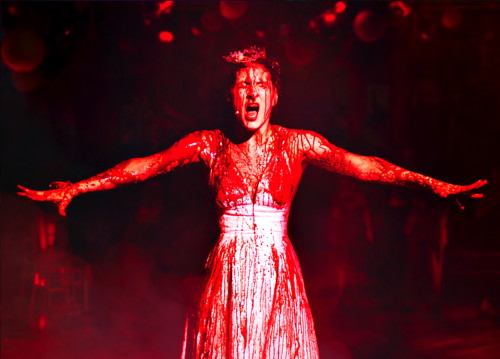 Watch the Exit Review – my brief first impressions vlog – here.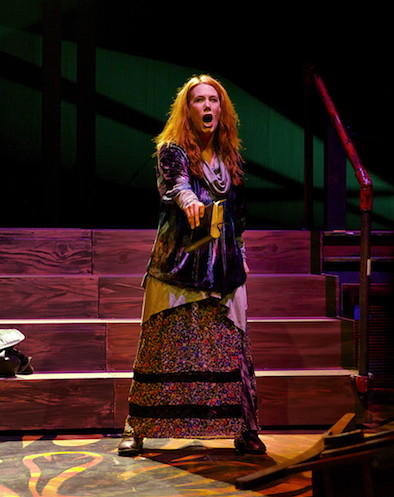 Carrie The Musical
Adapted by Michael Gore, Dean Pitchford and Lawrence D. Cohen from the novel by Stephen King.
Los Angeles Theatre
615 S. Broadway,
Los Angeles, CA 90014
Performances on sale through November 22, 2015.
Playing:        Tuesday, Wednesday, Thursday, Friday evenings at 8pm
Saturdays Oct. 17, Oct. 31 (Halloween), and Nov. 14 at 6:30p and 11pm
Saturdays Oct. 3, Oct. 10, Oct. 24, Nov. 7 and Nov. 21 at 2pm and 8pm
Sundays at 2pm and 6:30pm
Tickets:        Available online here or by calling 1-888-596-1027
Prices: 
$40.00 — Sophomores
$80.00 — Junior Class
$125.00—Senior Class
Performances are on sale through November 22, 2015 (at present).