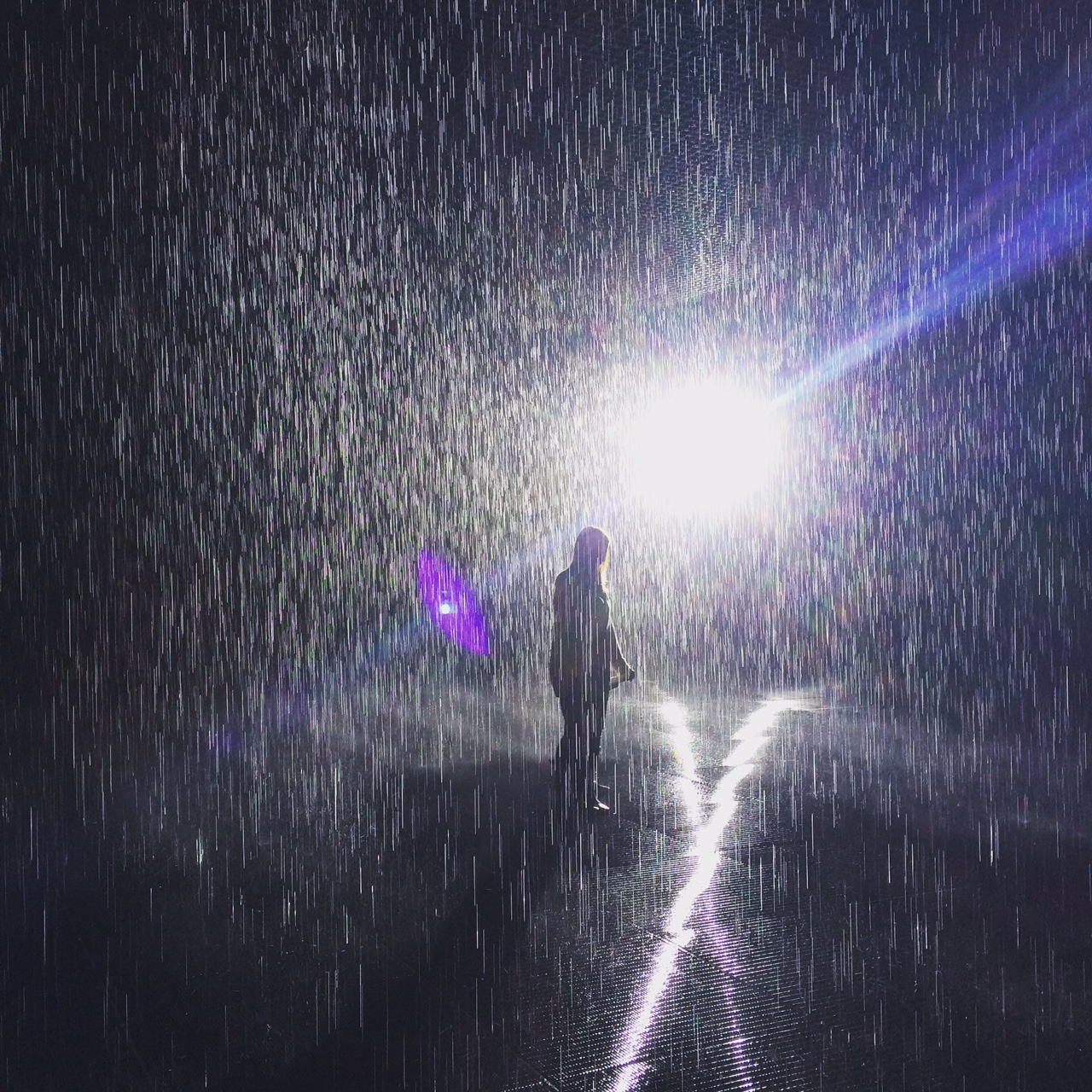 Imagine walking into a torrential rainstorm and — miraculously — escaping a soaking. That's the unique and immersive experience that awaits visitors at the Los Angeles County Museum of Art (LACMA), available until March 6, 2016. Within the large-scale light and sound installation, Rain Room, you are both exposed to and elude the shower of falling water.
A work by the London-based artist collective Random International, Rain Room (first staged in 2012) is an environment of perpetually falling water that pauses wherever a human body is detected. The installation offers visitors an opportunity to experience what is seemingly impossible: the ability to control rain. Upon entering this surreal environment, visitors can move through this space freely, protected from the water falling all around them.
So what's it like? You enter a large and dark room, lit only by one large spotlight in one corner of the room. Water is steadily falling. You slowly enter the downpour and the motion sensors above kick in so you can navigate the rain room without getting saturated and it continues to rain all around you.
Okay, bear in mind that while you won't get drenched, you do get wet. It's a trippy episode, but it's also $30 (non-member gallery entrance fee plus ticket) for a 15-minute session to stand in the rain.
Wear light clothing and flat shoes.
Rain Room is a specially ticketed, timed-entry experience. A visit to this exhibition is approximately 10–15 minutes and must be pre-booked. Public Tickets are currently sold out, but additional blocks of tickets may become available in the New Year. Member Tickets are still available during regular and extended hours. More information can be found here.
Also coming up this month:
11th Annual Los Angeles International Children's Film Festival
Saturday December 12 & Sunday December 13, 2015
The 11th annual Los Angeles International Children's Film Festival returns to LACMA, presenting more than 100 films from around the world—full-length and short animation, live action, and documentaries. The festival is organized for different age groups, from toddlers through teenagers. Select filmmakers and actors will be present for Q&A sessions after each screening.
LACMA, Bing Theater and Brown Auditorium
Free, no reservations required 
More information can be found here.