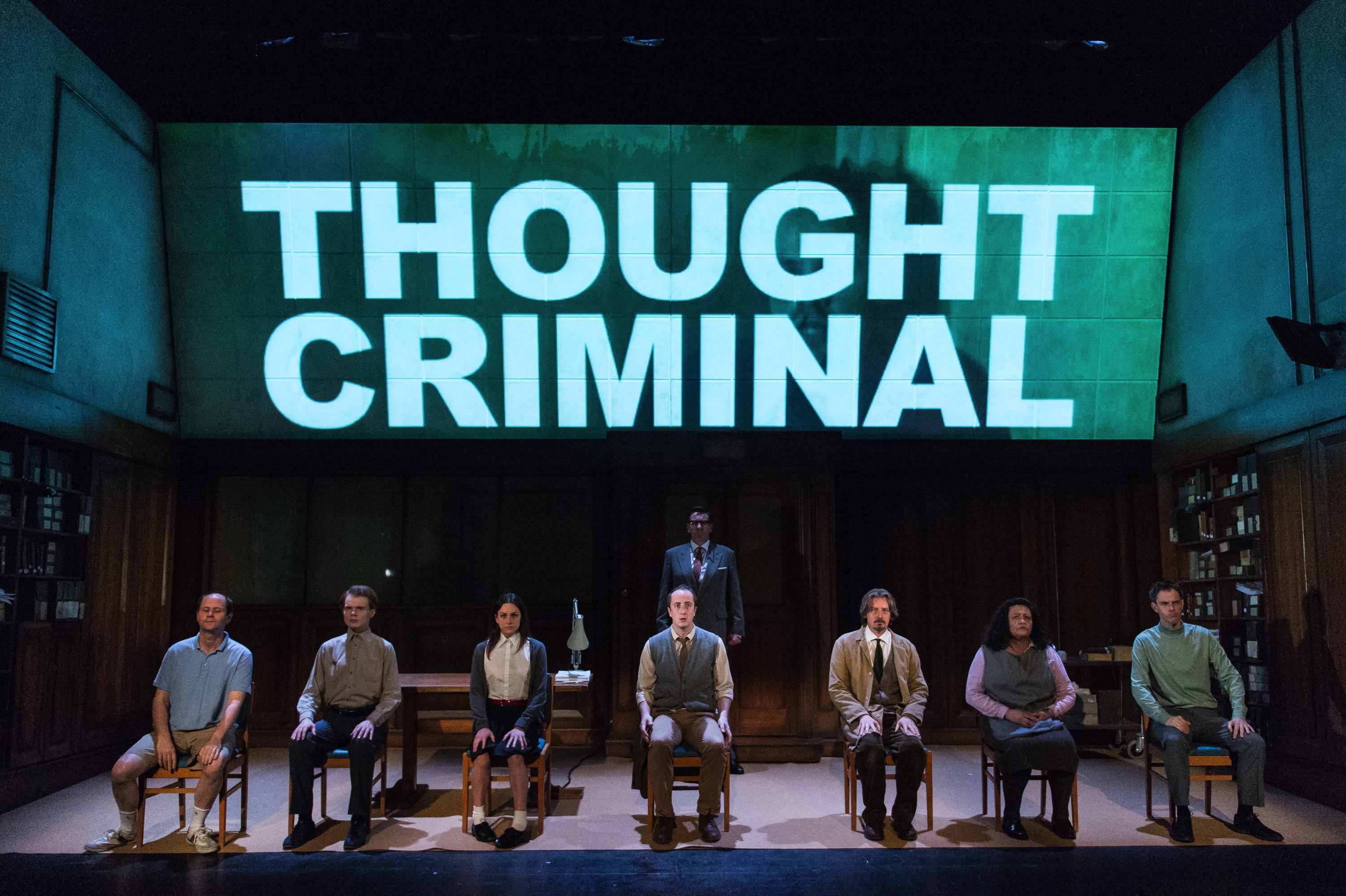 A chilling stage adaptation of Orwell's novel 1984 is now playing at the Broad Stage in Santa Monica through February 6. This adaptation, written and directed by Robert Icke and Duncan Macmillan, highlights today's serious issues of state-sponsored surveillance, identity and intrusions into our privacy.  Published in 1948, author George Orwell's vision of a dystopian future where all citizens lived under constant surveillance and are confounded by political babble was disturbingly prescient science fiction. Depressingly, this novel is as relevant today as ever before.
Known for its edgy unpredictability and exhilarating risk taking, Headlong Theatre Company, led by visionary artistic director Jeremy Herrin, plays a leading role in bringing new plays and new interpretations of plays to the British stage.  Its sophisticated and nuanced production of 1984 is cleverly structured, using technical effects to create a sensory-overloaded visceral experience. Performance, script and staging combine and conspire to keep audiences feeling actively engaged, relentlessly involved, and even disturbingly complicit.
Scenes of a book club discussing the novel cleverly bookend Orwell's drama. In it, an office drone Winston Smith (played brilliantly by Matthew Spencer) chafes at the oppression of the regime he lives under, secretly compiling a diary. After forming a friendship with a co-worker named Julia (Hara Yannas), the pair begin to meet secretly. Eventually Winston is arrested by the all-seeing authorities and suffers an excruciating torture sequence. This graphic and gory scene, so memorable in the book, is especially difficult to watch.
The production makes effective use of Tom Gibbons' unsettling sound design and striking video projection by Tim Reid that further emphasize the prevalent theme that Big Brother is always watching. The occasional but abrupt use of strobe lighting effects, designed by Natasha Chivers, keeps you on edge throughout this spooky and disorienting one-act show.
Although performances from the British cast seemed to be overdone at first, meaning some shouty overacting seemed to prevail, after a while the heightened style started to gel.
1984 is an intense production. Strictly for Orwell fans.
1984
The Eli & Edythe Broad Stage
1310 11th Street,
Santa Monica
Performances:
7:30 p.m.
Tuesdays-Fridays, 2 and 7:30 p.m. Saturdays and Sundays.
Runs until February 6, 2016.
Tickets: $30-$100.00
Box office: (310) 434-3200 or online here.
Running time: 1 hour, 40 minutes (no intermission)