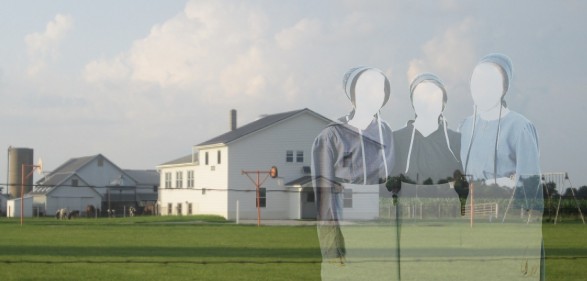 Jessica Dickey's shattering solo piece comes to San Antonio's AtticRep in the capable hands of director David Connelly and star Sarah Gise.
Originally presented to great acclaim at New York's Rattlestick Playwrights Theater, Jessica Dickey's 2009 solo work The Amish Project comes to AtticRep in a superlative production starring a marvelous Sarah Gise.
In a role — well, actually roles — originated by Dickey, Gise masterfully portrays seven characters in a piece inspired by the real-life 2006 killing of five Amish girls in their schoolhouse in Lancaster County, PA.
The characters here are creations of Dickey's imagination, but any notion of exploitation of the tragedy should be dismissed immediately. The playwright has something much more profound on her mind, and her work probes both the darkest and brightest aspects of the human condition — with extraordinary results.
Among the people Gise portrays are Velda, a sweet six-year-old, and her 14-year-old sister, Anna, who was just beginning to experience adult feelings; America, a sassy Hispanic grocery store clerk who's truly a fish out of water in Amish country; and Sherry, an angry bigot whose binging on the awful 24-hour TV news cycle has sent her into an endless spiral of hatred.
Gise also plays Eddie Stuckey, the gunman, as well as his emotionally shattered widow, Carol. As the play opens, the actor delivers individual monologues that last several minutes, but as the drama becomes more urgent, she seamlessly makes staccato leaps from character to character.
Understanding that something beautiful can be found in even the most horrific situations, Dickey presents us with a realistic group of people who represent the very worst of humankind, and also the very best — those who can forgive others for their unspeakable crimes.
For example, the gunman's grieving widow, Carol, still loves and misses her husband, explaining: "Eddie wasn't a bad man. He just couldn't keep his darkness down anymore." And, as she gazes out of her window at night, she swears she can still see him standing out in the road, watching her. Even the Amish folk whose children were killed come to Carol's house to console her, an act of kindness she can barely comprehend.
The AtticRep production, directed by David Connelly, is superb. Jeremiah Teutsch's minimalist set and Tim Francis's subtle lighting provide Gise a platform to deliver Dickey's mesmerizing prose without distraction. Kudos, too, go to Cole Wilson for his sound design that evokes mood without resorting to such clichés as actual gunshots or police sirens, which would be absurd in such a delicate piece.
The Amish Project plays Thursdays through Saturdays at 8:00 p.m. and Sundays at 2:30 p.m. through February 21 at the Carlos Alvarez Studio Theater at the Tobin Center for the Performing Arts, 100 Auditorium Circle, San Antonio. Tickets can be purchased online or by calling (210) 223-8624.