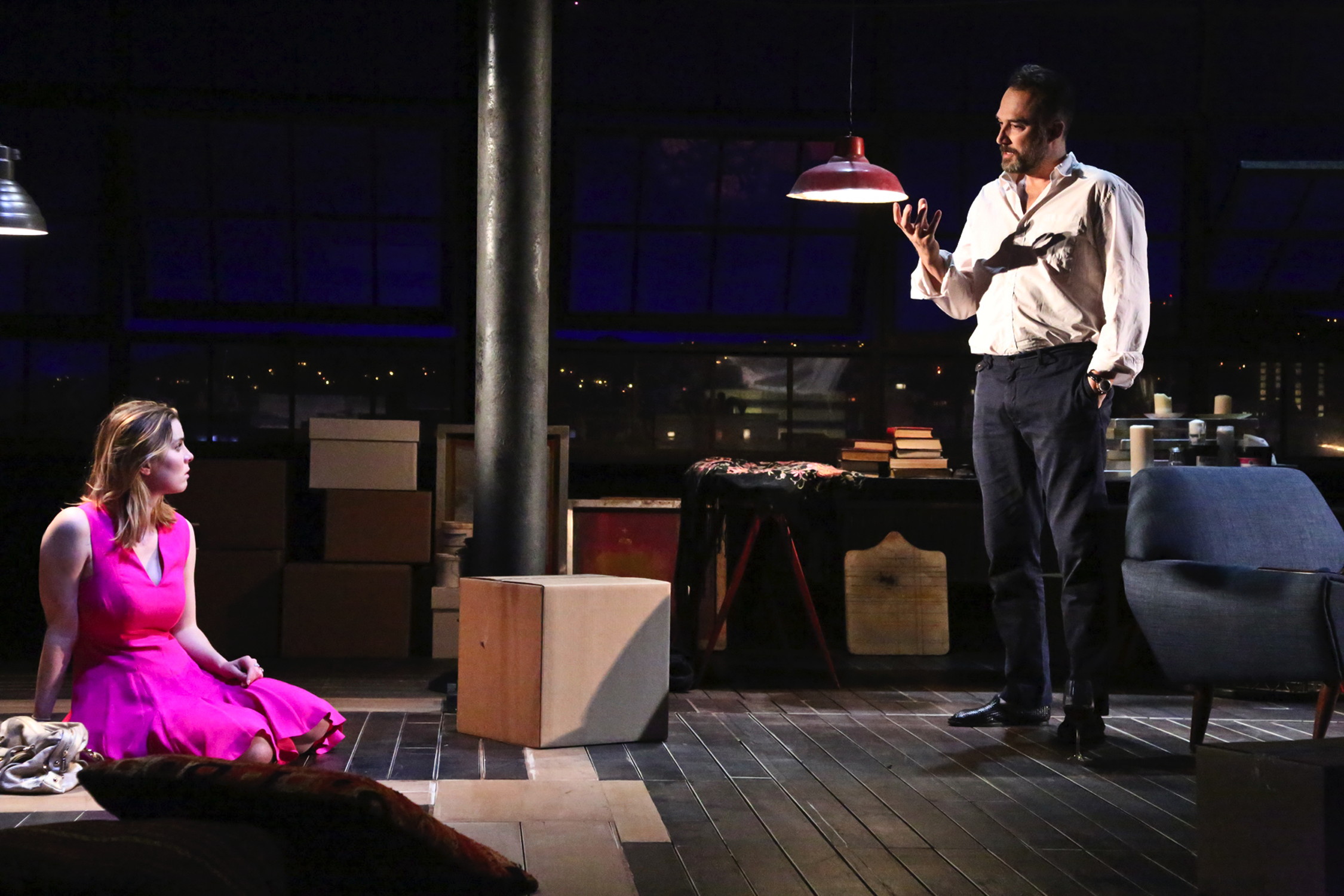 Two opportunistic strangers hook up for a brief bout of sex. But what starts off as a drunken one-night stand turns into a soul-searching all-night discussion that goes until dawn.
Barcelona, written by Bess Wohl, is a sporadically engaging two-hander. Betty Gilpin plays Irene, a ditzy American out on the town with friends in Barcelona who has drunkenly lunged at a local Spaniard named Manuel. Irene and Manuel (played by Carlos Leal) wind up back at his well-appointed apartment, complete with spectacular city views. Their sexual encounter is passionate but swift, full of slapstick moments. (She's falling over drunk; he is not.)
As soon as the fling is over, you can tell he just wants her to leave. But Irene is a self-absorbed nutcase; insecure, gushing and silly. She's also naive, awkward and occasionally amusing. Manuel, on the other hand, is sensible and understanding to a point, but his patience with this garrulous and vacuous female is rapidly running out.
Wohl deliberately chooses a superficial hook-up as the springboard for a play that — painfully — insists on delving deeper into discovering who each of these passing strangers are beyond this one-night encounter. Her two characters start off as the ultimate stereotypes: the dumb, loud American abroad, the taciturn and macho European male. But as we learn more about their troubled backstories, these two also discover what lies beneath each other's veneer, and how they can help each other.
Wohl's play is nicely structured, revealing little bombshell moments throughout, but the journey is agonizing. Nicely rendered by Betty Gilpin, Irene is an annoying character throughout. She's clueless whereas Manuel is politically aware. She's appears to be a carefree "party girl" whereas his life is in a state of flux. She's shallow, he is not. She's disastrously incapable of maintaining control, even screaming at the top of her lungs while pouring red wine over her head during one crazy moment that veers close to a psychotic breakdown. He finds himself in a sticky situation and struggles with it.
Frankly, all my sympathies lay with the more sensible, emotionally deep Manuel, and the predicament he finds himself in with this airhead. The way in which the two characters are written and shaped continually diverted my sympathies towards Manuel and away from Irene. The laughs in this play are not that funny — Irene is utterly immature and a complete wreck and that's actually not fun to watch. Additionally, Manuel's backstory proves more heartbreaking than hers.
While there's some mutual salvation by the play's conclusion, it's really not worth the journey.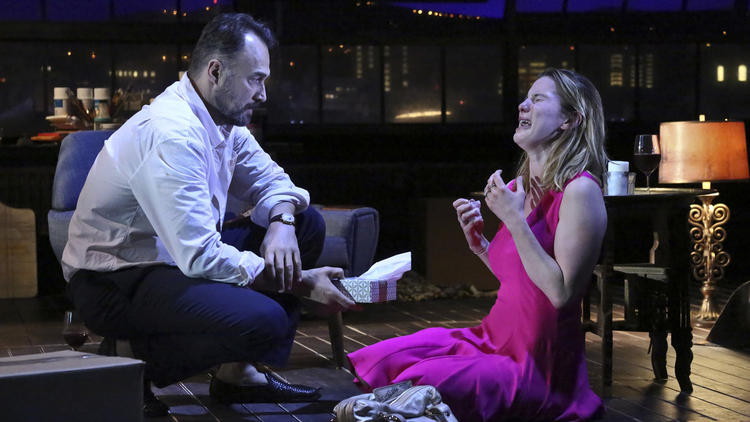 Barcelona by Bess Wohl.
Geffen Playhouse
10866 Le Conte Avenue,
Westwood
Performances:
Tues.- Fri. 8 p.m.
Sat. 3 p.m. & 8 p.m.
Sun., 2 p.m. & 7 p.m.
Runs through March 13, 2016.
Box Office:
Call (310) 208-5454 or online here.
Running time:
One hour and 30 minutes,  no intermission.