It's not every day that you trade sarcastic witticisms with a couple of legends of rock 'n' roll… Amirite?!
Last Saturday night saw a hilarious photographer scrum at a tiny art gallery inside the Sunset Marquis. Two of the original — and enduring — members of the glam rock group KISS, Gene Simmons and Paul Stanley, showed up to support a photographic and print exhibition being held this week ONLY at the Morrison Hotel Gallery, inside the Sunset Marquis Hotel.
Here's what went down between me and the guys:
SO first was a quick photo slam opportunity, where the guys cruised into the gallery for about five minutes and everyone started taking pictures while they were posing. I was off to the side and I called out "Hey Gene, can you put your hand down please?" because he was blocking his face. That's when they both turned to me and I got the shot. Gene goes, "Oh? You want me to make you a sandwich too?" and I yelled back (it was soooo loud) "YES PLEASE! Tuna on rye!"
Bahahaha!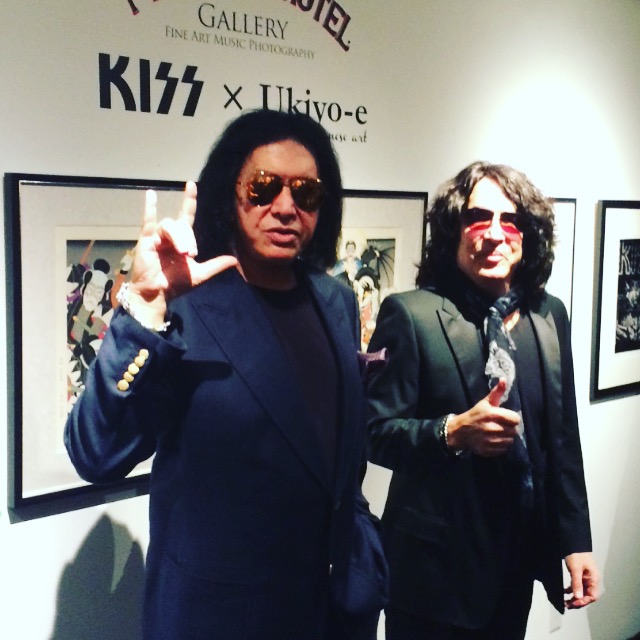 After that they made a reference to me — super sarcastically — "oh, you must be a professional – you're using an iPhone" and later referred to me as as "iPhone over here!"
Hey guys — newsflash! — not all of us are pro-photographers, with serious equipment. Uh, some of us are art critics, ya dig?!
After that quick photo slam opportunity, they disappeared for about five minutes, but then they came back — of course everyone was still taking photos, but we all got a quick general Q & A session, so by then my iPhone was rolling as a recorder, and that's when I asked a few questions.
The exhibition is fantastic but it only runs this week. On view — and also for sale —  are loads of famous photos by even-more-famous rock photographers Henry Diltz (co-owner of the gallery, BTW) and Patrick Harbron.
First edition pieces from the KISS + UKIYO-E Project.
Morrison Hotel Gallery at the Sunset Marquis Hotel
1200 Alta Loma Road,
West Hollywood, CA 90069
The exhibit is open to the public and will be up through February 17, 2016
 

Press release:

In celebration of Grammy Week, Morrison Hotel Gallery honored KISS with a career-spanning photographic exhibit, The Legacy of Kiss, and debut the first edition pieces from the KISS + UKIYO-E Project.

KISS founders Gene Simmons and Paul Stanley were on hand for the opening. Surrounded by a huge crowd of media and fans, the rock & roll icons posed for pictures, letting their swagger hang out. Snapped with the rock legends was Morrison Hotel Gallery co-owners and iconic photographers Timothy White and Henry Diltz.

Some very famous faces were spotted in the crowd of fans and friends. Alice Cooper, members of Anthrax, Dj Ashba of SIXX:AM and many other well-known faces, were there to support AMERICA'S #1 GOLD RECORD AWARD WINNING GROUP OF ALL TIME (In All Categories) (RIAA) and the opening of this very special exhibit at Morrison Hotel Gallery.

Guests admired the celebrated images that are a part of the KISS exhibit, taken by photographers that have shaped the careers of many artists, and have become pop culture legends in their own right. They include Bob Gruen, Danny Clinch, Lynn Goldsmith, Neal Preston, Norman Seeff, Patrick Harbron and Travis Shinn.

The exhibit will also include the debut of the KISS + UKIYO-E Project which showcases the traditional Japanese art. These unique and stunning multi-colored wood block prints, are first edition prints and limited to only 200. This 'KISS Ukiyo-e' project started in fall of 2014 and has culminated in these wonderful pieces of fine art that will be on display for the first time, ever, as part of this exhibit.

The exhibit is open to the public and will be up through February 17th. All photographs in the exhibit, as well as many other KISS photographs are available for purchase at Morrison Hotel Gallery here.

For more information on the Kiss + Ukiyo-E project, please visit the official site here.