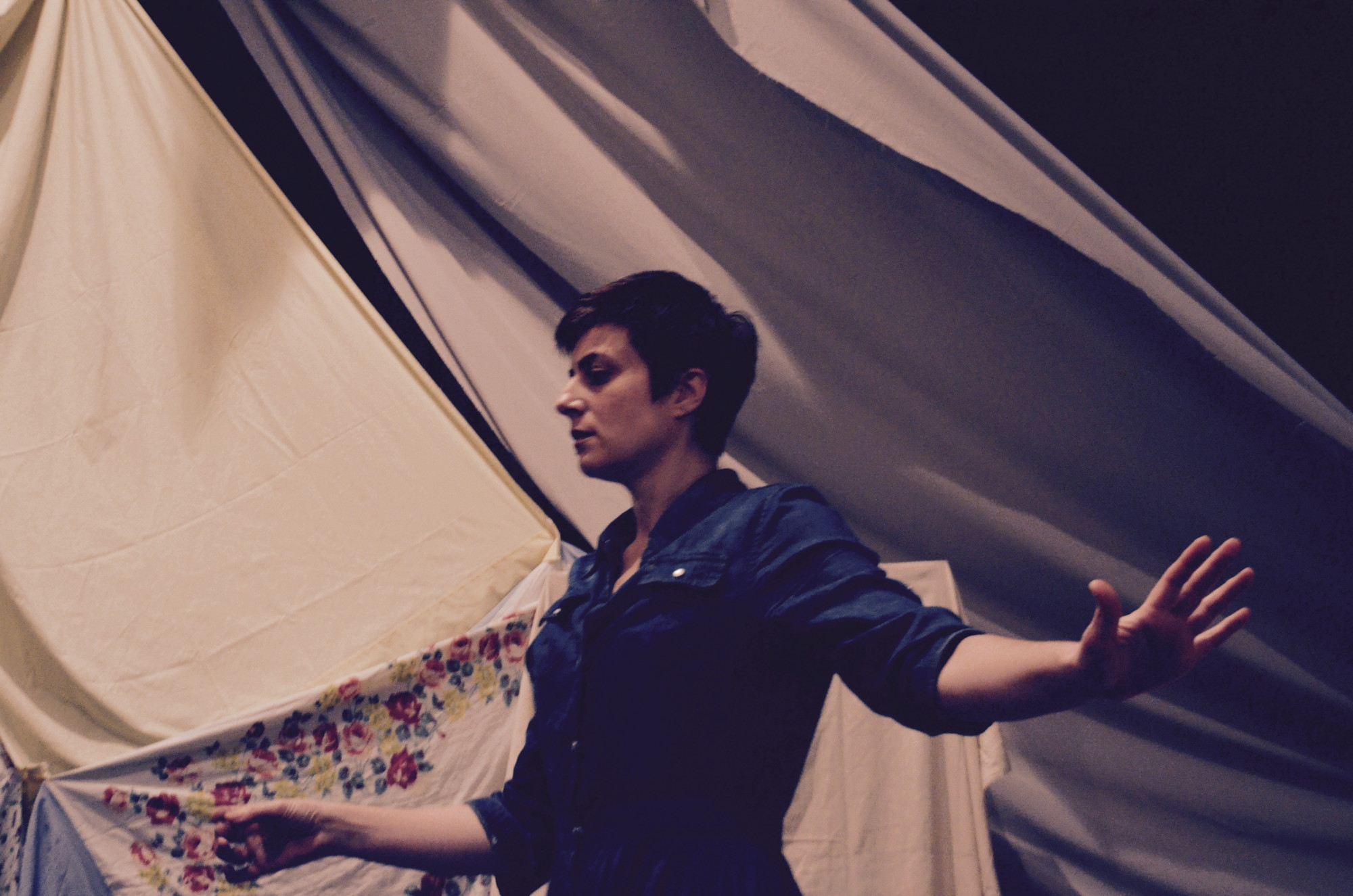 The Getty Villa Theater Lab will continue its support of experimental interpretations of classical plays with four workshop performances of "intimate devised theater duet" – aka The Antigone Project. Starting on Friday February 19, the experimental show will continue for three further performances until Sunday February 21, 2016. This is the first collaboration between award winning theater-makers Annie Saunders (The Day Shall Declare It) and Becca Wolff (No Static at All, The Last Days of Mary Stuart). It is the second step in a three-part development process for The Antigone Project culminating in a site-specific performance on-and-backstage at a historic theater on Broadway in Downtown Los Angeles in spring 2016.
The Antigone Project is a new work co-created by Annie Saunders, who will also perform, and Becca Wolff, who will also direct.
Saunders is founding artistic director of Wilderness, which creates immersive, experiential and interdisciplinary theatrical events, and Wolff is the co-founder of Tilted Field Productions, which is a theatrical lab for telling stories in bold new ways. Together they are known for creating intimate physical theater performances.
The Antigone Project imagines unspoken parts of the iconic Antigone story and examines the unique qualities of the sibling bond. Antigone is the daughter/sister of Oedipus and his mother, Jocasta. After her father Oedipus is exiled from the kingdom of Thebes, her brothers Eteocles and Polynices agree to share the kingdom jointly by alternating rule each year.  However, Eteocles decides not to give up his power when his tenure expires, forcing Polynices to gather an army and attack the city of Thebes in a battle that kills both brothers. King Creon (Jocasta's brother), who ascends to the throne of Thebes after the death of the brothers, decrees that Polynices is not to be buried or even mourned since he had attacked the city. In the story by Sophocles, Antigone defies orders given by her uncle King Creon and secures a respectable burial for her brother Polynices, but is caught. King Creon locks her away in a tomb, where she hangs herself.
The new work provides an intimate and human exploration of the heroine Antigone and the brother she buries. Inspired by current events, the Wild West, ancient Greece, and the artists' own childhood living rooms; The Antigone Project takes a fresh and personal look at the legacy of Oedipus, offering insight into how the themes in the Antigone story are alive in our culture both privately and publicly today.
Based on the three plays of Sophocles' Oedipus Cycle, the workshop at the Getty places its two characters inside a massive childhood blanket fort. The piece marries Sophocles' words with stories from the performers and audience's own lives to explore the human dimension of the epic heroine Antigone and her brother Polynices in the wake of nearly unimaginable loss. The strange and the familiar intersect and entangle. Old West outlaw tales commingle with Greek Tragedy and illuminate stark realities about mourning, criminality, and the sibling bond in our contemporary world.
The Antigone Project was initially commissioned by the San Francisco Playhouse and is the first devised work to receive that honor. A developmental workshop there invited audiences behind the proscenium into the enormous, lofted, brick-walled backstage of S.F. Playhouse's 1925 Gothic Revival Theater in December 2015.
The Antigone Project is currently exploring historic theaters with key partners in the Bringing Back Broadway initiative to bring a site-specific version of this performance to Downtown Los Angeles in spring 2016. This next production, staged in a historic movie house or theater, will include sections performed for audiences both in the plush velvet seats as well as backstage, where the audience will join the performers inside the blanket fort. By transitioning small groups of audience members with timed entry from the traditional viewing space to the backstage, the audience will pass each other unknowingly, trade places and watch as Antigone's private life becomes public, confronted by being both viewer and viewed.
While the workshops are not open to review, audiences at the Villa will be invited to share feedback directly with the creators and artistic team.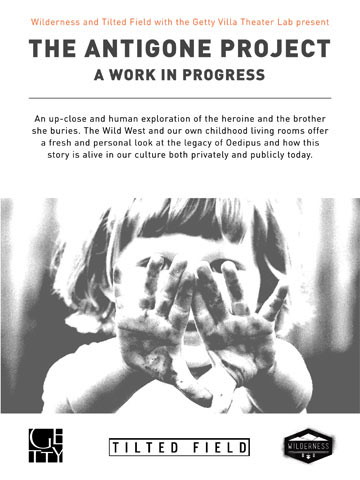 Wilderness and Tilted Field Productions present:
The Antigone Project — a work-in-progress

Auditorium at the Getty Villa
17985 Pacific Coast Highway,
Pacific Palisades
CA 90272
Four performances only, this weekend.
Friday, February 19 through Sunday, February 21, 2016.
Show times include:
Friday, February 19, at 8:00pm;
Saturday, February 20, at 3:00pm and 8:00pm;
and Sunday, February 21, at 3:00pm.
Tickets are $7 and can be purchased by calling the Getty at 310-440-7300 or online by visiting its ticketing page.
Advanced tickets required.
For more information on this production please visit http://thisisthewilderness.com/portfolio/the-antigone-project.
ABOUT:
Becca Wolff, Tilted Field Productions –
Becca Wolff is a cross-media director committed to developing new forms and attracting new audiences to the theater. She is co-founder of Tilted Field Productions, named "Best Avant-Garde Rock Musical Theater Company" by LA Weekly in 2013. Work with Tilted Field includes The Last Days of Mary Stuart, an electro-opera she wrote with members of the band TONY and the World Premiere of Alex Knox's one-man show No Static At All, which was named Best Solo Performance at the 2014 NYC and 2013 Hollywood Fringe Festivals. Other work includes the world premiere of Lauren Yee's Hookman (Z Space/Encore), nominated for Theatre Bay Area's 2015 award for Best Production of a Play. Other recent premieres include Sarah Gubbins' The Kid Thing (New Conservatory Theater), Rocked By Women (Sarah Bush Dance Project) and Dan LeFranc's Sixty Miles to Silverlake (IAMA Theater Company). She has worked at The Public Theater (NYC), Trinity Repertory Theatre (RI), Shakespeare Santa Cruz and Yale Repertory Theatre, among others. Wolff is on faculty at Berkeley City College and Pixar University. She is a graduate of The New School, NYC and holds an MFA in Directing from Yale School of Drama.
Annie Saunders, Wilderness –
Annie Saunders is an experimental theatremaker, performer and founding artistic director of Wilderness, which has presented its site-responsive immersive physical theatre performance The Day Shall Declare It in a disused warehouse in the Downtown Los Angeles Arts District with Los Angeles Performance Practice and in London with Theatre Delicatessen in the former BBC Studios and the Bush Theatre. The company has also presented Leaves of Grass, a work-in-progress about the look-alike phenomenon in couples, in the REDCAT Studio Series and is currently developing that project to tour. Wilderness also offers workshops and masterclasses in devising with text and movement and has recently taught these classes in Moscow, London and Los Angeles. In addition to her work with Wilderness, Saunders is a core collaborator and performer with Lars Jan's Early Morning Opera, for which she has appeared in Holoscenes, The Institute of Memory (TIMe) and Abacus, and has devised and performed original work in the UK with Neil Bettles (Frantic Assembly, Thickskin) and Gemma Fairlie (RSC). She holds a BA and MA in literature and cultural studies from the University of London, and has trained at the Sanford Meisner Center for the Arts, the American Conservatory Theater and the Royal Academy of Dramatic Art.
Wilderness –
An experimental theatre company founded in 2011, Wilderness works internationally to push the envelope of the traditional theatre-going experience. Transforming disused, unexplored and uninhabited urban spaces, Wilderness creates experiential and interdisciplinary theatrical environments. In The Day Shall Declare It, audiences roam freely through the world of the play and multiple storylines create a unique multifaceted and intimate experience. In Los Angeles, Wilderness has received critical acclaim for Leaves of Grass, presented as part of the Studio Series at REDCAT, which uses text and movement to explore the biology of identity and the look-alike phenomenon in couples. In 2014, Wilderness taught master classes in devising theatre at Territoria International Festival in Moscow, alongside Declan Donnellan (Cheek by Jowl) and Dimitris Papaioannou. Wilderness previously presented The Day Shall Declare It to critical acclaim in an extended run at the abandoned BBC London Studios building in the West End. Madani Younis, the artistic director of the Bush Theatre in London, describes Wilderness as "a company of theatre-makers whose work will define a new generation of artists."
Tilted Field –
Tilted Field is a theatrical lab for telling stories in bold new ways; we develop, create and produce these stories with the brave artists we're committed to serving. Launched in 2010 under the leadership of Jacob Padrón and Becca Wolff, the company has supported, developed and produced award-winning works by its members and associate artists including Shana Cooper (The Unfortunates; Oregon Shakespeare Festival, Joe's Pub), Alex Knox (No Static At All; "Outstanding Solo Show" NYC Fringe and Hollywood Fringe) and Becca Wolff (The Last Days of Mary Stuart; Son of Semele, LA Weekly's "Best of LA" 2013). Along with The Antigone Project, the company is developing Odyssey: A Return to Love by JiYoun Chang. In her first work as a writer, theatrical designer JiYoun Chang explores the parallels of her own life and the immigrant experience with the story of Telemachus, the son Odysseus left behind. The piece has received developmental workshops at Drop Forge and Tool (Hudson, NY) and Pan Asian Rep (NYC).
The Villa Theater Lab at the Getty Villa –
The Villa Theater Lab series is an exciting forum for the reinterpretation of classical theater. Presented throughout the year in the Getty Villa Auditorium, the series features new translations of Greek and Roman plays as well as contemporary works inspired by ancient literature. The Villa Theater Lab is part of an innovative theater program at the Getty Villa, including the annual fall outdoor classical theater performance, which enhances the experience of the ancient world by connecting the J. Paul Getty Museum's antiquities collection and changing exhibitions with live performances of classical drama onstage.
Visiting the Getty Villa –
The Getty Villa is open Wednesday through Monday, 10:00am to 5:00pm. It is closed Tuesday and most major holidays, open on July 4. Admission to the Getty Villa is always free, but a ticket is required for admission. Tickets can be ordered in advance, or on the day of your visit, at www.getty.edu/visit or by calling 310-440-7300. Parking is $15 per car, but reduced to $10 after 4:00pm. Groups of 15 or more must make reservations by phone. For more information, call 310-440-7300 (English or Spanish); 310-440-7305 (TTY line for the deaf or hearing impaired). The Getty Villa is at 17985 Pacific Coast Highway, Pacific Palisades, California.
Links –
• The Antigone Project – http://thisisthewilderness.com/portfolio/the-antigone-project
• Event Facebook Page – https://www.facebook.com/events/1653581674904430
• Wilderness – http://thisisthewilderness.com
• Tilted Field – http://beccawolff.net/tilted-field
• Getty Event/Tickets – http://www.getty.edu/visit/cal/events/ev_846.html
• Getty Villa Theater Lab – http://www.getty.edu/museum/programs/performances/theater_lab.html