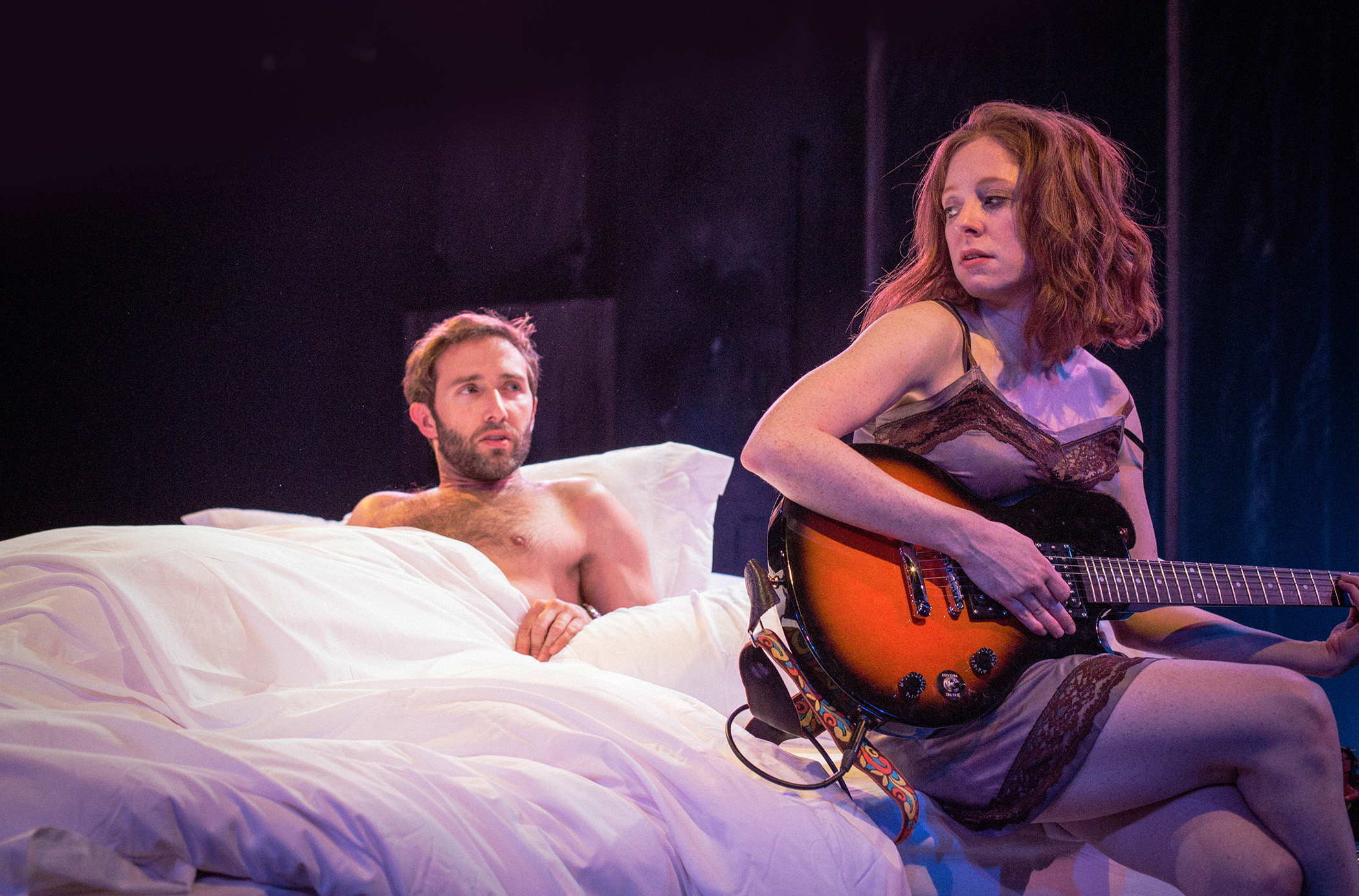 ::STOP PRESS::

"Bed" has been EXTENDED by six performances.

See below for new dates.
The central focus of Bed — Sheila Callaghan's crazy, funny, sexually-explicit, dark new drama about relationships — is Holly, played brilliantly by Kate Morgan Chadwick. Holly is an wildly talented post-punk rocker musician who is also an emotional trainwreck — think Courtney Love or Patti Smith. Over the course of roughly ten years, we watch Holly grow as an artist and mature in her relationship with Cliff (TW Leshner). It's a riveting journey with a surprising payoff.
Without casting judgement, Callaghan presents a character who is at the mercy of her own mercurial mood swings, someone who attracts and repels others in almost equal measures. Someone who most people would probably write off as 'too much to handle.' Twenty-something Holly is basically an asshole, as evident by her behavior during the play's first scene, where she (sexually) hooks up with Cliff then tries to reject him almost immediately. Somehow, he sticks around. Perhaps for the first time in her life, Holly has found a guy who can take her for who she is. They forge a dysfunctional union that actually, uh, functions.
The story leaps by months and years, all nicely signposted within the dialogue. Holly and Cliff get married and contemplate having a child together. They do, and — surprise! — it turns out that Holly's a "decent Mom." Cliff secures a lucrative and prestigious study grant for Holly and so they relocate to Berlin. Then a third character transgresses into their lives; Holly's brother-in-law (Cliff's brother) JC.
In spite of a rather disturbing meld of ultra-violence and sex (the play's climax is both metaphorical and cathartic), Bed provides its heroine with a happy outcome that's refreshing to see depicted.
Of note is the cleverly devised scenic design by Se Oh, under the direction of Jennifer Chambers. The set looks like a bedroom meets a disaster zone. The stage is strewn with rubbish, papers and dirty clothes and discarded underwear — there's crap everywhere. Throughout this one-act play, all of the action takes place on (and in) a massive bed, positioned center stage on a raised platform. (The audience are seated in the round, on three sides.) Ingeniously, the bed is used for entrances and exits, as there is a mysterious well within it. At times Holly disappears into it and reappears later, having made a costume change; Cliff exits the stage through the bed, only to reappear later; we learn Holly has given birth to a baby because she fishes it out of the bed's depths — that sort of thing. The most surprising use of the bed is the sudden appearance in it (from within) of Cliff's brother JC, the play's unexpected third character (played by Johnathan McClain).
Callaghan's writing is acerbic, observant and insightful. It's also highly sympathetic to a character that one could so easily judge or dismiss.
As a singer/songwriter, Holly occasionally picks up her electric guitar to noodle on a new song or launch, head first, into a completed tune. The fragments of songs that we get to hear are fantastic. Chadwick plays well and can sing beautifully; she even shreds like a pro. Original music is created by Callaghan's husband.
Bed really is a play with music, not a musical containing complete songs… (Credited composers are Sophocles Papavasilopoulos and Maxwell Gualtieri.) Above all, this drama is an absolutely riveting study of a complex, feral character. Well-directed, brilliantly staged and superbly performed, Bed is a must-see world premier from an important local playwright (and TV writer/producer).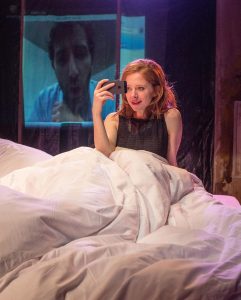 Bed by Sheila Callaghan.
Echo Theatre Company
Atwater Village Theatre
3269 Casitas Ave
Atwater Village, CA 90039
Performances:
Feb. 6  – March 26, 2016
EXTENDED DATES:
Now continuing through March 26 (Fri-Sat-Sun, March 4 – March 13 / Thurs-Fri-Sat, March 17 – March 26):
• Thursdays at 8 p.m.: March 17, 24
• Fridays at 8 p.m.: March 4, March 11, 18, 25
• Saturdays at 8 p.m.: March 5, 12m 18, 26
• Sundays at 4 p.m.: March 6, 13 ONLY
• Sundays at 7 p.m.: March 6, 13 ONLY
Running time:
One hour and 20 minutes, no intermission.
More information can be found here.