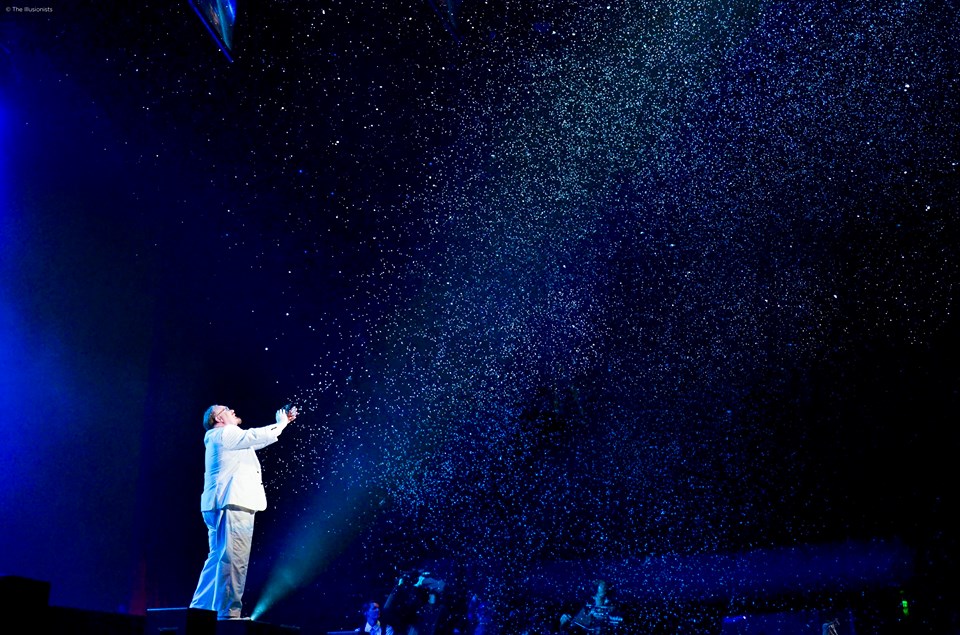 Prestidigitation… Sleight of hand… Magic! Call it what you will, the astounding skills employed by professional magicians take years, usually decades, to perfect.
So when three individual magicians each take hold of your hand and dazzle you with their skills — even conjuring a coin to appear inside your closed fist — well, that's something that doesn't happen every day.  You shiver with surprise. Your eyes pop out of your head. You wrack your brain, but you will never never figure out the answer to that oft-asked question, "How on earth did he do that?!"
ArtsBeatLA was fortunate enough to sit down for a series of one-on-one interviews with three of the eight illusionists whose exciting show is opening at the Pantages Theatre next week.
THE ILLUSIONISTS – LIVE FROM BROADWAY stage show boasts eight of the world's finest male magicians out there today. Sadly, no female illusionists are included in this lineup… In any case, these guys are all coming together for a night of magic that is sure to dazzle, thrill, excite and confound you. The season opens on Tuesday, February 23, and runs for three weeks at the Pantages in Hollywood — more information below.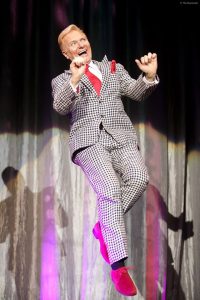 The first guy I got to meet was Jeff Hobson, aka 'The Trickster.' An old-school magician, Hobson is known for his comedy as well as his sleight of hand tricks and fabulous illusions.
Smiles Hobson, "My specialty is laughter. I always tell people I perform comedy and magic, so whatever people don't laugh at — that's the magic." Hobson says he keeps the levity happening in the show. "If I wasn't there, things would get a bit too serious," he quips. "Everything I do on stage has a comedy edge. Most of the time I employ people from the audience, and then comedy situations come out of that." Hobson says he often "steals things from people; I'm a thief. So when people are in the audience and they find themselves without their watch or wallet, they're pretty shocked but then they laugh about it. They have to! What else do you do? Call the police?! Scream? Thank god they laugh!" he jokes.
The next magician I met was a guy who has also been in the game for a very long time. Kevin James, aka 'The Inventor,' says his specialty is creating all the props and tricks that he uses in his act. "I create all my own stuff. It's a little extra work, but I think it's worth it to try to be really original."
I ask him – do you create your own tricks or just the apparatus?
James response is enthusiastic, "I create everything! Everything from the apparatus to the presentation to the dialogue… Sometimes people do tricks that are public domain, or ones that they've been taught by another magician, or they use devices that you can buy in a shop."
James likens his style to a singer/songwriter, adding "I'm not just doing covers — I'm writing my own material! There are magicians who are creators but who don't perform, and there are magicians who perform but don't create — I do both."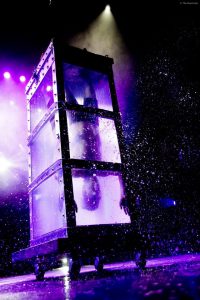 But the guy who really made me shiver was a young man from Italy named Andrew Basso, aka 'The Escapologist.' (Basso is the one who made a coin appear inside my closed fist. Holy cow, that was absolutely astounding!)
Basso is an escapologist, and is renowned as Italy's star escape artist. Basso admits he was inspired by the Great Harry Houdini to embark upon a career of magic, perfecting feats of escape since he was a teenager. Today he is considered one of the world's most popular illusionists. Additionally, he performs Houdini's hugely famous 'Water Torture Cell' act but ups the ante by performing the difficult feat in full view of the audience, with absolutely no curtains or coverings to obscure any possible trickery. "I really do hold my breath for four minutes," Basso humbly explains.
His act is pure skill; a feat of his abilities, not an illusion.
Basso maintains that the first 'escape' of his career was when he was born. Haha! "It took me a while…" Like, about nine or ten months?! "Yes. Very slow," he grins. "But I'm quicker now!"
All joking aside, Basso says it was the art of magic that got him intrigued and interested in pursuing this career. "I'm thirty now, but I started when I was about 7." Houdini's books hooked him in, as well. "I researched the man and I became very curious about all the things he did. Why did he get tied up and thrown into a river? It was a very deep question for me. Why?"
Basso adds, "I do magic because I like to amaze people and give them a moment of astonishment. But why do I have to put my life on the line — and for what? It's not amazement — it's something deeper. I was intrigued, and when I tried it myself, I understood."
Basso climbed into a trunk that was then locked and thrown into the water. "Then I got the answer. It connects people on another level when there is life or death involved. There is a different tension."
He also maintains that escapology is "symbolic. It represents many things for people, and when I am on stage, people project themselves into the situation. They feel safe in their chairs, but they are feeling the adrenaline of the act." He goes on to elaborate, "The escape itself is a form of release and freedom, and people like this enjoyment."
Conceived by Simon Painter, this show started almost four years ago at the Sydney Opera House.
James, Hobson and Basso are three members of the 'original' lineup of seven magicians from that highly successful season in Australia. The show itself has taken on various incarnations over the past few years, with an ever-shifting lineup, depending upon availability. "It's modular," explains Painter.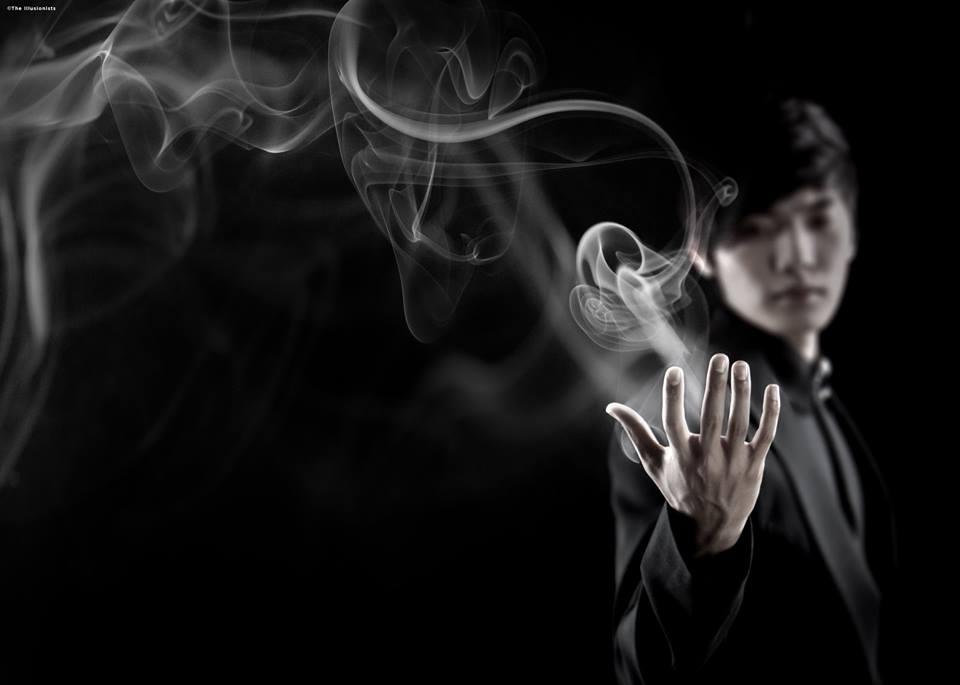 THE ILLUSIONISTS – LIVE FROM BROADWAY
Pantages Theatre
6233 Hollywood Blvd,
Los Angeles, CA 90028
Performances:
Tuesday through Friday at 8pm
Saturday at 2pm & 8pm
Sunday at 1pm & 6:30pm.
Runs from February 23 until March 13, 2016
THE ILLUSIONISTS – LIVE FROM BROADWAY is recommended for all ages. (Children under 5 will not be
admitted to the theatre. All patrons must have a ticket, regardless of age.)
For more information on THE ILLUSIONISTS – LIVE FROM BROADWAY, visit their official site here.
For tickets or more information about the Los Angeles premiere of
 THE ILLUSIONISTS – LIVE FROM BROADWAY, please visit the official website for Hollywood Pantages Theatre here.
About THE ILLUSIONISTS – LIVE FROM BROADWAY:

This show features eight stars, each a master in their own field. Featured in the Los Angeles engagement will be:

WHO:

The Futurist, Adam Trent:     shatters stereotypes and brings a new generation of magic to fans fusing technology illusions, dancing and comedy with classic techniques.

The Manipulator, Yu Ho-Jin:    Considered a rising superstar in the world of magic; Yu Ho-Jin was recently named the 2014 "Magician of the Year," by Academy of Magical Arts and was the first Asian to win the Grand Prix at the Fédération Internationale des Sociétés Magiques, also known as the "Olympics of Magic."

The Anti-Conjuror, Dan Sperry:    Described as Marilyn Manson meets David Copperfield, Dan combines the art of magic with the macabre and is one of the top-10 most Googled people, thanks to a legendary "America's Got Talent" appearance.

The Trickster, Jeff Hobson:    is the epitome of glamour and showmanship. Don't be fooled by his innocent appearance; Jeff has audiences laughing long after the curtain goes down.

The Escapologist, Andrew Basso:     Italy's star escape artist, Andrew considers Houdini his hero and is fast becoming one of the world's most popular illusionists. He is the only person in the world to perform Houdini's famous Water Torture Cell with absolutely no covers.

The Inventor, Kevin James:     known for innovative illusions, is an inventor, comedian and collector of the strange and unusual. Kevin is one of the most prolific inventors of magic in the world and has created some of the most celebrated illusions of the last century.

The Weapon Master, Ben Blaque:     has established himself as America's foremost master of the crossbow after appearing four times on America's Got Talent. He performs incredibly dangerous acts of dexterity using highly powerful crossbows to shoot various objects supported by his assistant.

The Deceptionist, James More:    his modern approach to magic, involving fast-paced, high-risk illusion, combined with his good looks and charisma, have been witnessed by millions of people around the world. No camera tricks or special edits – what you see is what you get. He takes the art of illusion to new heights, with a performance that promises to keep you on the edge of your seat.