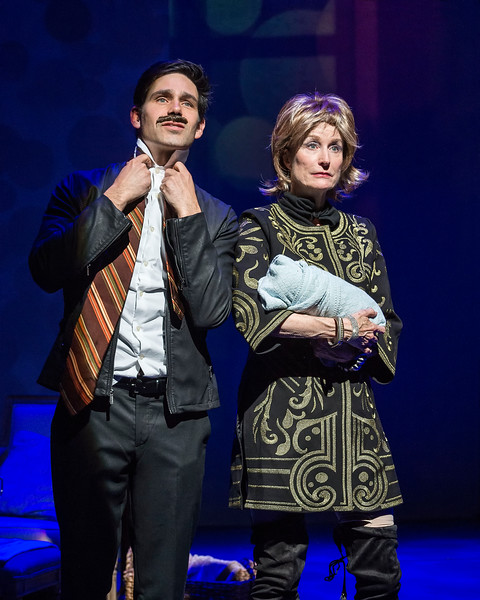 This is a think-piece by Brian Sonia-Wallace.
How exciting! No one in the theatre knew how to feel. Half of them left at intermission. Written by Sheila Callaghan and directed by Neel Keller, Women Laughing Alone With Salad is a hyper-mysogonistic, totally absurd, meta/Nihilist, Bechdel-Wallace test failing, salad-raining clusterfuck of post-post-modern feminism in an era of yoga pants and meme culture in which everything 'revolution' is denounced as scam and marketing. In this apocalypse, it seems, the revolutionaries embrace oppression and misogyny as a route to self-destruction. Positive thinking is a scam, so this is their only alternative, their only way to survive modern life. THIS is their self-actualization!
The audience was so confused and upset. It was beautiful to watch. I loved it.
Afterward, a woman from the theatre said 'it's fun, isn't it?' No one knew what to do – they couldn't apologize, which felt like the right thing in the comfortable lobby of the Kirk Douglas, so they celebrated. It was fun! There was a lettuce burlesque number! Everyone agreed they didn't get it but wasn't that just so ART? In the words of art theorist Will Ferrell, "No one knows what it means, but it's provocative!" In an illegal warehouse production, this show would be followed by a lesbian punk band, maybe an orgy. Here, it was followed by champagne and hors d'oeuvres – no salad, someone in catering didn't get the memo. The irony was thick but the underlying message unintelligible.
Salad pervaded everything else in the show. The projections. The dialogue. The climax. The denouement. It got repetitive. Everything happened several times, not for any particular reason, no real progression, just sitting in the shit. There was a light vinaigrette of plot. In Act II, I got bored a few times, but it all seemed terribly meaningful – isn't this just the condition of modern life? "Trump is going to be elected president," the play seemed to say to me, "and you will still sit in traffic on the way to bikram yoga and be bored. Hahaha. Joke's on you. Bitch."
So. If you want a play to smack you around a little and not call you in the morning, you will love Women Laughing Alone With Salad. If you are a second or third-wave feminist, you will be appalled. If you are a member of the general public, you will be confused and appalled. Dream sequences. Cross dressing. A stray uterus. Fuck it.
I wasn't sure what to feel but that was kind of a nice experience to have in a theatre and so I had a great time. That said, I'd love some more development of the script, the pay-off in the end seemed anticlimactic and a bit tacked on. The acting was strong. Oh. And my editor says, "make sure you mention the costumes [designed by Ann Closs-Farley]. They were fun."
Cast:
Sandy (Lisa Banes)
Tori (Nora Kirkpatrick)
Meredith (Dinora Z. Walcott)
Guy (David Clayton Rogers)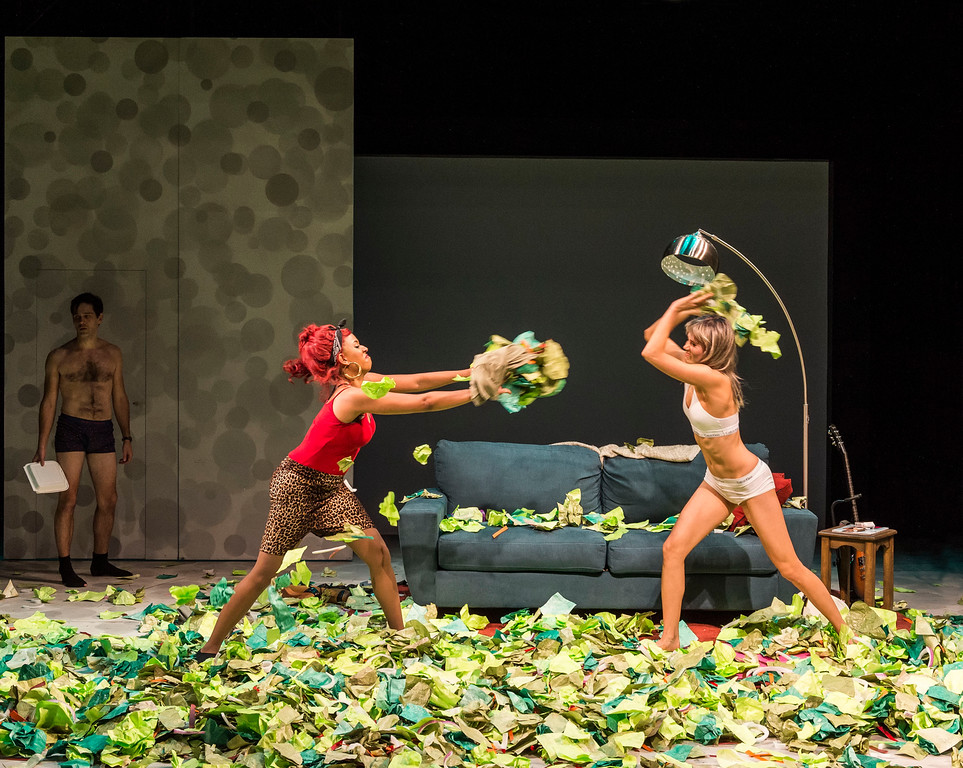 Women Laughing Alone With Salad
Kirk Douglas Theatre
9820 Washington Blvd.,
Culver City
8 p.m. Tuesdays through Fridays, 2 and 8 p.m. Saturdays, 1 and 6:30 p.m. Sundays.
Runs through April 3, 2016.
Tickets: $25-$55 (subject to change)
Info: (213) 628-2772 or online.
Running time: 2 hours, 10 minutes.