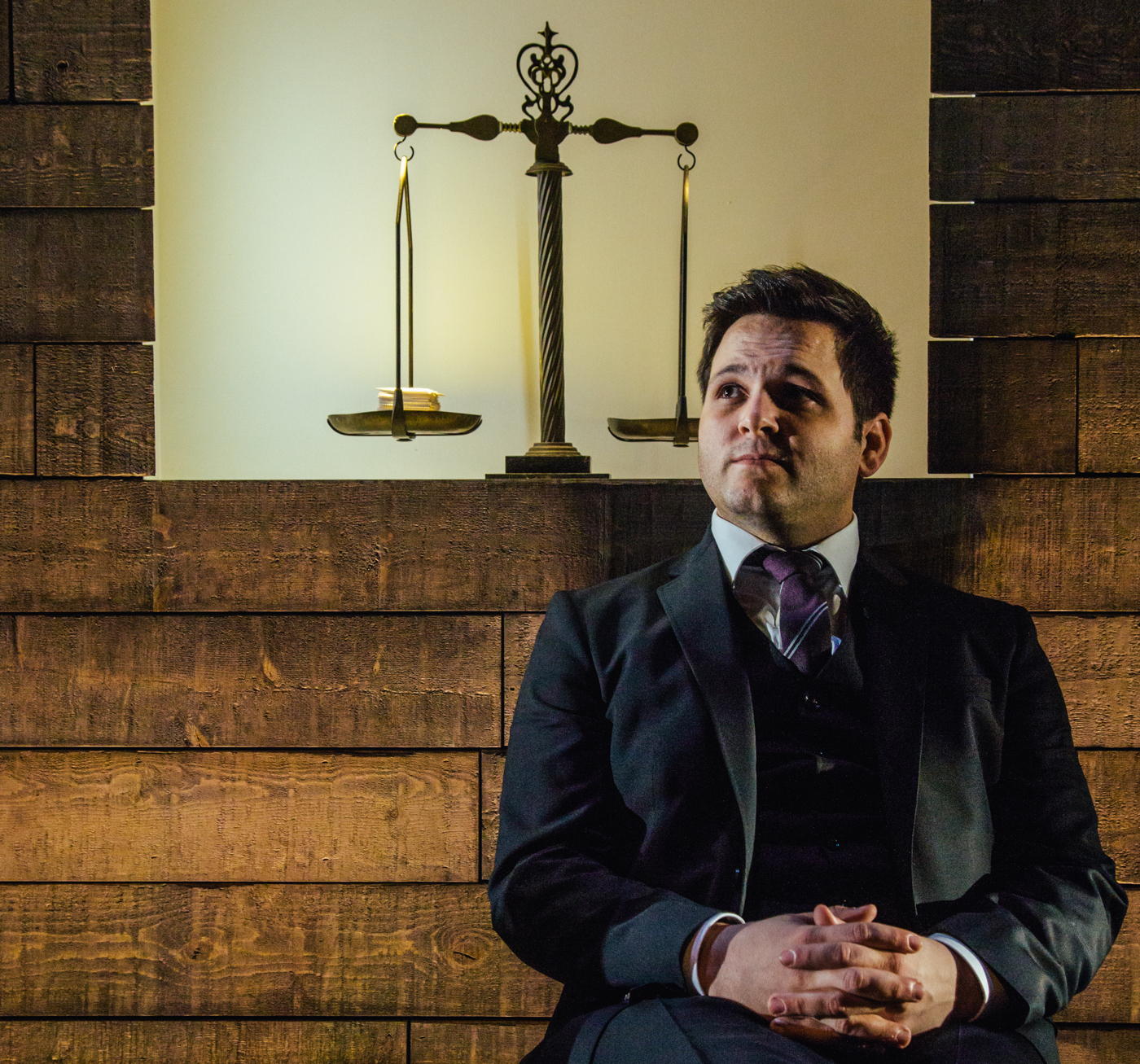 The illusion and prestidigitation show, In & Of Itself, presently playing at the Geffen Playhouse, feels somewhat underwhelming. Ostensibly a very short evening with a solo performer (one hour and five minutes) the show unfolds at a languid pace.
Derek DelGaudio's presents for us as a series of stories, illusions and card tricks. His demeanor is quiet and his delivery is measured and soporific. He begins by relating a tale he once heard in Spain — one that is purportedly a true story which, in the telling and retelling, has attained the level of myth. A Russian roulette player — dubbed by locals as 'The Roulettista' — gambles with his life in an increasingly dangerous fashion. It's a compelling story, to be sure, but its connection to the show, and its relevance to our host, is tenuous at best. 
He performs a neat little piece of sleight-of-hand and shadow puppetry.
Then the show crawls to a snail's pace as he sets up some business involving an audience member who he asks to leave the show, jot down their impressions and predictions of how the show will unfold, and then resolve to return the following night to see the remainder of the show. He has yesterday's volunteer read the notes from the journal he hands each person. It's a pointless exercise.
He then tells a story about his mother while he performs a clever card trick, and the presentation is assisted by an overhead camera so that we can all see his movements.
He concludes with another episode of audience participation – an alleged mind-reading stunt that would be remarkable if I didn't know how it was achieved (suffice to say, this is a show of illusions…)
The show touches on themes of perception and illusion, positing DelGaudio as a trickster who manipulates and shifts audience's perceptions with a purpose that is revealed in the evening's final, showy effect.
Derek DelGaudio's show is a pleasant, if brief, diversion but as a magic show it's not all that remarkable.
Tech credits are all strong, from the scenic design (uncredited) to the mechanical puppet (also uncredited) to the lighting design, by Adam Blumenthal, and also the moody music composed by Mark Mothersbaugh, who presumably also handled the sound design. 
In fact, the most amazing illusion is that the fantastic set DESIGNED ITSELF. *sheesh*  
~~~
In & Of Itself
Written and Performed by Derek DelGaudio
Directed by Frank Oz
Produced by Glenn Kaino and Tom Werner
Original music by Mark Mothersbaugh
Audrey Skirball Kenis Theater at the Geffen Playhouse
10886 Le Conte Avenue, Los Angeles, CA 90024
Running time: Approximately one hour and five minutes.
Runs through Sunday, June 26, 2016.
Performances:
Mondays                                No performance
Tuesdays– Fridays                  8:00 pm
Saturday                                  3:00 pm and 8:00 pm
Sunday                                    2:00 pm and 7:00 pm
TICKET INFORMATION:
Ticket prices are currently $100 – $150 and are available in-person at the Geffen Playhouse box office, via phone at 310.208.5454 or online at www.geffenplayhouse.com. Fees may apply.