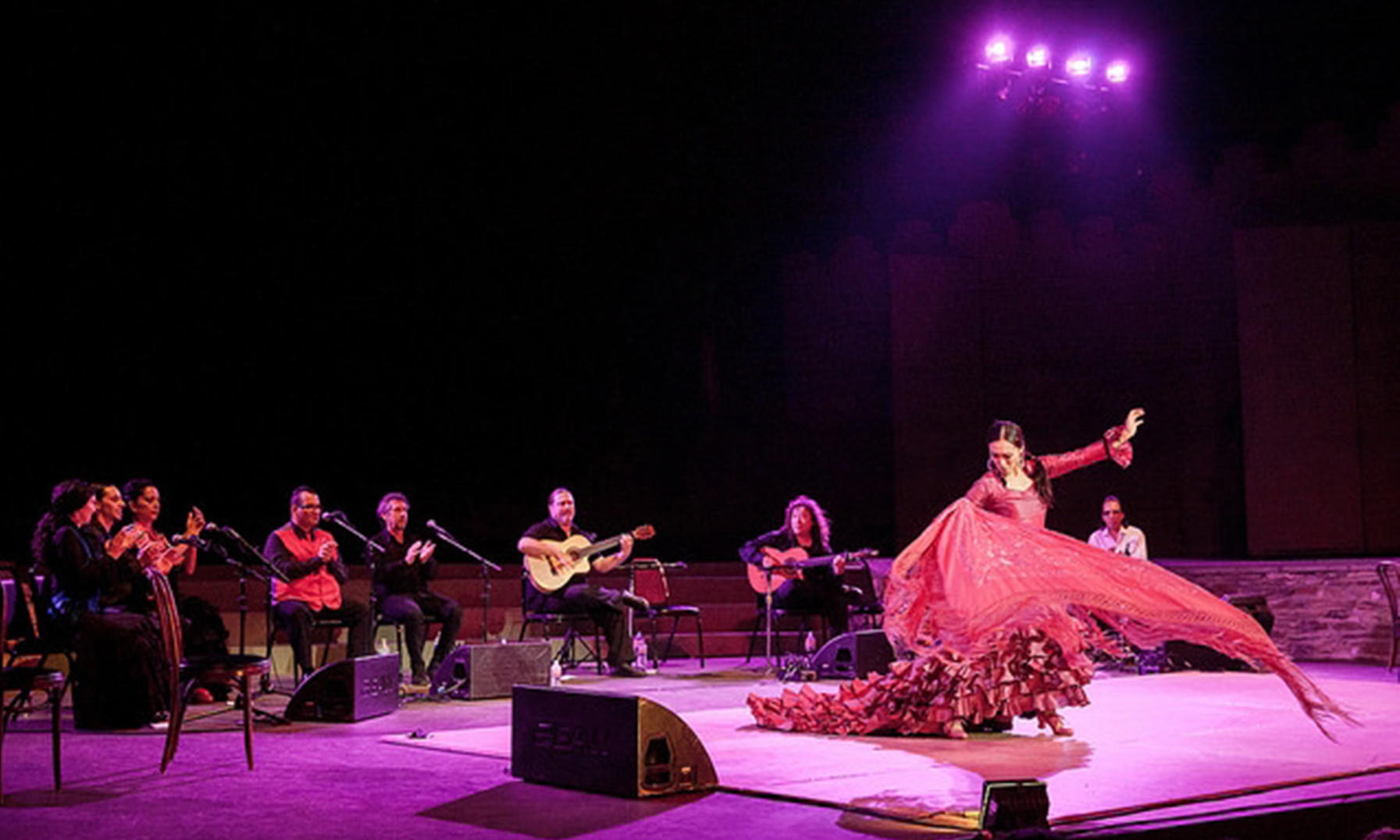 Fiery, tempestuous song and dance – under the stars.
Passion. Artistry. Joy. Ol!
The Fountain Theatre returns to the newly renovated Ford Theatres with an international line-up of renowned flamenco artists including bailaores/as (dancers) Reyes Barrios, Ricardo Chavez, Melissa Cruz, Jesus Muoz, Mizuho Sato, Oscar Valero and Daniela Zermeo; cantaors (singers) Antonio de Jerez and Jesus Montoya; guitarristas Kai Nazero and Jos Tanaka; and percusionista Joey Heredia.

WHO:
Artistic Director: Jesus Muoz
Bailaores/as (dancers): Reyes Barrios, Ricardo Chavez, Melissa Cruz, Jesus Muoz, Mizuho Sato, Oscar Valero, Daniela Zermeo
Cantaores (singers): Antonio de Jerez, Jesus Montoya
Guitarristas (guitarists): Kai Nazero, Jos Tanaka
Percusionista (percussionist): Joey Heredia
Associate producer James Bennett
Presented by Deborah Lawlor and The Fountain Theatre
Saturday, July 23, 2016
8:30 p.m.
The grounds open two hours before show time for picnicking. The Ford offers a number of dining options: a variety of food and beverages is available on site. Patrons are also welcome to bring their own food and drink.
Ford Theatres
2580 Cahuenga Blvd. East
Hollywood, CA 90068
(just off the 101, between Hollywood and Universal Studios in the Cahuenga Pass)
Bookings:
(323) 461-3673 or FordTheatres.org
TICKET PRICES:
Reserved seating: $50 and $75
V.I.P. seating: $100 (includes premium seating and gift bag)
PARKING:
Parking at the Ford is stacked and costs $5-$10 per vehicle for evening performances. New off-site parking location: a FREE shuttle services the parking structure located at 1710 N. Cherokee Avenue in Hollywood. Parking is $10 for Ford patrons. Shuttle departures begin two hours before show time and reservations are required. Metro riders: a FREE shuttle picks up from the Universal City/Studio City Metro Station (3913 Lankershim Blvd, Studio City 91604). The shuttle, which cycles every 20 minutes, stops in the kiss and ride" area.
OTHER:
Dress warmly for outdoor seating.
Following extensive renovations to this historic facility, the Ford Theatres have reopened for the 2016 Summer Season. This event is part of the 2016 Summer Season, a multidisciplinary arts series presented by the Los Angeles County Arts Commission in cooperation with Los Angeles County arts organizations. A complete season schedule, directions to the amphitheatre and parking information can be found at FordTheatres.org.
The Ford is disabled accessible. Portable wireless listening devices are available upon request.