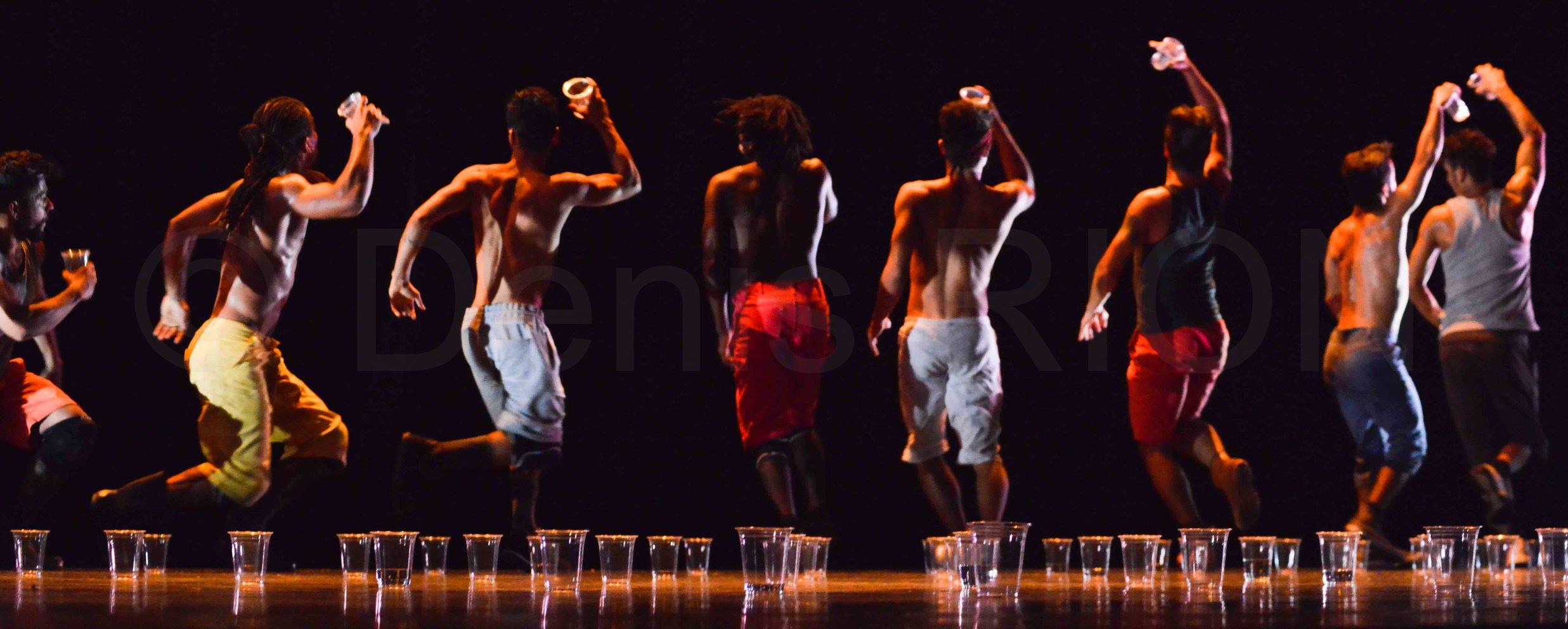 Angular gestures, tumbles, headstands, twisting mid-air spins and flips jerky yet fluid; this is the edgy style of breakdancing.
Fresh out of France, Compagnie Kfig is performing tonight and this weekend, delivering their special brand of hip-hop dance. Its all part of a fusion of hip-hop dance experiences that The Music Center is bringing to Downtown L.A. this weekend.
Also coming up is the free Beat Swap Meet on June 19, 2016 from noon 6:00 p.m. at Grand Park. More information below and here.
The present line-up of Compagnie Kfig is a troupe of ten muscular men. The show is ostensibly a tour through the evolution of hip-hop dance, tracing its roots from its street and improvisation origins through cultural influences of Africa and South America. The all-male cast of ten Brazilian dancers perform routines that combining Hip-Hop, Capoeira, Samba, electronic music and Bossa Nova for a performance that showcases astonishing acrobatic skills along with energy and invention.
Dressed casually in block color pants, shirts and ties, the shirts eventually come off to reveal the dancers superb physiques, at times shimmering with sweat. The music ranges from the Brazilian instrument Berimbau, a musical bow that is a single-stringed instrument played live to recorded music of dreamy trip hop to dub step as well as jazz and classical pieces.
There's a really interesting development in Act II of the evening that involves a bit of stage magic inthe mysterious rearrangement of plastic cups.
The dance moves are dynamic and impressive, but the absence of women on stage means a lack of sexual tension. Also absent is a sense of narrative, at least during Act I, so the concept feels incomplete.
Nevertheless this is an energetic night of dance complemented by some superb lighting design.
About Compagnie Kfig:

Established in 1996, the Company found its artistic direction within the fusion of styles, including dare-devilish circus skills, street dance, martial arts, humor and the fun andenergetic Hip-Hop vocabulary.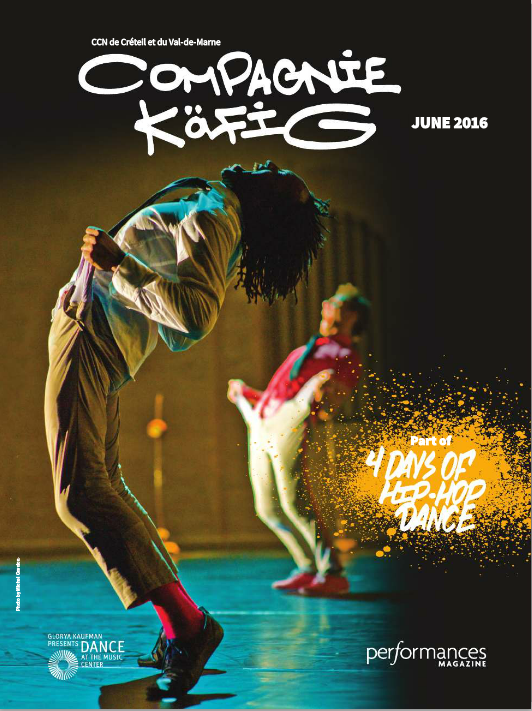 Compagnie Kfig
The Music Centers Dorothy Chandler Pavilion
135 N. Grand Avenue,
Los Angeles, CA 90012
Performances:
June 17-19, 2016
Sat & Sun 7.30PM
Sun June 19 2.30PM
Single tickets for the June 17-19, 2016 engagement start at $34.00 and are available at
The Music Centers Dorothy Chandler Pavilion Box Office, 135 N. Grand Avenue, Los Angeles, CA 90012; by calling (213) 972-0711; and online at musiccenter.org/hiphop
For groups of 10 or more, call (213) 972-8555 or email mcgroupsales@musiccenter.org
BEAT SWAP MEET
Come together for an afternoon of vinyl, DJs, b-boy & b-girl competitions, food and more. Celebrate the 8thanniversary of everyones favorite gathering of families, music enthusiasts, dance lovers and everyone in between –BEAT SWAP MEET.
Beat Swap Meet is the world's only traveling record show featuring music from all genres, all on vinyl, and everything inspiring from it.
This event is co-produced by Beat Swap Meet and The Music Center.
B-BOY & B-GIRL COMPETITIONS
Watch or compete. All ages.
TURNTABLE REPAIR
Provided by The Table Guy. Book appointment atinfo@beatswapmeet.comfor guaranteed service.
TURNTABLISM Q&A
Ask DJ Jawa about cutting, scratching, or even the meaning of DJ life. Open turntables and workshops available all day, toall ages; no experience necessary.
KIDS IN PLAY
Craft area for the kiddos by Maathership. Materials provided.
VENDORS
Beats + More Beats: Vinyl, DVDs, memorabilia, instruments and all things musically delightful.
Looking Fly: Clothing, jewelry and more
Nom Nom:TheBunker Hill Bar & Grill//3rd Generation Sushi & Poke//Wokcano//EMC Seafood & Raw Bar//Triple 8 China Bar & Grill
NOTE:this is an alcohol free event, no alcohol point of purchase will be available.
LIVE ART
Visual artists at work in Grand Parks nooks and crannies
LIVE PERFORMANCES
Celebrating new music released on vinyl by Planet Asia, XL Middleton, IFTW (DMC 2014 World Champ) & Jawa, E Times 2, Name Science, & English Kills. Other performances by: Abel, AC The PD, Analog, Arabian Prince, Asterix, Computa Games, Danny Holloway, Darrell D, Egyptian Lover, Expo, Ghost, Glenn Red, Hazze, Jeremy Sole, Kerry, Klass One, Luman, Mean Mr. Mustard, 671
---
PART OF A FOUR-DAY HIP-HOP EXPERIENCE
The Music Center brings a fusion of Hip-Hop dance experiences to Angelenos, surrounding its presentation of Franco-Brazilian dance company, Compagnie Kfig. Over four days, The Music Center examines the culture, artistry and evolution of Hip-Hop dance through live performances, dance competitions, discussions, demonstrations, late-night dance parties and more. Choose from ticketed and free events, which will take place throughout The Music Center campus and in Grand Park. #hiphop4days