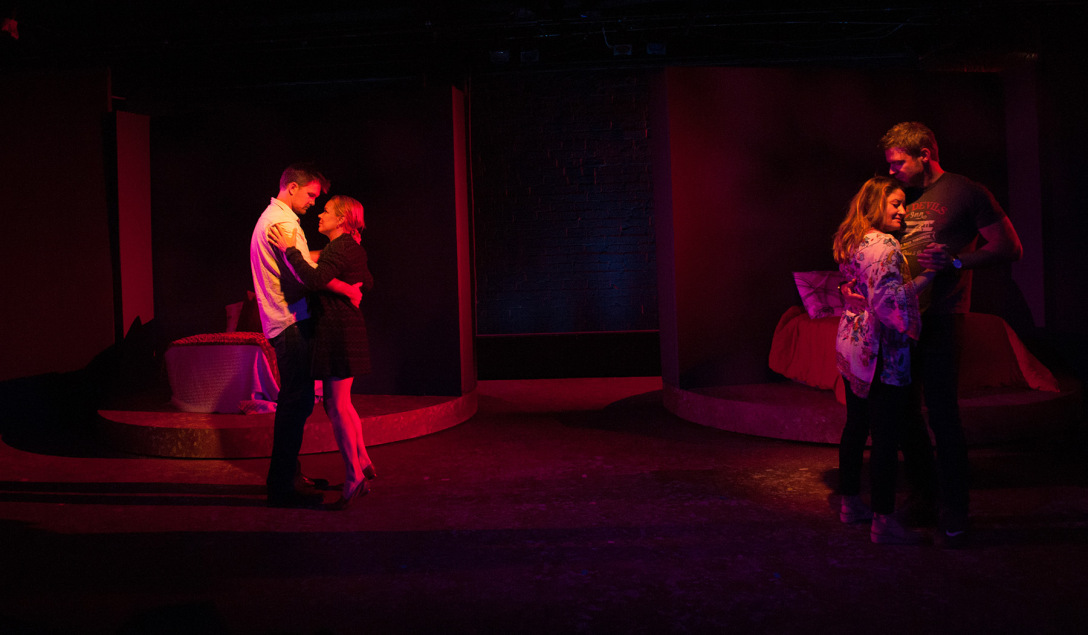 Now playing at the Matrix in West Hollywood are two Australian dramas, Ruben Guthrie by Brendan Cowell and Speaking in Tongues by Andrew Bovell. Presented by L.A.s Australian Theatre Company, the two plays are playing in repertory through July 2nd.
Speaking in Tongues made its premiere at Sydneys Griffin Theatre Company. Bovell later adapted it for Ray Lawrences 2001 award-winning film Lantana, which starred Geoffrey Rush, Barbara Hershey, Kerry Armstrong and Anthony LaPaglia.
From the press notes:

The U.S. premiere of Ruben Guthrie by Brendan Cowell An affecting and darkly comic look at alcoholism and the impact of Australias drinking culture. A heady cocktail of fizzy humor and touching revelation about a Sydney adman who spirals high, then crashes hard, its the story not only of his battle with the bottle but also of the city that wont let him put it down. Is it un-Australian to refuse a drink?
In Speaking in Tongues, two couples simultaneously embark upon a one-night stand, unaware that each is cheating on their spouse with that persons spouse an inadvertent partner swap. Nervous and awkward, the overlapping and sometimes concurrent dialogue sets up patterns and echoes, not always matching gender. Each professes to be happily married but Its not enough and I just wanna feel something
Complemented by John Iacovellis scenic design of two, almost identical hotel rooms, these first two scenes are set up in this fashion of mirroring each other, rendering it stilted and artificial. Thereafter the play unfolds in a typical fashion of scenes and monologues, but the result is a play that feels too reliant on ironic parallels and forced coincidences as all the threads come together. Meanwhile a thriller subplot about a missing woman, presumed dead, unfolds in Act 2 as all four actors from Act One take on different roles and relate different stories.
Winner of the Australian Writers Guilds AWGIE Award in 1997 for Best Stage Play, Speaking in Tongues is an interesting theatrical experiment.
Cast: Matt Passmore, Tina Kobas, Kym Wilson and Jamie Irvine.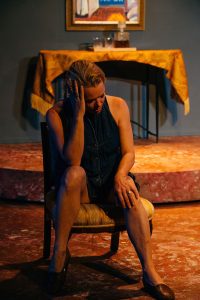 Speaking in Tongues continues through July 2, 2016:
Tuesday, June 21 at 8 p.m.
Friday, June 24 at 8 p.m.
Saturday, June 25 at 8 p.m.
Sunday, June 26 at 3 p.m.
Monday, June 27 at 8 p.m.
Thursday, June 30 at 8 p.m.(added performance)
Saturday, July 2 at 8 p.m. (added performance)
Running time is two hours, one intermission.

Ruben Guthrie continues through July 2, 2016:
Monday, June 20 at 8 p.m.:
Thursday, June 23 at 8 p.m.
Saturday, June 25 at 4 p.m.
Sunday, June 26 at 7 p.m.
Tuesday, June 28 at 8 p.m.
Friday, July 1 at 8 p.m. (added performance)
Saturday, July 2 at 4 p.m. (added performance)
Matrix Theatre
7657 Melrose Ave.
Los Angeles, CA 90046
(west of Stanley Ave., between Fairfax and La Brea)
TICKETS:
One play: $34.99
Two plays (Double Feature): $50
BOX OFFICE:
(323) 960-4443 or online here.
Facebook: www.facebook.com/aussietheatreco/