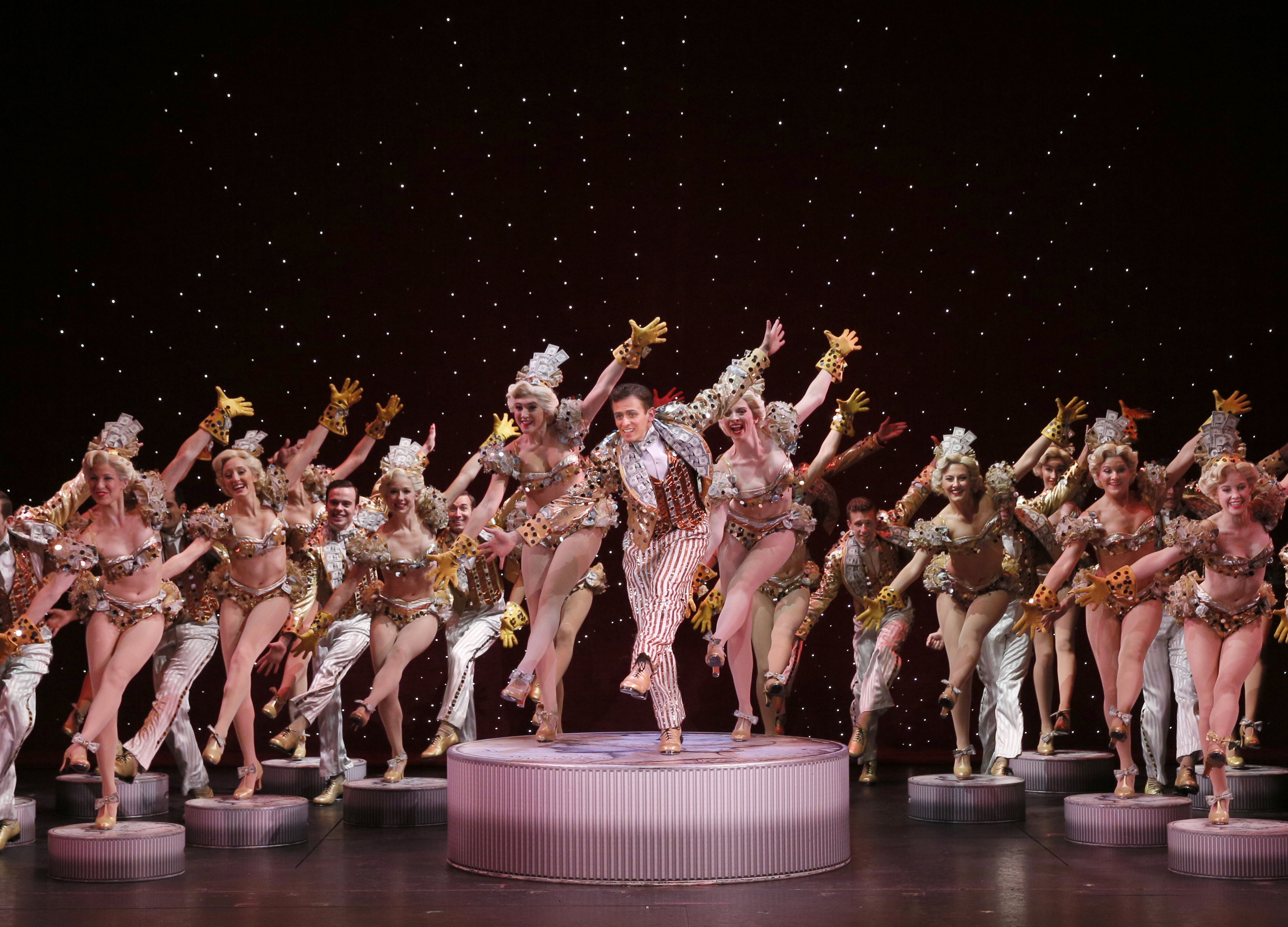 Theres practically nothing more thrilling than watching the house curtain slowly rise to reveal the feet of a company of over thirty dancers, all tapping in unison. Thats the legendary opening of backstage musical comedy 42nd Street a classic show thats been entertaining audiences in one form or another since the 1930s. A tap dance extravaganza, featuring a talented cast of svelte and curvy young performers, its an upbeat musical for all ages.
A glitzy new touring stage production is now playing at the Pantages Theatre in Hollywood, directed by co-author Mark Bramble and choreographed by Randy Skinner.
The dancing is superlative, and most of the voices are excellent, with only a couple of disappointingly weak voices in the cast. The main performers are all good but Lamont Brown is a real knockout as dance captain Andy Lee.
The period costumes and hats by Roger Kirk are especially lovely, with their retro style and soft pastel hues, and the scenic design by Beowulf Boritt showcases the dancers to good effect.
Based on a novel by Bradford Ropes and Busby Berkeleys 1933 movie, the original Broadway production of 42nd Street was a smash hit in 1980. It played for 3,486 performances, winning Tony Awards for Best Musical and Best Choreography for Gower Champions dances. The book is by Michael Stewart and Mark Bramble, with music by Harry Warren and lyrics by Al Dubin,
The Broadway revival helmed by Bramble and Skinner opened in 2001 for 1,524 performances and earned two Tony Awards including the 2001 Tony Award for Best Revival of a Musical. The upbeat show contains some of the catchiest songs ever written, including Were In The Money, Lullaby of Broadway, Shuffle Off To Buffalo, Dames, I Only Have Eyes For You as well as the title tune 42nd Street.
42nd Street is the song and dance fable of Broadway, with an American Dream story. The story focuses on the efforts of Broadway director Julian Marsh (played by Matthew J. Taylor) to mount a successful stage production of a musical extravaganza at the height of the Great Depression. A sweet-faced and starry-eyed young wanna-be named Peggy Sawyer (a dazzling Caitlin Ehlinger) lands in New York, fresh off the bus from small-town Allentown, is hoping to audition for the new Broadway musical Pretty Lady. She manages to land a part in the chorus, but when the leading lady Dorothy Brock (Kaitlin Lawrence) breaks her ankle, Peggy takes over the central role and becomes a star. Cue the famous line: Sawyer youre going out a youngster but youve got to come back a star!
The staging and choreography draws from Busby Berkeleys lavish 1933 movie, especially in the layered and geometric arrangements the dancers create throughout each dance number. The dialogue is full of quips and witty banter volleying back and forth. Some hilarious lines, such as Theyre playing $4.40 a seat out there! and Youre on your way to glory and $32 bucks a week keep us situated in the thirties era.
This is a super-fun musical with lovely staging, great performances and plenty of memorable tunes. Worth seeing!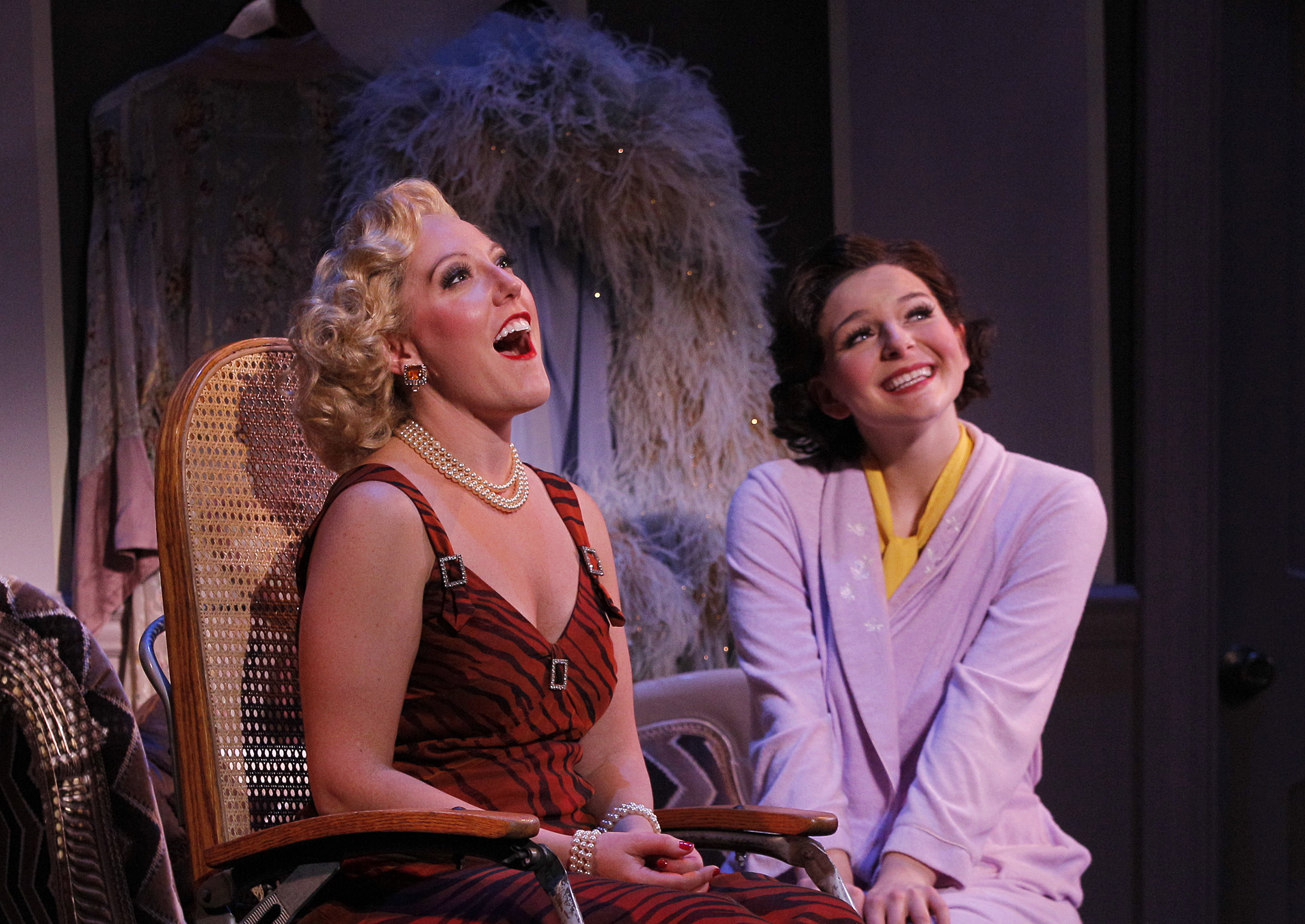 42nd Street
Pantages Theatre
6233 Hollywood Blvd,
Los Angeles, CA 90028
Runs through June 19, 2016
Performances:
Tuesday through Friday at 8pm, Saturday at 2pm & 8pm and Sunday at 1pm & 6:30pm.
Tickets:
Individual tickets range from$29.00$115.00.
(Ticket prices subject to change without notice.)
Suitable for all ages, though children under 5 will not be admitted to the theatre.
All patrons must have a ticket, regardless of age.
On sale to the general public at online hereor hereor by phone at 800-982-2787. Groups of 10 or more are now available by visiting www.PantagesGroups.com or by calling 866-755-3075. Tickets start at $29.
For tickets or more information, please visit the official websitefor Hollywood Pantages Theatre: www.HollywoodPantages.com/42ndStreet
Official show site: www.42ndstmusical.com
From the press notes:

The national tour will star Matthew J. Taylor as notorious director Julian Marsh, Kaitlin Lawrence as Broadway leading lady Dorothy Brock and Caitlin Ehlinger as newcomer Peggy Sawyer. Also featured in the production are Britte Steele (Maggie Jones), Steven Bidwell (Bert Barry), Mark Fishback (Abner Dillon), DJ Canaday (Pat Denning), Blake Stadnik (Billy Lawlor), Natalia Lepore Hagan (Annie), Carlos Morales (Mac/Doc/Thug), Lamont Brown (Andy Lee), Rob Ouellette (Oscar), Vanessa Mitchell (Lorraine), Sarah Fagan (Diane) and Mallory Nolting (Phyllis).

The ensemble will feature Matthew Alexander, Emily Blake Anderson, Brittany Bigelow, Allison Blanchard, Molly Jean Blodgett, Stephanie Brooks, Taylore Burke, Mitchell Canfield, Joel Chambers, Kahlia Davis, Tricia DeSario, Lucia Foster, Kelly Gleason, Patrick Heffernan, Tommy Joscelyn, Brady Miller, Mandy Modic, Georgina Moore, Courtney Moran, Jocelyn Moss, Alicia Newcom, Tanner Outly and Michael Persson.