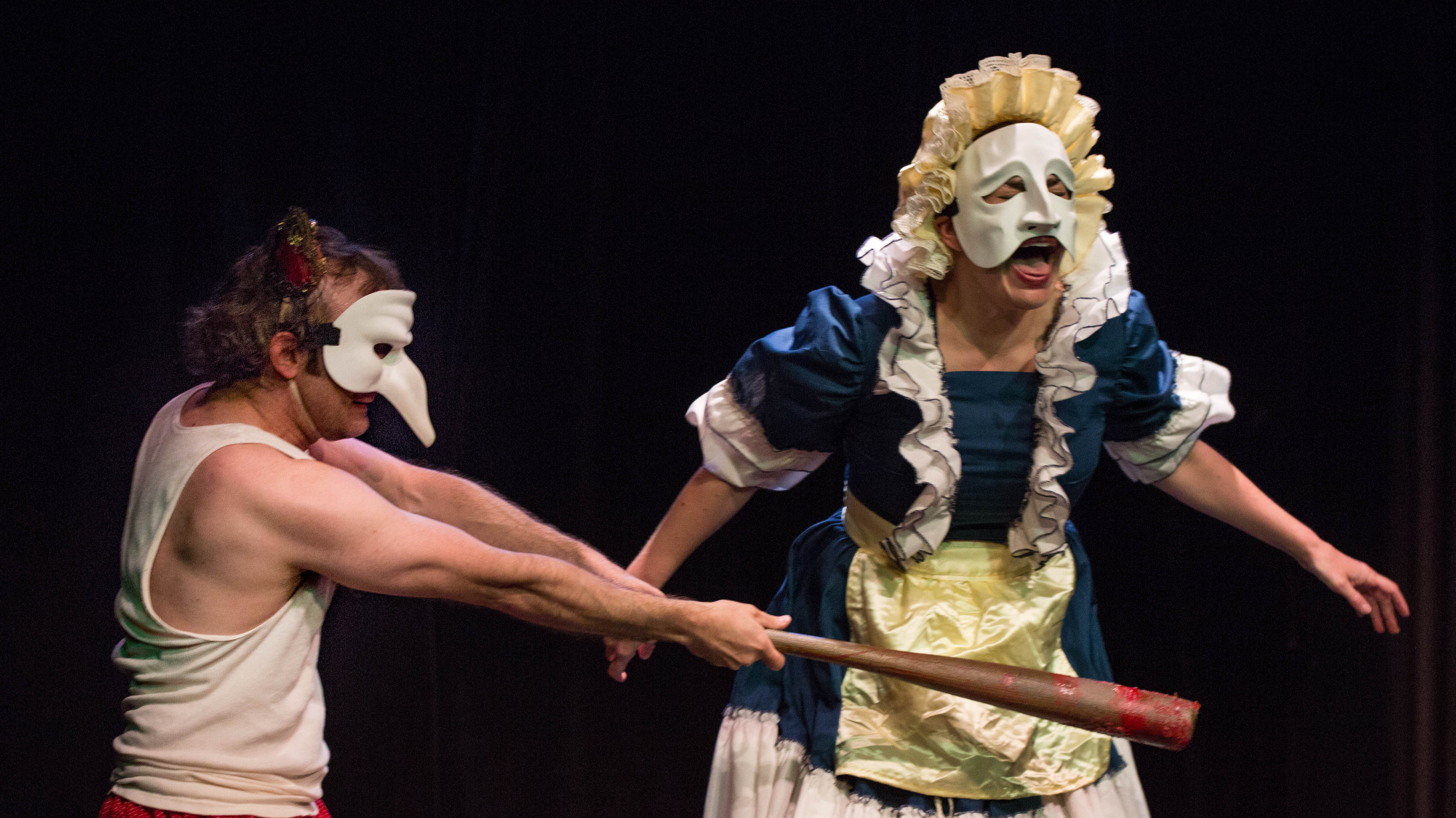 The traditional hand-puppet comedy Punch and Judy gets the live-action treatment for a raucously funny Fringe show. Ultra-violent, racist, sexist, profane and pitch black in tone, this show takes the usual goofy premise and characters and then goes all the way with its no-holds-barred satire. What is usually a silly show of nonsense and make-believe violence becomes jaw-dropping and brutal killing spree. The wild storyline even touches on contemporary themes of police brutality.
Considered a staple of British seaside resorts, the Punch and Judy tradition of clown-like puppets has its roots in the 16th-century Italian commedia dell'arte.

Its always a highly violent puppet show featuring Pulcinella (aka Mr. Punch) who fights with and often beats his wife Judy. Their baby often gets bounced around as well.

Punch traditionally wears a brightly colored outfit of jesters motley and sugarloaf hat with a tassel. He also carries a stick that he frequently uses to beat people. For this live version our anti-hero Punch is wearing a stained wife-beater singlet and red shorts and a commedia dell'arte half mask with a prominently large, hooked nose. His weapon of choice is a baseball bat.

Several stock characters make their appearance, including Toby the dog, Mr. Scaramouche, Pretty Polly, Jim Crow (The black man), The Hangman (a.k.a. Jack Ketch) and Old Nick (a.k.a.The Devil).

Standard storylines usually include scenes where Punch mishandles the baby; Punch quarreling with Judy and the pair beating each other; and a policeman trying to arrest Punch and getting a taste of his stick. Punch gleefully battles with a variety of other figures and takes his stick to them all, eventually facing his final foe (which might be a hangman, the devil, a crocodile, or a ghost).
Adapted and directed by Christopher Johnson, the six cast members are all outstanding. Jimmy Slonina is perfectly gross as Punch, adopting frozen poses and exaggerated gestures, posturing and swaggering in between relentless beat downs. Sondra Mayer is great as Judy, shrieking like a piercing train whistle at times. The remaining cast members, Tiffany Cole, Kjai Block, Synden Healy, Eric Rollins, perform numerous roles are all fantastic as well. Behind the scenes they do a lot of deft prop manipulation.
Jen Albert devised the fight choreography for several scenes and these are some of the best and most versatile fight sequencesthat I have seen on an L.A. stage. Puppet design is by Andrew Leman. Best of all arethe live sound effects provided by Ryan Beveridge, who performs just below stage. He creates a vast range of sounds from the classic slapstick to percussive emphasis to bird tweeting and doors opening. Theres an ominous woodblock tapping sound right before Punch goes really psycho. All up, its masterful work.
For the live show, the stage cleverly resembles a puppet theater booth, with a colorful border strung along the bottom of the upstage edge of the theater to represent the booth where the puppeteer usually resides. It also offers a hidden section for the props handlers to hide behind and for Punch to pop up occasionally from behind. There are some really great low-tech visual effects, such as when Punch lights a match and a conflagration ensues.
This is a brilliant and hilarious show, providing you can stomach the violence.

Punch and Judy
OMR Theater, at The Complex
6468 Santa Monica Blvd.,
Hollywood
Runs through June 21, 2016.
Running time is 45 minutes.
More information here:http://www.hollywoodfringe.org/projects/3722