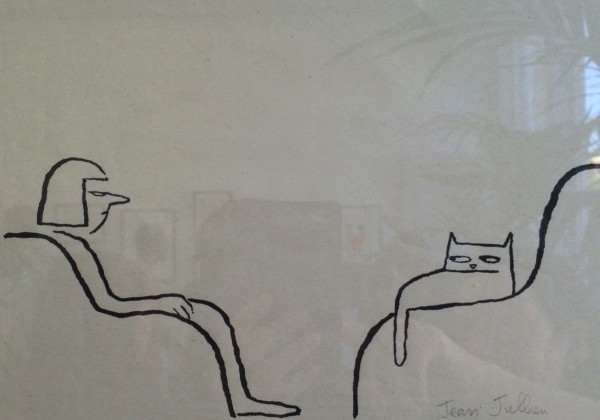 A dramatic graphic image took the world by storm immediately following the massacres in Paris last November. Powerful in its simplicity, it was a depiction of a peace symbol nestled within the Eiffel tower, and rendered in ink in bold, hand-painted thick brushstrokes against a white background. Later entitled "Peace for Paris," this was one artist's instinctive reaction to an unspeakable tragedy. 
That powerful symbol was the work of French artist Jean Jullien, who now has a joint art exhibition here in L.A. at HVW8 Los Angeles.
For the next month, you can see (and purchase) numerous small-scale works by Jullien, along with compatriot Jean André. Both artists bring their whimsical style to their simple line drawings, inks and watercolors. 
With Jullien, you can clearly see a direct lineage to Hergé, the Belgian cartoonist best known for creating The Adventures of Tintin, the series of comic albums which are considered one of the most popular European comics of the 20th century.
Georges Prosper Remi (French; 22 May 1907 – 3 March 1983), was known by the pen name Hergé.
Jean Jullien spoke with me about his inspiration:
"It's very much observation-based, so whatever is around me; being in situations or objects or things like that. I have a certain curmudgeonly personality, so I realized over the years that instead of getting angry or being a negative person, I try to find the comedy or the irony in things and transform that into my art. It's seduction rather than confrontation in order to solve my own misgivings about situations."
Jullien immediately confirms my impressions regarding Hergé, adding, "Yeah! He's a fantastic illustrator. I guess the simplicity and his graphic language is something I really aspire to, for sure. I also really admire Sempé as well. He's an illustrator from the 50s who is still alive. He does a lot of New Yorker covers."
As for the mural, prominently displayed on an outside wall of the gallery, Jullien had nothing but praise for its execution. "It's my drawing, but they have this really great guy here who did the mural and so I am very happy with it."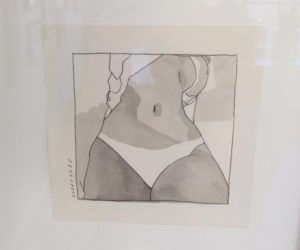 Calling his work "gentleman art," artist Jean André also divulged his inspiration:
"I draw erotic, charming girls, so basically I get my inspiration from all the old fashioned erotic magazines from the seventies, such as Playboy and the French one, Lui. I like older, iconic images of pop culture and sexuality — but light and soft."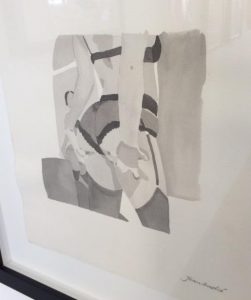 From the press release:

In addition to new original works from each artist, the show will feature a special showing of limited edition skate decks along with other limited items.  Only 50 decks of each unique edition will be made.

Jean Jullien is a French graphic artist whose tongue-in-cheek works often have the ability to capture the imagination while making a poignant observation about the subject matter in question. His comical style often captures reflections on everyday life or current events and pokes fun at the mundane, but at the same time is provocative enough to elicit a profound reaction in the viewer.

Jean André is a French artist that often uses the female form and erotic imagery as the focus of his work. His "gentleman art" can often be cited as both pulp and satire that draws on influences from Matisse and Gainsbourg to Drake and 80's eroticism.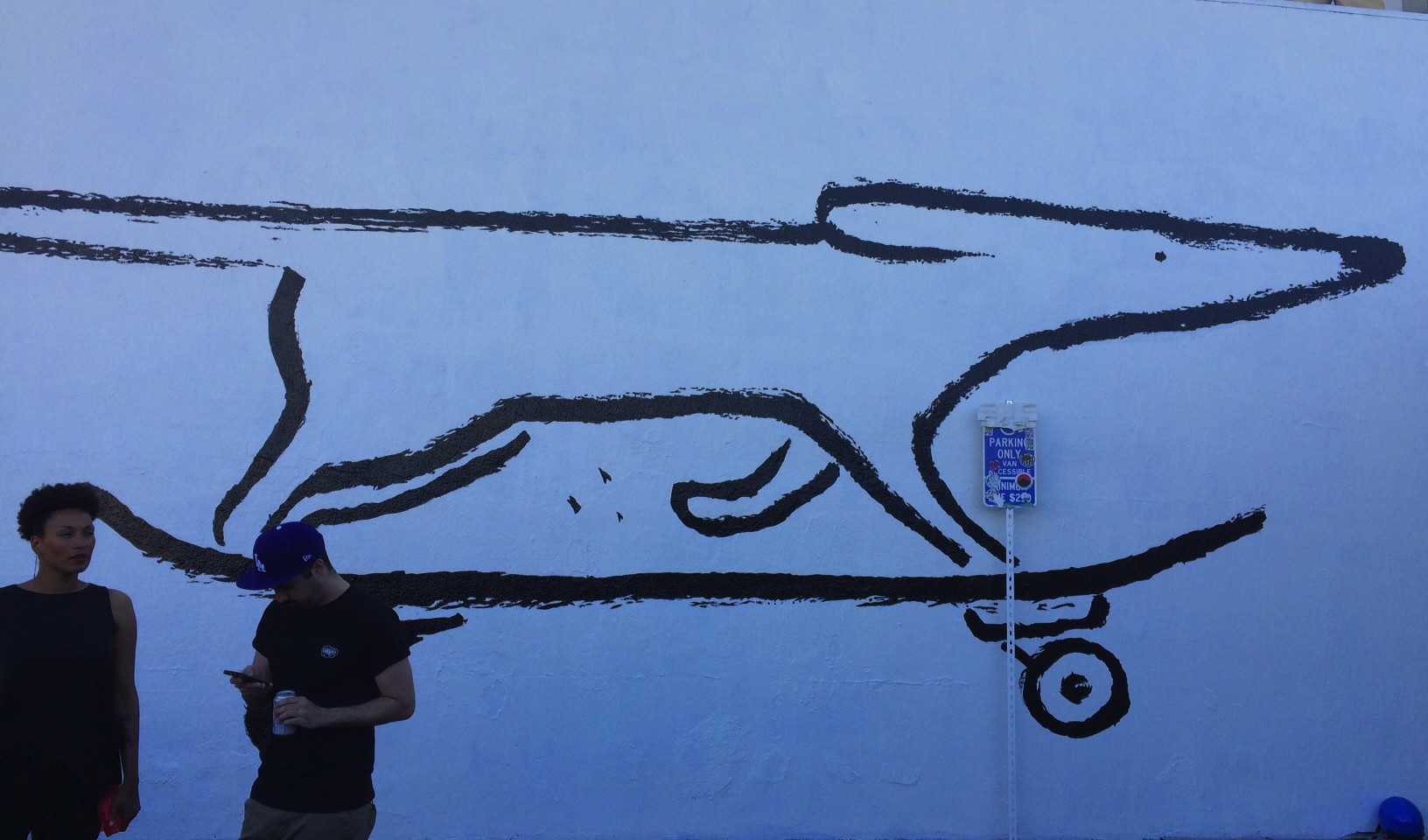 'Duet'
Jean Jullien and Jean André
661 N Spaulding Ave,
Los Angeles, CA
Exhibition runs through July, 2016
Prices on application.