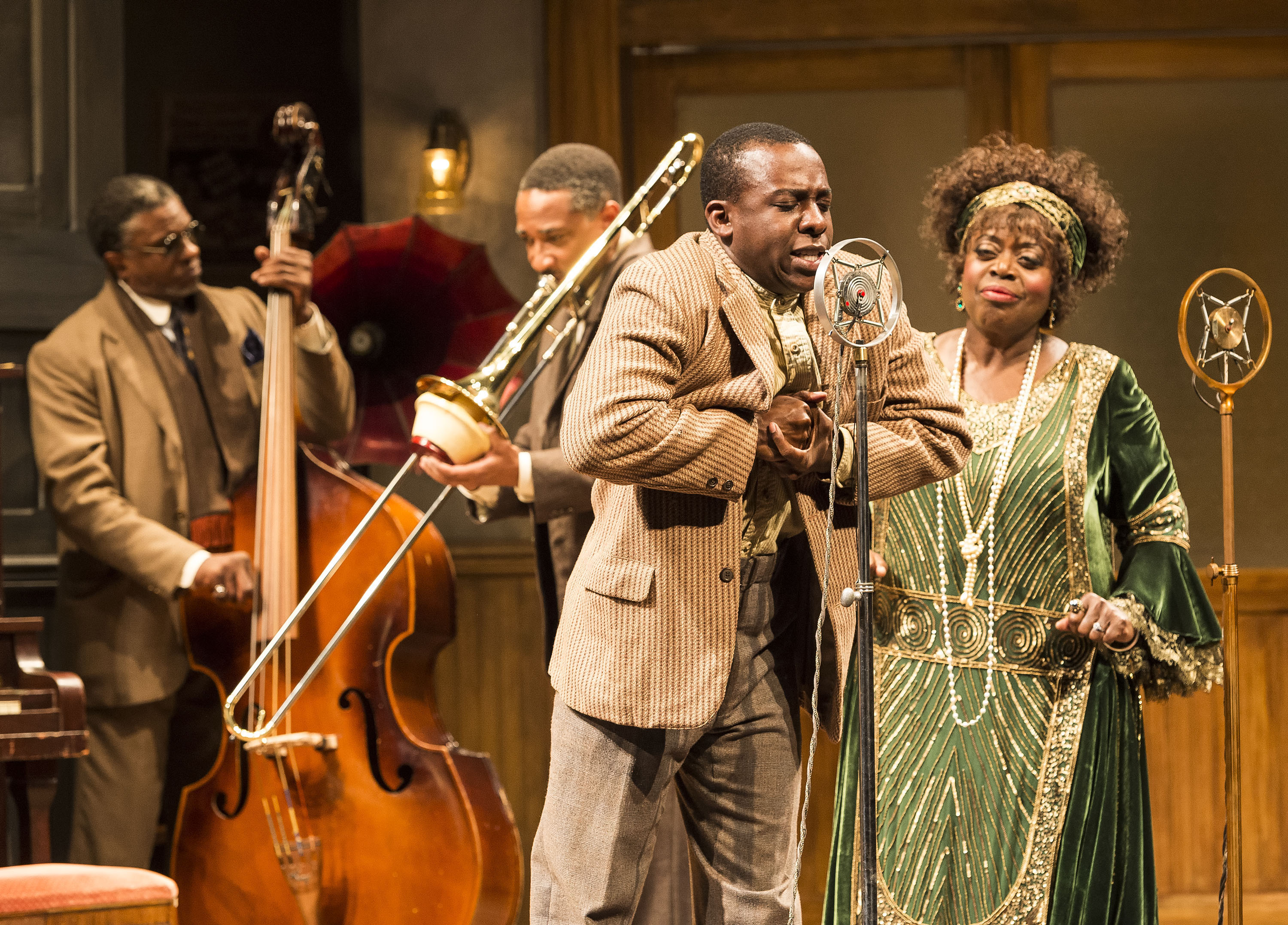 In Ma Rainey's Black Bottom, now playing at the Mark Taper Forum, we are a fly on the wall observing the behind-the-scenes dramas during a recording session of Blues music. With this important and exhilarating play, acclaimed playwright August Wilson offers us an insight into the world of black musicians during the 1920s, deftly exposing the inherent racism of the times. He chooses as his central subject Ma Rainey — a real-life blues singer who was considered the "mother of the Blues."
Ma Rainey was first staged in 1984 and is one of Wilson's history plays. The American playwright's work includes a series of ten plays, dubbed The Pittsburgh Cycle, for which he received two Pulitzer Prizes for Drama. Each play is set in a different decade, depicting the comic and tragic aspects of the African-American experience in the 20th century.
Interestingly, this one is the only play in the collection that is not set in Pittsburgh. It specifically deals with issues of race, art, religion and the historic exploitation of black recording artists by white producers.
It's 1927 and the legendary Blues singer Ma Rainey (Lillias White) is due to record some songs in a small Chicago recording studio with her all-male band (outstandingly performed by Keith David, Jason Dirden, Glynn Turman and Damon Gupton).
The four musicians arrive early, head down to the rehearsal room ostensibly to rehearse but mostly sit around exchanging stories, occasionally arguing, and sharing a joint. Eventually Rainey and her entourage show up. But some conflict ensues between her and her manager Irvin (Ed Swidley) and the studio owner and producer of the session Sturdyvant (Matthew Henerson), both of whom are white. Wilson expertly charts the power struggles — in particular, the shifting balance of power — as the studio owner tries to assert dominance over the obstreperous and diva-esque Rainey, determined to assert her dominance and not let her company be pushed around by the managers. Eventually she gets down to business, cuts a few tracks, and leaves.
Lillias White inhabits the role with ease, underpinning her character's ferocious personality with a powerful and authentic performance. We hear all the other characters talk about Rainey long before she appears on stage and this is always a challenge for any actor — to give a performance that lives up to the hype swirling around the character. When Rainey does arrive, it is within a blustery tempest of drama, complete with an irate Irish police officer (Greg Bryan) on her heels. That drama is soon resolved, but as it concerns the daily indignities a successful African-American has to face during this time, it's yet another thread in Wilson's vivid tapestry.
Ma Rainey's Black Bottom is mostly a talky play, with fragments of songs. So when Ma Rainey finally does sing — and especially when she belts out her signature tune that forms the title of the play — White perfectly embodies this singer of great renown and fills the auditorium with her warm and vibrant Bluesy performance.
But the story really focuses on the musicians — in particular the ambitious and hot-blooded young jazz trumpeter Levee (a superb Jason Dirden) whose rage at racial injustice infects his relations with his older bandmates. The play's final outburst of violence feels contrived, nevertheless the compelling power of Wilson's poetic and profound storytelling is well served by the ensemble's superb performances. Phylicia Rashad directs with a sure hand, expertly bringing the laughter and camaraderie to a screeching, stunning halt to pave the way for a horrific story that's related just before the close of Act One. This is commanding work from Rashad and everyone concerned with this fine production.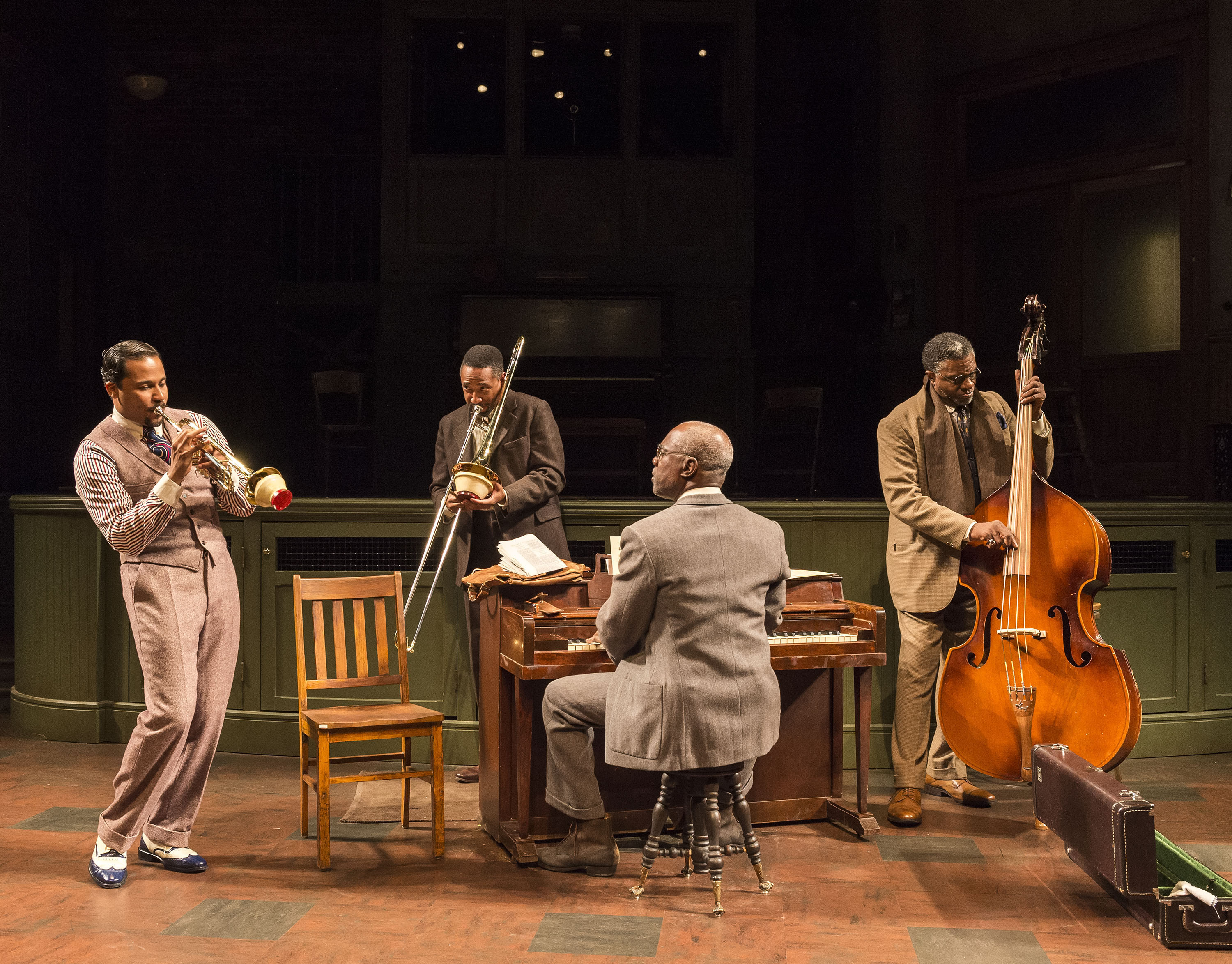 Ma Rainey's Black Bottom
The Mark Taper Forum
at the Music Center
135 N. Grand Avenue
Downtown L.A. 90012.
Runs through October 16, 2016
Regular Performances:
Tuesday through Friday at 8 p.m.; Saturday at 2:30 and 8 p.m.; Sunday at 1 and 6:30 p.m.
No performance on Mondays.
Exceptions: No public performances October 4 – 7 (student matinees only).
TICKET INFO:
Tickets are available by calling (213) 628-2772 or online at www.CenterTheatreGroup.org or in person at the Center Theatre Group box office. 
Tickets range from $25 – $85 (ticket prices are subject to change). 
Hot Tix: $25 each may be purchased in advance or, subject to availability, on the day of performance at the box office (no checks).
Groups: (213) 972-7231.
Deaf community: Information & charge, visit CenterTheatreGroup.org/ProjectDATE.