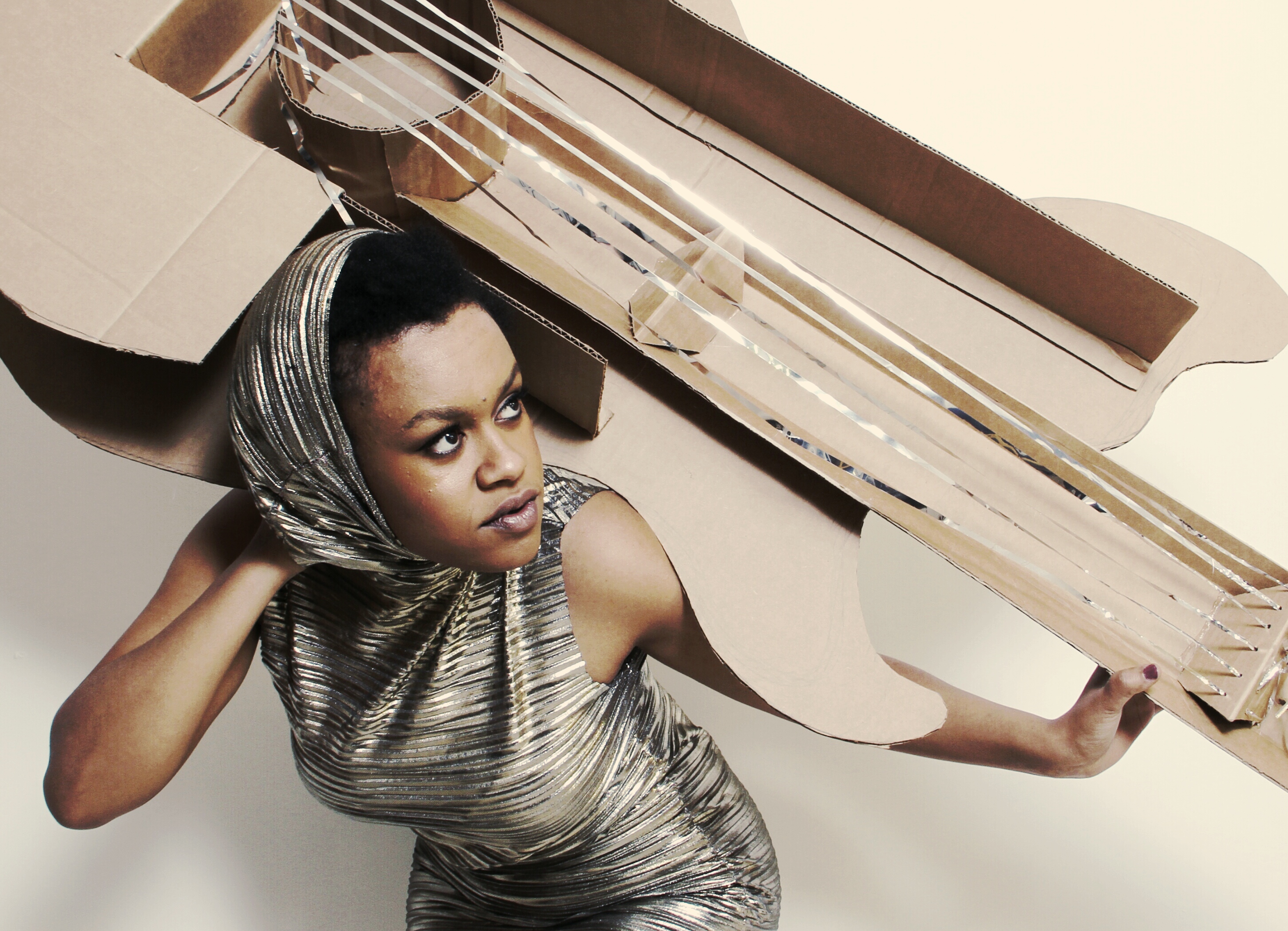 Singer-songwriter and composer Meklit performs the L.A. debut of her new body of music This Was Made Here (TWMH) at the Skirball Cultural Center on Wednesday, October 5, at 8:00 p.m. Described as "captivating" by the Wall Street Journal, Meklit's music is imbued with poetic lyricism and combines a multitude of styles, from the tizita of her Ethiopian heritage, to jazz, folk, hip-hop, and art rock. Her new project, TWMH, is a danceable celebration of Ethiopian grooves and pentatonic melodies, with bumping horn lines and inspirational lyrics.
With two solo albums and three collaborative albums under her belt, the Ethiopian-born, Brooklyn-raised, and now San Francisco-based Meklit describes her energetic fusion of styles as emanating from "in-between-spaces." Deeply inspired by the Ethio-jazz legend Mulatu Astatke, her TWMH project was sparked by a 2011 conversation between Meklit and Dr. Astatke, which took place late one night after Meklit's full-band debut in Addis Ababa. When Dr. Astatke urged her not to play Ethio-jazz simply as he and others created it forty years ago, but to take it further in its evolution, Meklit responded with TWMH, a collection of songs which create the soundtrack to an Ethiopian diasporic experience. The album, out on Six Degrees Records in spring of 2017, is being produced by Grammy-winning songwriter-producer Dan Wilson (Adele, John Legend, Dixie Chicks).
In addition to recording and performing in venues and festivals across the U.S., U.K., and East Africa, Meklit is also strongly involved in cultural activism. As one of the cofounders of the Nile Project, which the New York Times called "a committed, euphoric, international coalition," she helps curate collaborations among musicians from the eleven Nile countries to expose audiences to the cultures of their river neighbors and to address the Nile basin's environmental challenges. Meklit is also a TED Senior Fellow, and her 2015 TED Talk,"The Unexpected Beauty Of Everyday Sounds," has been watched by more than one million people. In response to the overwhelming popularity of the video, the Lincoln Center for the Performing Arts commissioned Meklit in April 2016 to compose There Is No Sound Barrier, a body of music inspired by the concept of the musically alive world, as described in her TED Talk.
Meklit's concert is one of several performances slated for the Skirball's fall season. Other acclaimed musicians taking the stage at the Skirball in the coming months include musician and poet Alicia Jo Rabins, presenting her indie-folk, art-pop song cycle Girls in Trouble (Thursday, September 22); Israeli folk electronic trio A-WA, performing new music from their Rolling Stone-praised debut album, Habib Galbi (Sunday, September 25); synth-pop musician Seth Bogart and alt-electro artist Chela, performing as part of the opening night party for the Skirball's new exhibition Pop for the People: Roy Lichtenstein in L.A. (Friday, October 7); and legendary indie rock band Yo La Tengo, performing their original score to the Sam Green film The Love Song of R. Buckminster Fuller, in a special, one-night-only engagement. For more information about programs at the Skirball, visit skirball.org.
~~~
Skirball Cultural Center presents:
Ethiopian American singer-songwriter and composer MEKLIT.
This will be the L.A. debut of Meklit's new, Ethiopian diaspora-inspired body of work, This Was Made Here.
Wednesday, October 5, 2016
8:00 p.m.
$30 General | $25 Skirball Members | $20 Full-Time Students
FREE parking
Tickets available on site, online at skirball.org, or by phone at (877) SCC-4TIX
About the Skirball:
The Skirball Cultural Center is a place of meeting guided by the Jewish tradition of welcoming the stranger and inspired by the American democratic ideals of freedom and equality. We welcome people of all communities and generations to participate in cultural experiences that celebrate discovery and hope, foster human connections, and call upon us to help build a more just society.
Visiting the Skirball:
The Skirball Cultural Center is located at 2701 N. Sepulveda Blvd., Los Angeles, CA 90049. Museum hours: Tuesday-Friday 12:00-5:00 p.m.; Saturday-Sunday 10:00 a.m.-5:00 p.m.; closed Mondays and holidays. Admission to exhibitions: $12 General; $9 Seniors, Full-Time Students, and Children over 12; $7 Children 2-12. Exhibitions are always free to Skirball Members and Children under 2. Exhibitions are free to all visitors on Thursdays. For general information, the public may call (310) 440-4500 or visit skirball.org. The Skirball is also home to Zeidler's Café, which serves innovative California cuisine in an elegant setting, and Audrey's Museum Store, which sells books, contemporary art, music, jewelry, and more.