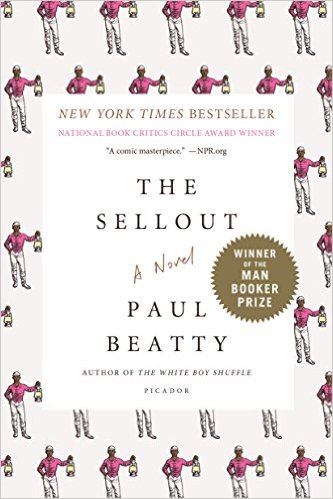 Book review by Lisa Medway.
THE SELLOUT by Paul Beatty (the first American author to win the Man Booker Prize) is the best thing to come out of the USA since they pulled little Jessica McClintock out of that well.
This book (and my chlorine resistant bathing suit & the hand cream from Trader Joe's in the blue box) are the highlights of a very dark and dreary, bad acid trip of a dismal year. Beatty's absurdist, Swiftian satire is so smart and it's funny because it's true (or it could happen, and then it'd be true).
For a measly 288 pages (hey – why should a novel give you a hernia or a headache?) Mr. Beatty (no, not the White movie star guy… the Black one) has given us the greatest gift: a novel to make you laugh, plus a story and characters to make you think. Has fiction ever transmuted to fact? I mean, besides in that edgy TV series "Breaking Bad"?
THE SELLOUT is soooooooo good.
This is comedy just the way I like my men, socks and coffee—black with a little cream & sugar (in the coffee). Let's all relocate to Dickens, CA & have usselves a time. What a trip. What a writer. What an original thinker! Bravo Mr. Beatty! You deserve 1,000 prizes.
What a book. Move over Stephen C., Paul R., Van Jones, Pierce B. Eric C. Mark K. Idris E. & Neil G. (My League of Fantasy Boyfriends) There's a new dreamy-weisenheimer in town and his name's Paul Beatty.
Book review by Lisa Medway.
About the Man Booker Prize:

The Man Booker Prize is the leading literary award in the English speaking world, and has brought recognition, reward and readership to outstanding fiction for over four decades.