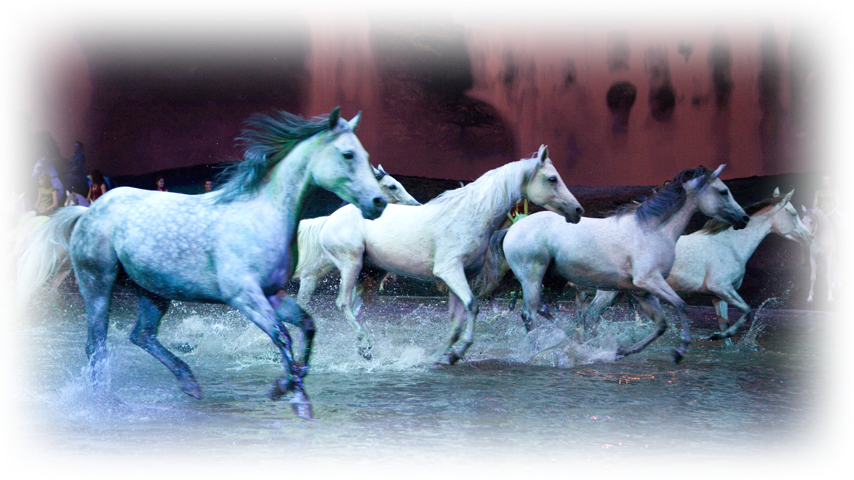 Forgive the onslaught of superlatives about to be unleashed, but the Cavalia equestrian presentation of Odysseo, now playing beneath their massive big top tent in Irvine, is deserving more so than any other show I've seen in years. 
It is the pinnacle of an exquisite marriage of music, acrobatics, staging, horsemanship and—of course—horses.  And what splendid animals they are!  There are 69 horses performing during each show and these magnificent creatures come from all parts of the globe.  The all-male equines encompass a litany of the most famous and obscure breeds ever assembled and trained, usually over six years, to perform feats according to their inclination and ability.  Always decked out in fine livery (or sometimes completely without) this ensemble puts on a show unlike anything you've ever seen elsewhere.
From the moment the theater opens you are treated to the delight of seeing these magnificent animals possessed of grace and beauty even while still.  There is something innately natural in the admiration of an animal whose basic stride evokes such awe, but to see them in action is nothing short of thrilling. The theater itself is a marvel of change, flexing between locales from the boundless deserts of Kazakh to the great Serengeti to imagined ice caverns glistening with snow and white stalactites. It's breathtaking.
Thanks to the video projection splashed across wide rear screens positioned upstage, equaling the breadth of three Imax screens, you are seamlessly transported to various places real and imagined throughout the show.  Above all the staging and presentation of the horses within these magnificent contexts, with and without riders, is a triumph of art and emotion.
For one can hardly be stoic as the animals gallop at full tilt with stunt riders atop, aside and below their speeding hoofs. Or unmoved as they trot through a medieval forest in formations that swirl and cross in step with the music.  The riders in full costume, numbering some 600 for each show, seem to glide effortlessly through their paces in the giant ring before the audience.  You see horses and riders in ensemble maneuvers, single riders on two horses and groups of horses with no rider executing choreography that is the envy of every parent with an eight-year-old in a school play.  While they appear to be incredibly disciplined there is also the feeling that they enjoy their moments onstage.  During parts of the show they are allowed to cavort and buck and nip at each other like no one is watching.
At another time they appeared, through the magic of lighting and projection, to be on the moors of Scotland.  Later, almost imperceptibly, a thin stream of water slowly exuded from inside the front proscenium that eventually grew into a large pond across which the horses and performers splashed, danced and raced across.  Not happy enough with wowing the audience with that the segment ends in a rainstorm!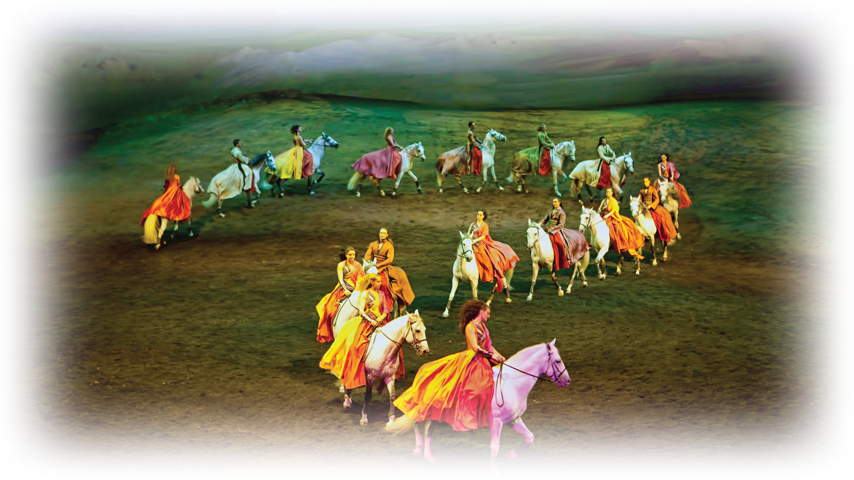 Whilst all these spectacles are going on, we were treated to live music from a small group of musicians sequestered behind gauze facades high above each side of the audience.  The musicians, singers and performers below are always in eye contact so the sound and movement is perfectly matched to keep interaction between all in improvised synch.  In between segments there are interludes with the riders and acrobats sans steed.
Hidden above the remarkable set were contraptions that dropped a carousel from which the acrobats swung in pairs. Or ropes with hoops attached that lifted the performers high into space in graceful arcs doing a ballet in the air.  Sometimes they hung from above on long tissue trapeze draperies, each drawn slowly about by riders below in a laconic movement piece accompanied to soaring violin and vocals.
Another unexpected treat—and homage to world music and craft—are the African drummers and acrobats, some singing and dancing, others playing drums or Kora.  Each performer is a marvel of activity and physique.  This ensemble provides some of the most overtly joyous moments throughout with their song and indomitable spirit.  Lest you think this show is all bombast and flash, there are some surprisingly tender moments featuring, say, a single handler and fourteen white stallions.
The creators of Odysseo are to be commended on their creative use of the talent and prodigious technical abilities of its staff.  It's difficult to express fully the appreciation one comes away with after seeing so many wonderful performances by the riders, horses and entertainers—all in one evening of pure entertainment.
This show, while pricey, would be worth seeing many times to take it all in. If you can, grab a VIP ticket as then you'll also be treated to a wonderful buffet (with many vegetarian options, thank you!) and wine and champagne plus dessert during the show's 20-minute intermission.  I noticed an abundance of patrons wearing horse garb and riding boots, but one doesn't even have to like horses to enjoy this production.  However you won't be blamed for loving them afterwards.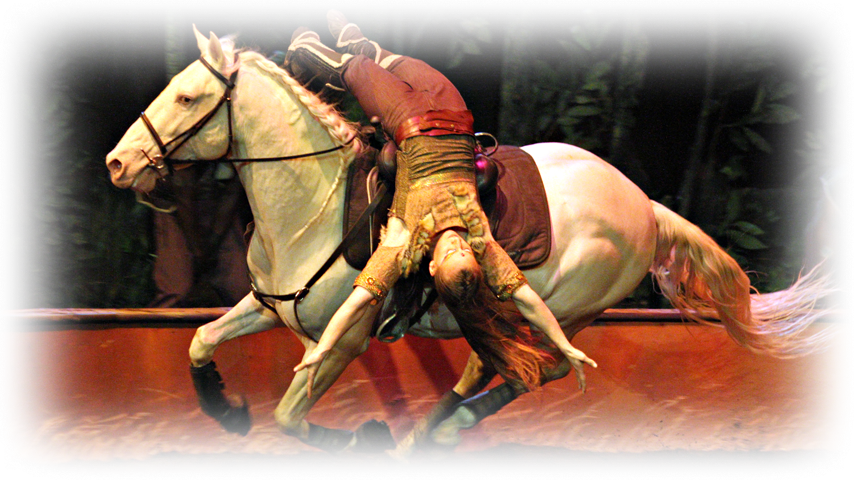 Odysseo by Cavalia
Under the White Big Top in Orange County at the junction of the I-405 & the SR-133 in Irvine.
Runs through January 8, 2017.
TICKETS:
Performances in Irvine are now available online here and by calling 1-866-999-8111.
Tickets are priced from $29.50 to $269.50 + applicable taxes and fees. Special pricing and packages also available for groups, children (2-12), juniors (13-17) and seniors (65+).
For a memorable evening, the Rendez-Vous package offers the best seats in the house, exquisite buffet-dining before the show, open bar, desserts during intermission and an exclusive visit of the stables after the show. This unique VIP experience takes place in a tent alongside the White Big Top. The Rendez-Vous package prices range from $149.50 to $269.50 + applicable taxes and fees. Special pricing and packages also available for groups, children (2-12), juniors (13-17) and seniors (65+).