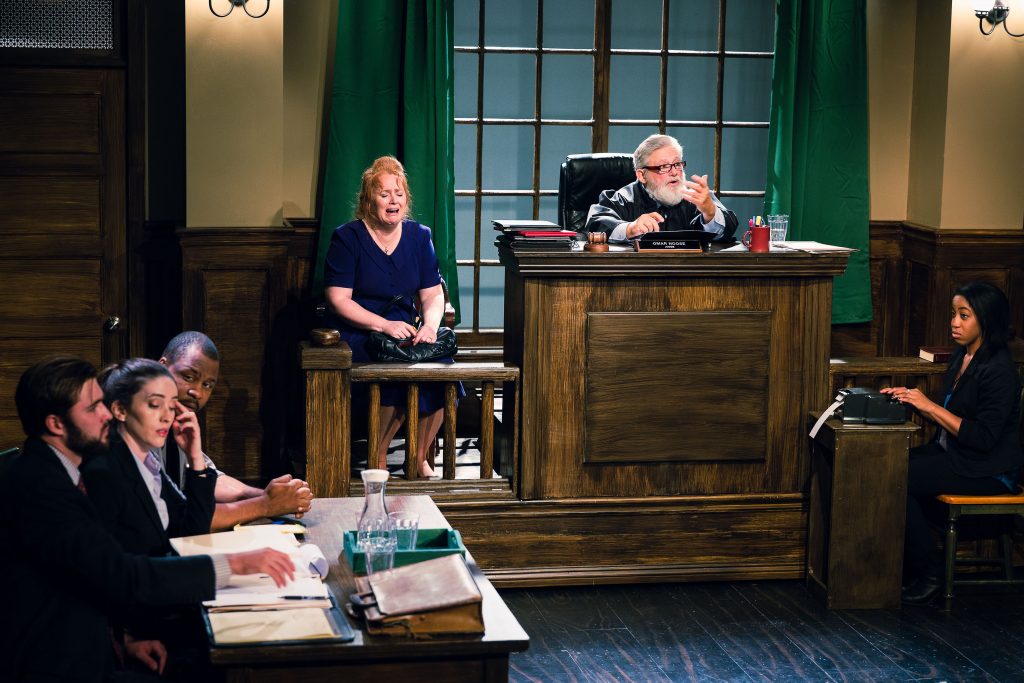 A Time to Kill re-opened this past weekend for three weeks as the first production for Theatre 68 in their new home in North Hollywood, and their extension deserves attention.  This adaptation of John Grisham's novel by Rupert Holmes creatively tells his classic story of retribution, justice, unity and love.  In these times of political, social, and economic division, it's a welcome story of triumph over adversity and courage in the face of racism and bigotry, reminding the audience that humanity defines community not the color of one's skin.
A Time to Kill takes place in the fictional town of Clanton, Mississippi, in the 1980s; an era when racial tension was heavily prevalent. In it a black man Carl-Lee Hailey (Derek Shaun) murders the rapists of his 10-year-old child and comes to be defended by a local white lawyer, Jake Brigance (Ian Robert Peterson).  The use of sound effects imply the violence with the plaintive cry, "Daddy, Daddy!"
Director Ronnie Marmo, Artistic Director of the 68 Cent Crew Theatre Company, decided to stage this play after it landed on his desk the day after a company member asked him what the company could do about current events and racism.  His hope for this production was "that people leave with a more open heart than they came in with."  The words achieve that.  The story achieves that.  The actors achieve that.
Despite the violence, A Time to Kill contains relationships of family and love.  The story is set in a small town and requires the actors to behave with history.  Subtle details, such as touches and glances, establish the deep connections between the characters.  Only Mercedes Manning who plays Ellen Roark comes from outside, yet her character spent months working for the prosecutor Rufus R. Buckley (Gregory Thirloway), and so a few well-placed, subtle interactions tell a great deal about their relationship.
The understated acting of Ian Robert Peterson and Mercedes Manning builds a tension between their characters that makes a moment of intimacy believable and the outcome truthful.  The same subtlety prevails in the performances of Paul Thomas Arnoki who plays Lucian Wilbanks, Brigance's alcoholic mentor, and Robert Dominick Jones who plays Dr. W.T. Bass the expert witness for the defense.  These two character actors give entertaining and, at times, comedic performances in what should be a very dark story, yet one in which humanity and community prevails.
Love exists throughout, as well.  Even the rapists Billy Ray Cobb (Stephen Wu) and Pete Willard (Christopher Kelly) appear to have it, with a doting mother Mrs. Cora Cobb played by Caroline Simone O'Brien. Sheriff Ozzie Walls (Hansford Prince) looks over Brigance, and allows the mother of the rape victim Gwen Hailey (Gisla Stringer) to have several touching and telling moments with her husband on trial, played by actor Derek Shaun. Shaun brilliantly plays the depth of a man tormented by loss and filled with believable hope that somehow justice will prevail.
The rest of the cast includes Steven Jones as Vernon Pate, John William Young as Judge Omar Noose, Heidi Rhodes as Ms Drew Tyndale, Jennifer Nwene as Norma Gallo, Travis Stevens as Deputy Looney, Jarrod Robbins as D.R. Brent Musgrove, and Joe Capucini as Dr. Wilbert Rodeheavor, expert witness for the prosecution.  All of the actors stayed in the moment, even when the focus of the story did not include them.
Under director Ronnie Marmo's direction, the core of the story reflects Grisham's book and film, with changes to make the stage show more feasible, such as the elimination of children and certain other supporting characters such as Brigance's wife. The focus of the story, however, has been reduced to a few locations; the court room and adjacent rooms, Brigance's office, and Brigance's front porch and inner living room. The set design by Danny Cistone flawlessly allows for this story to be quickly and effortlessly presented in two hours.  The secret of this feat is a spectacle that needs to be seen.  Be advised – there are gun shots and smoke in this production.  The production also uses digital art to create the appearance of fire, exemplifying how new technology can be used to bring complex stories to life.
A Time to Kill, based on the novel by John Grisham, adapted for the stage by Rubert Holmes.
Theatre 68
5112 Lankershim Blvd.
North Hollywood, CA 91601
Performances:
Runs until January 28th, 2017.
Friday and Saturday, 7:30 p.m.
Sundays, 2 p.m.
One Thursday performance January 26th, 7:30 p.m.
Running time: Approximately one hour and thirty-five minutes, with one 10 minute intermission.
Tickets:
Range from $25.00 – $30.00
Box Office:
Purchase Tickets here or call (323) 960-5068 more information can be found on Theatre 68's website.