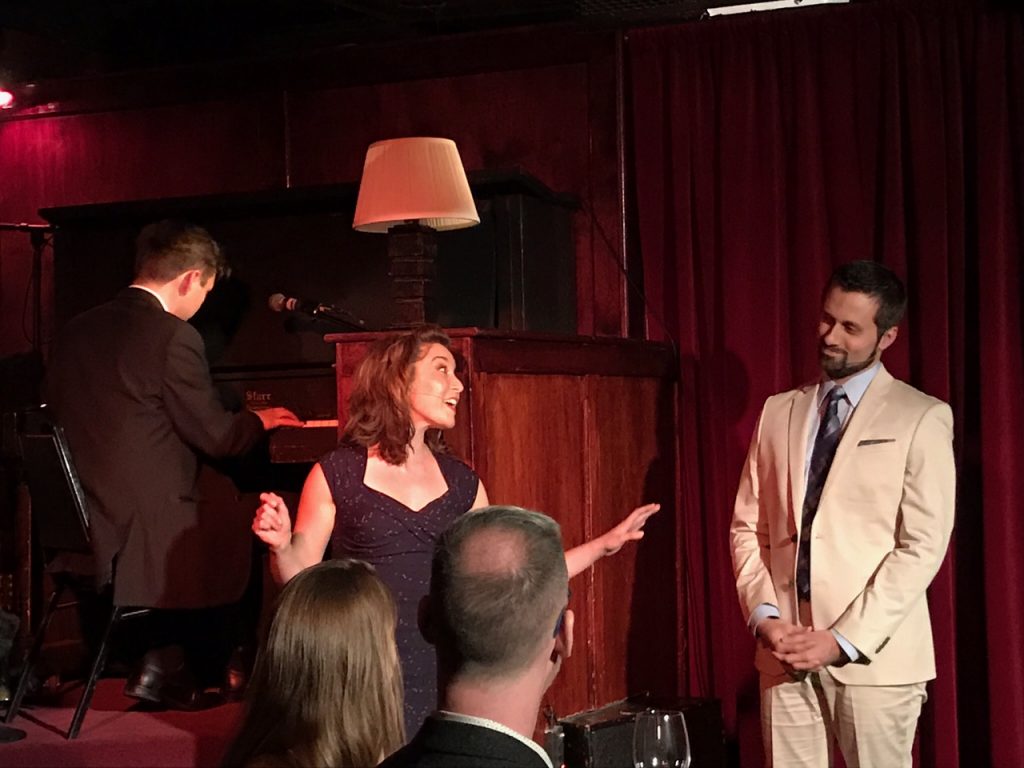 One night remains—tonight, Sunday Jan 8th—to catch a jazzy supper show at the intimate Three Clubs bar in Hollywood.
A Night At the Stork Club,  celebrates one of New York City's most iconic landmarks of all time, featuring music made famous by Frank Sinatra and Dean Martin, among others. The program delivers favorite tunes from the Great American Songbook, including works by Irving Berlin, Cole Porter, and Richard Rodgers.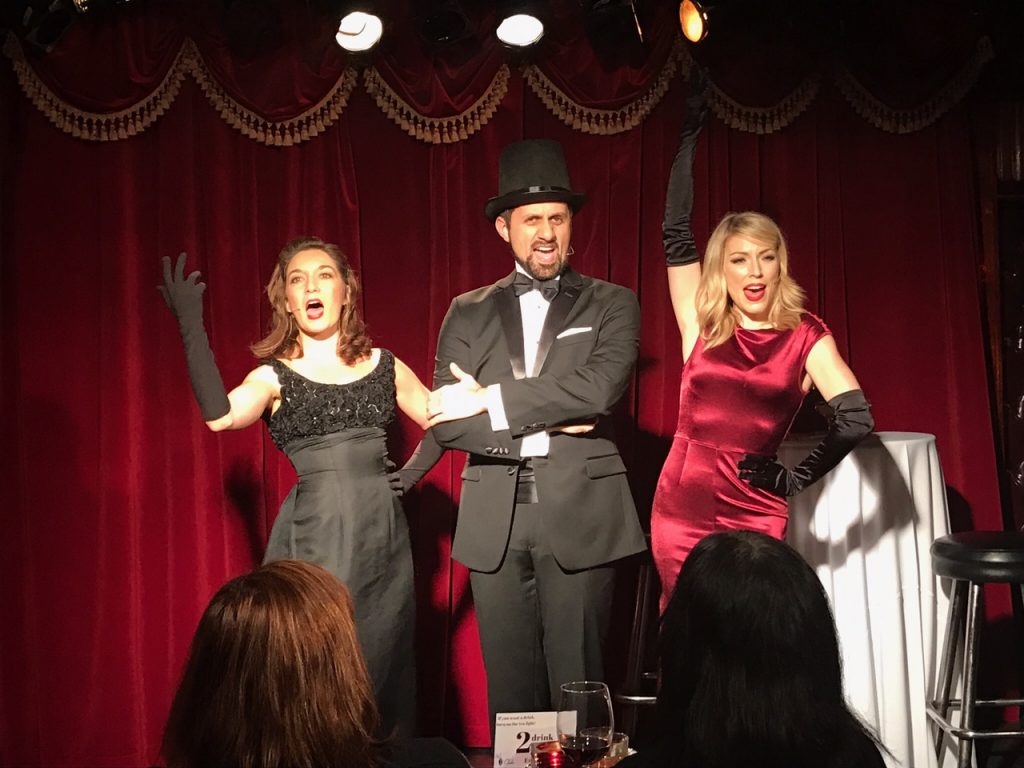 The upbeat show features the vocal stylings of Justin John Moniz, Ashley Lambert, and Laura Hughes, plus Phil Kadet on piano and special guest Jason Gamer on trumpet.
With two, tight half-hour acts, broken with an intermission, the show is very well modulated. The trio hand off to one another from time to time, sometimes engaging in duets, with Ashley Lambert doing a lot of the heavy lifting, (Ashley does a great Cole Porter Medley of "I Get No Kick From Champagne;" "Why Can't You Behave," and "It Was One of Those Things,") while Justin John Moniz is on stage almost continuously. He has a very nice, slow solo towards the end of the night "So in Love" before the three unite for a big finish; a Rat Pack set then "Together Wherever We Go." The performers all extract a lot of comedy from the way the lyrics segue into the next some, especially in the Berlin Medley with "Sisters," "Let's face the Music and Dance," "What'll I Do (Laura) and "Cheek to Cheek  (Justin, Laura, Ashley)."
You can sip specialty cocktails from New York Holiday Bar's Mixologist extraordinaire, Michael J. Neff, as well as enjoy small bites from a curated menu inspired by the original Stork Club chef de cuisine. The food is tasty and comes out fast. Service all round was excellent and the drinks are wonderfully creative.
During its years of operation, the Stork Club was visited by many political, social, and celebrity figures. It counted among its guests the Kennedy and Roosevelt families, and The Duke and Duchess of Windsor. The news of Grace Kelly's engagement to Prince Rainier of Monaco broke while the couple was visiting the Stork Club. Socialite Evalyn Walsh McLean, owner of the Hope Diamond, once lost the gem under a Stork Club table during an evening visit. It was at the Stork Club, where Ernest Hemingway was able to cash his $100,000 check for the film rights of For Whom the Bell Tolls, in order to settle his bill.
This show was originally performed as the opener for the 2016 Hawaii Performing Arts Festival and is now making its West Coast debut in 2017.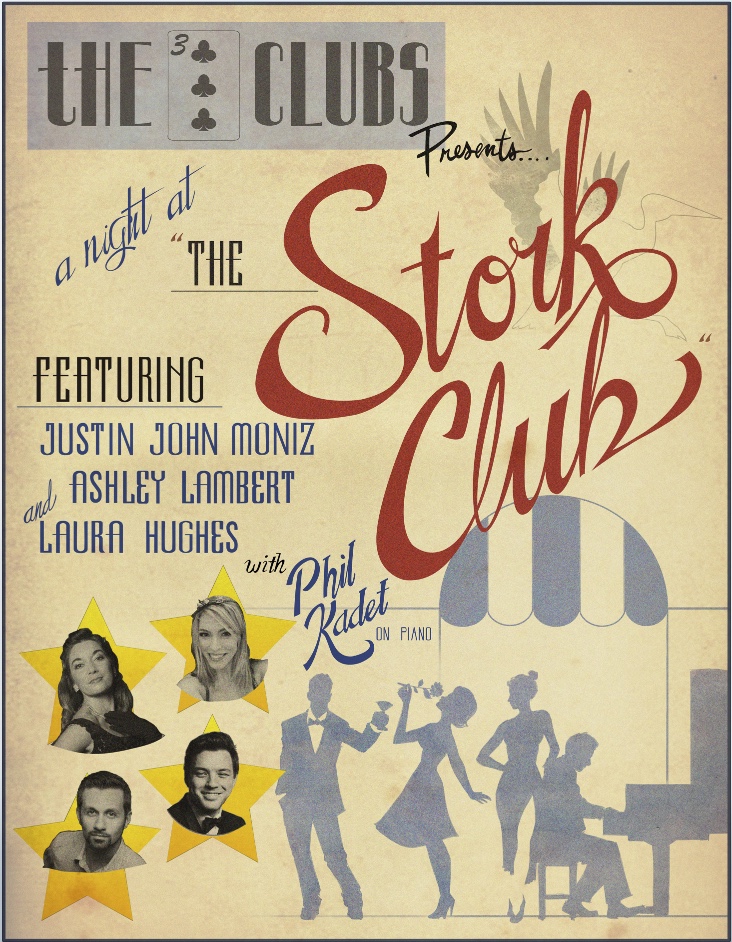 ~~~
~~~
A Night At the Stork Club
Three Clubs
1123 Vine St, Los Angeles, California 90038
January 7-8, 2017.
Remaining:
Sun Jan 8th—show at 7pm; doors open at 6:30pm.
Tickets $30.00 ($32.04 w/service fee)
General seating
Tickets now available for purchase by visiting http://www.brownpapertickets.com/event/2728786.
Price:
$30 Per Person
With additional $20 food/drink min
Parking:
Valet, Uber or self park on street.
Hours:
Come early for a drink in the front bar, open from 5pm onwards.
Event Details:
Doors open at 7:30pm
Seating is first come first serve
Menu:
Will feature dinner, light bites and beverages available for purchase.
~~~
~~~
ABOUT THE THREE CLUBS:
The Three Clubs is a local neighborhood bar offering a range of entertainment including live music, theatre, cabaret and burlesque. Opening in 1991 by nightlife veteran Marc Smith and Matthew Webb, The Three Clubs introduced the martini lounge to a whole new generation through its timeless cocktails and classic Hollywood vibe. Rich mahogany bars, plush tufted leather banquette, casino-style carpeting and a stage featuring live entertainment nightly honor the spirit of the neighborhood's storied past. Vote the Best Bar in Holly by LA Weekly in 2014, Three Clubs is sure to deliver a welcoming place to relax with friends and – above alone – a good, stiff drink.