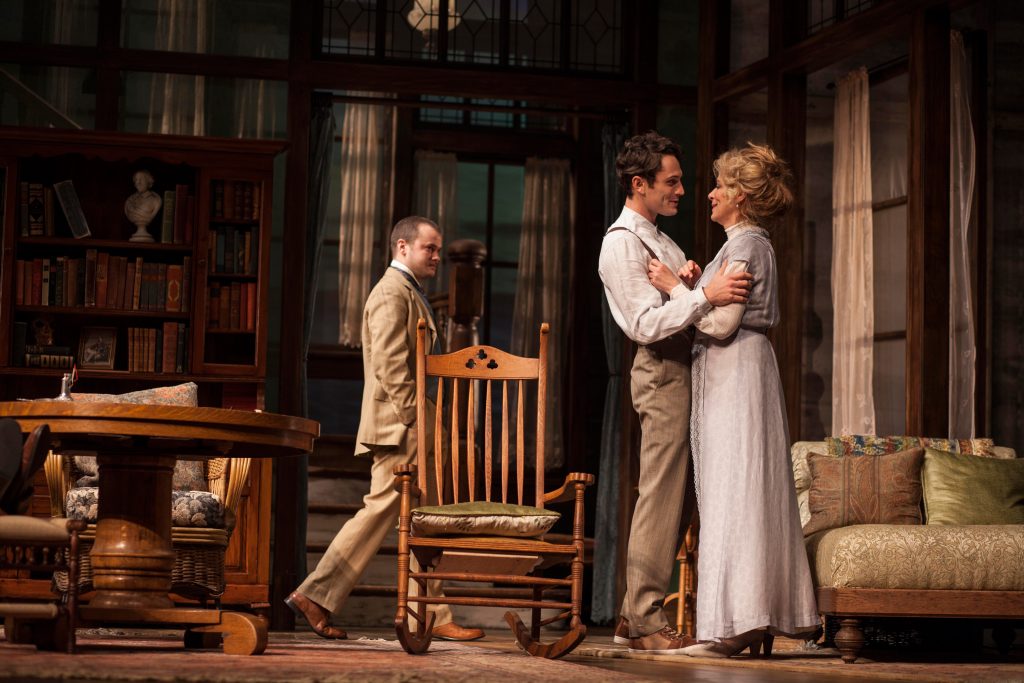 With a running time of three hours and 20 minutes, including an intermission, this theatrical experience really is a long haul. Eugene O'Neill's semi-autobiographical four-act drama charts the dysfunction that permeates the Tyrone family— James and Mary and their sons Edmund and Jamie.
Written by American playwright Eugene O'Neill in 1941–42, but first published in 1956 (three years after the playwright's death), the play is widely considered to be his magnum opus. Long Day's Journey Into Night premiered in Stockholm, Sweden, in February 1956 and then opened on Broadway in November 1956, winning the Tony Award for Best Play.
O'Neill was posthumously granted the 1957 Pulitzer Prize for Drama for the work, which is often regarded to be one of the finest American plays of the 20th century.
Hampered by its somewhat old-fashioned mid-century dramatic style, O'Neill's play is built on rhythms and repetitive patterns. Time and again characters frequently blurt out accusations and recriminations then apologetically choke them back within the same breath. There is much talk of how beautiful Mary (Jane Kazmarek) used to be and how painful her arthritic hands are now, an excuse she uses to justify a morphine habit that haunts the household.
With an Irish brogue softening his native British accent, Alfred Molina is fantastic as the cheapskate patriarch, blustering and ranting one minute then begging for forgiveness the next.
Stephen Louis Grush is good as the eldest brother but it's Colin Woodell as the younger son Edmund who really dazzles with his sensitive performance. Regrettably, Jane Kaczmarek feels miscast as the junkie mother—far too chipper to become as tragic and terrifying as the role demands during her inexorable disintegration. Angela Goethals is good in a small but memorable role of the maid Cathleen.
Beautifully complemented by Elizabeth Harper's lighting design, Tom Buderwitz' scenic design of the stately two-story Connecticut house is remarkable for its diaphanous walls indicating that there is no hiding from the dark secrets in this house. At times its as if Edmund is haunting the home, presaging the consumptive son's imminent fate.
All tech credits—including costume design by Denitsa Bliznakova—are outstanding. Jeanie Hackett directs her cast brilliantly though her choice of commencing each act with a video projection (by Jason H. Thompson) of slides (portrait photos of either the of the O'Neill family or the cast or both) and voiceover of perhaps the playwright was baffling.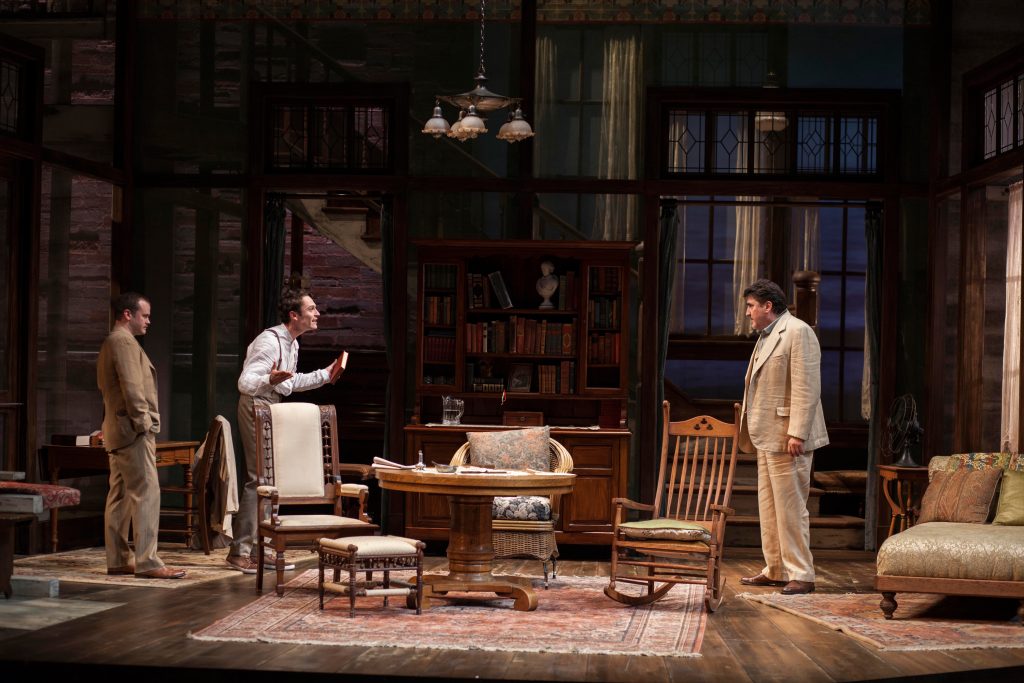 Long Day's Journey Into Night by Eugene O'Neill.
Gil Cates Theater at the Geffen Playhouse
10886 Le Conte Avenue,
Los Angeles, CA 90024
Runs through Saturday, March 18, 2017
Running time:  3 hours and 20 minutes, including an intermission.
PERFORMANCE SCHEDULE:
Monday                       No performance
Tuesday – Friday         7:00 p.m.
Saturday                      1:00 and 7:00 p.m.
Sunday                         2:00 p.m.
TICKET INFORMATION
Tickets currently priced at $32.00 – $90.00. Available in person at the Geffen Playhouse box office, by phone at 310.208.5454 or online here. Fees may apply.
Rush tickets for each day's performance are made available to the general public 30 minutes before show time at the box office. $35.00 General / $10.00 Student
ABOUT THE ARTIST:
Eugene O'Neill (Playwright)
Eugene O'Neill remains the only American playwright to have won the Nobel Prize in Literature (1936). Born in New York City on October 16, 1988, he wrote some fifty plays. His first Broadway play, Beyond the Horizon (1920), won the first of his four Pulitzer Prizes, the last of which went posthumously to Long Day's Journey Into Night, which was written in 1940 but not published or produced until three years after his death. His plays include Anna Christie (1921), The Hairy Ape (1922), Desire Under the Elms (1924), Strange Interlude (1928), Mourning Becomes Electra (1931), A Touch of the Poet (written 1938-1942, first produced 1958), The Iceman Cometh (written 1939, first produced 1946), Hughie (written 1942, first produced 1964), and A Moon for the Misbegotten (written 1943, first produced 1947), which takes up the story of the character Jamie Tyrone a decade later.